In today's breaking news, MC Hammer has announced his plans to celebrate the end of the pandemic with an updated version of the timeless rump-shaker, "U Can't Touch This."
---
How did he scrape together the money to do this? Don't ask us. But the once-insanely-wealthy, then-utterly-bankrupt, now-relatively-rich-again rapper MC Hammer has indeed raised the funds to head back to the studio and record a long-awaited sequel to 1990's classic, "U Can't Touch This."
"Let the record show that I am, indeed, 2 Legit 2 Quit," Hammer told Atwood in an exclusive interview. "I may not have released a record that practically anybody gave a fig about in the last 30-odd years, but make no mistake: I am 2 Legit 2 Quit. I'm getting back in the studio and taking care of unfinished business."
Despite having not put out an album since 2009's DanceJamtheMusic – don't feel bad if you've never heard of this album. No one has. It doesn't even have its own Wikipedia article – MC Hammer caught a whiff of his Please Hammer Don't Hurt 'Em Glory Days last year when that diamond-certified album's hit single, "U Can't Touch This," experienced a sudden surge in popularity at the onset of the lockdown. Along with "Work From Home" by Fifth Harmony and "This Is The End of the World As We Know It" by R.E.M., "U Can't Touch This" was a song that somehow seemed to speak to the moment in its own special way, and thus helped to lift spirits worldwide throughout that dull and dreary period.
One year later, as the light at the end of the tunnel glows increasingly brighter as global vaccination totals continue to rise, MC Hammer has decided to capitalize on his resurgent fame and repurpose his signature song (which was only its accompanying album's third-most successful single, believe it or not. Like the rest of this article, that is not an April Fool's Joke).
"What's the first thing people think to themselves when they step out of the the vaccine clinic?" Hammer asked Atwood rhetorically. "That's right! It's 'Ha! U Can't Touch This, COVID! Mwahahaha!' And so, I decided it would be up to me to make a song that encapsulated that universal sentiment."
"U Can't Touch This 2" will restructure the original's lyrics in a manner that represents the global community's reaction to seeing the lockdown brought to an end. "The opening lyrics might go something like 'My, my, my, my, vaccine totals are higher, makes me say, 'Oh dear Pfizer, thank you for blessing us with a way to crush COVID to dust…' See where this is going?" Hammer chuckled. "And I definitely will make sure to preserve the line, 'Yo, sound the bell, school's in, sucka!' Because, with COVID taken care of… it's true!"
"U Can't Touch This 2" will be available to download on iTunes by the end of the day on April 1st. Fans are encouraged to wait through midnight for the chance to take advantage of an exclusive offer. That's right: the first 1,000 people to download the song will be issued a vintage pair of parachute pants, identical to the ones worn by Hammer in the "U Can't Touch This" video, so they can all look just as ridiculous on Halloween 2021 as everybody on the planet did on Halloween 1991.
Hammer Time is back, y'all! Here at Atwood, we strongly encourage everybody to make the most of it. Old time's sake, baby.
— — — —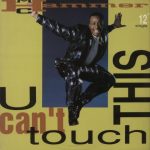 ? © MC Hammer, 1990
:: Stream MC Hammer ::