America Jayne's expressive alt-rock single "Open Casket" takes us on a stirring journey of vulnerability as the Connecticut-born, Brooklyn-based artist leads up to her debut EP 'Homecoming'.
Stream: "Open Casket" – America Jayne
---
There is a unique genre currently sweeping the music scene: "Bubblegrunge" is a style where female singers blend emo, indie rock, and alt-pop influences together to concoct releases that are vastly compelling. Brooklyn-based America Jayne is doing just that with her moody new release, "Open Casket." The artist is indicative of acts like Soccer Mommy and Snail Mail, yet she has navigated a sound all her own. The single easily resonates with listeners as it showcases that intimate openness that comes with every new relationship. It's about having that desire to connect with someone on a deep level and soak up as much of that experience as possible.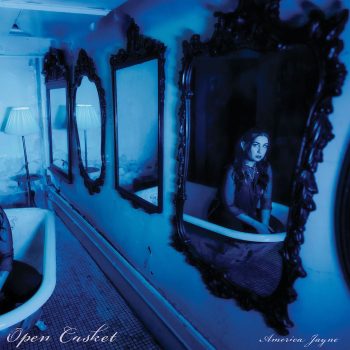 I see you on the sand
Calling me back
With your frantic hands
I don't know if you wanted to know
But this is everything I've got to show
Atwood Magazine is excited to be premiering "Open Casket," America Jayne's first release of 2022 and the lead single off her forthcoming debut EP, Homecoming (set for release this June). The musical moniker for Brooklyn-based, Connecticut native Erica Pierce, America Jayne is a rising LBGTQ alt-rock artist stamping her mark with a melancholy, yet exhilarating quality. First debuting in summer 2020, Pierce has spent the past two years defining her artistry while building up an impressive repertoire of emotionally charged outpourings and expressive, dynamic upheavals.
"Open Casket" is an especially notable and meaningful moment in America Jayne's burgeoning story.
Pierce's passionate vocals soar atop stark, gritty guitar, allowing her distinct tone to shine through lyrics that are as vulnerable as they are uncompromising. The track showcases her authentic voice in more ways than one, and that profound honesty is infectious:
I want your good
Your bad
And all your truth
Isn't that isn't that
What we're supposed to do
"'Open Casket' is a shameless plea for vulnerability," Pierce tells Atwood Magazine. "The song explores the beginning of a relationship and the desire to share everything with a person in an attempt to grow closer. The subject is urged to be "ugly" – as the protagonist bares their soul – illustrating their near-death experiences, abuse, and insecurities. 'Open Casket' was inspired by the intoxicating feeling of first falling in love and the hunger to devour every little bit of information that person shares with you."
Pierce was raised in a small town in Connecticut. In tiny towns, it can be tough to find new things to do, but that prompted her to learn the guitar – and her love for the arts only grew from there. Later moving to New York, she was surrounded by fellow creatives who further fueled her drive. That intense dedication can definitely be heard in this emotive piece.
Discover the high of new love all over again with "Open Casket," streaming exclusively on Atwood Magazine.
— —
Stream: "Open Casket" – America Jayne
— — — —
? © Sarah Rodriguez
:: Stream America Jayne ::
---