Chunk. Chunk. Chunk.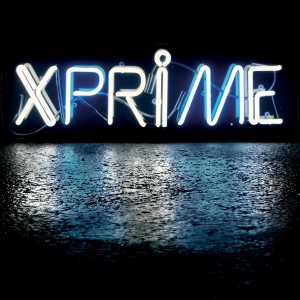 Pushing and pulling, back and forth, soothing harmonies, funky bass: This is how you could describe Xprime's song "All to Myself" from their latest EP, PM. There's a drive to the song that make it one of those tracks that you find yourself accidentally dancing to in the street, while the title and main chorus line automatically add a dark node to the song, adding depth to the lyricism and melody and demonstrating the maturity of the band's songwriting.
The overall vibe of "All to Myself" is psychedelic, but modern; funky, but grungy. It's hard to tell if this song is meant to transport you back to the '70s, or keep you in present day. The chorus is predominantly modern and current thanks to distorted vocals and guitars, while the layered vocals and clean guitars in the verses and bridge have funky elements that make one think this band wears platform shoes on their days off. Many bands have tried and failed to blend decades into cohesive songs, but Xprime give "All to Myself" just enough punch to refute any question of inauthenticity.
Listen: "All to Myself" – Xprime
[soundcloud url="https://api.soundcloud.com/tracks/208562486″ params="color=0066cc&auto_play=true&hide_related=false&show_comments=true&show_user=true&show_reposts=false" width="100%" height="166″ iframe="true" /]
The beauty of this song can be found in the chorus. It's not one single element, but the entire package that evokes a sense of longing. The chorus could make you fall to your knees if the right moment struck, which is a rare reaction to a piece of music you're listening to in your headphones. With two lines – I want you all to myself, want you all to myself – Xprime hit a common feeling that everyone has felt, and allowing the listener to feel that emotion again.
I want you all to myself, want you all to myself
I'm hoping you'll find me
And pull me off the shelf
I want you all to myself, want you all to myself
And I'm waiting to find you
With nobody else
While "All to Myself" seems simple at first listen, the depth and layers that make this song so special are infinite. This track casts a safety net over my playlist while reeling me in and making me want to listen more. It's pop and indie rock mixed together in perfect harmony. It's Xprime.
Watch: "All To Myself" [Live @ Winding Path Sessions] – Xprime
[youtube=https://youtu.be/K8Ue96YCnFk?t=0s]
You can follow Xprime on Facebook, Twitter, & Instagram
Xprime Fall 2015 Tour
confirmed dates:
Oct 15 – Peterborough ON
Oct 16 – Ottawa ON
Oct 22 – Hamilton ON
Oct 23 – London ON
Oct 24 – Guelph ON
Oct 28 – Kingston ON
Oct 29 – Oshawa ON
Oct 30 – Windsor ON
Oct 31 – Sarnia ON
Nov 25 – St Catharines ON
Details at xprime.ca
PM – Xprime