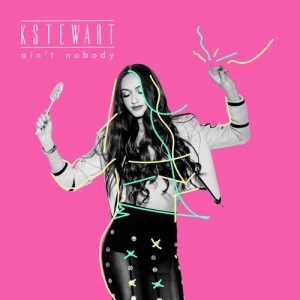 While it might be autumn and some of us are looking for songs to add to the "Ultimate Chill and Relax" playlist, 20-year-old London-based singer KStewart (K for Kate) has decided to release one of the biggest bangers of the year. Seemingly a typical club track with vibrating rhythms and soaring synths that go on for miles, "Ain't Nobody" stops being typical the moment KStewart's vocals are added into the equation. Often compared to Mariah Carey (or rather, the electro-pop movement's answer to Mariah), KStewart's voice has a bit more fullness to it that brings more richness to an otherwise straight and down the middle pop tune. With a slight '90s tinge to everything she does, her follow-up to this summer's equally infectious "Keeping You Up" (released on her own Cherry Jam Records imprint) showcases the strength in her voice while simultaneously feeding us the appropriate amount nostalgic sweetness.
Listen: "Ain't Nobody" – KStewart
Pulling back the curtain even further, "Ain't Nobody" is quite the empowering song. It's unassuming in a way, much like KStewart. On the surface, "Ain't Nobody" crosses off all the necessary tropes to be the ultimate jam. Sick beat: check. Addictive chorus: check. Killer execution: check. Taking a note from Lady Gaga's "Just Dance" — which, it turns out, is a commentary on the party lifestyle and overindulgence — KStewart's "Ain't Nobody" doesn't wait for anyone. She's in control and she's never letting go.
If you want somebody
need somebody
love somebody
ain't nobody stopping you
The message "Ain't Nobody" relays, especially towards females, is to grab hold of any opportunity that comes your way. If someone likes you and the feeling is mutual, just say so. It's up to you to take hold of the situation and gain control of it — and don't worry; KStewart is there to inspire you and motivate you, all while getting her undeniably catchy song stuck in your head in the process. Think of it as a constant pep talk in the form of the most delicious and euphoric pop music. Short and sweet and not afraid to get to the point, there's a lot we can take away from KStewart's honest approach to a usually vapid genre. Her brand of pop has a bite and there's no other response than to immediately sink your teeth into it. And nobody is going to stop you, either.
You can follow KStewart on Facebook, Twitter, and Instagram
Watch: "Ain't Nobody" – KStewart