On his engaging single "Organic Rust," Alfa Mist blends jazz and hip-hop to ask the burning question: Why is life still so hard?
Stream: "Organic Rust" – Alfa Mist
---
''Organic Rust"'s no-hook simplicity takes inspiration from the east coast explosion in the early '90s, but was born in the eastern reaches of modern London. This downbeat jazz meets hip-hop tune is made for watching the lights of The Shard from a distance, as yet another cloudy day in the capital passes. Soundtracked by rippling guitar effects and unusual chord changes, Alfa Mist ponders apathy and the price of success. After years of struggling, he's made it to where he wants to be: So why is life still so hard?
Alfa Mist is unapologetically bereft of grandeur on "Organic Rust." He pops up a matter of seconds into the song, diving straight into the verse without pretension. His rapping keeps its belly low to the floor with tonal consistency, as the words drop neatly onto the beat. Each line is presented for inspection with no judgement. His delivery is clear; his words cut cleanly as he speaks openly. The music maintains its level throughout, meaning there's no key line, no gut-punching peak. Alfa Mist wants you to consider everything he's saying. "Organic Rust" isn't a song where you're waiting for "sleep is the cousin of death"—it's to be taken as a whole.
Serious face 'cos it's really a race
Trying to stabilise while my health deteriorates
My fever leaves me a delirious state
Now I'm growing weary of fakes, here to replace
They cheer me and wait, until they hear a mistake
"Organic Rust" is a scattered collection of thoughts. Alfa Mist works with contrasts to show how different his life has become. "I used to have it rough, saw my plan erupt/Now I'm on the settee playing 3 months of Soul Caliber." Even though he's beginning to do well, it's still not enough. "It's the furthest I've even been but I'm lagging behind/At the front of the queue for the back of the line." A lot of this song is introspective, however one real-life event leaps out early on. "I don't wanna lose my drive so I'm steering away/Plus I got a call saying that her period's late/So I'm opening my calendar and clearing the dates." He needed to slow down anyway, but new responsibilities have made that decision for him. Alfa Mist discusses the balancing act of his life throughout this song. It seems like it could fall apart at any moment. He can't stop, so he's doing what everyone else is doing and just getting on with it.
While you push the panic button, I'm pushing 29
Some people are pushing daises I could die anytime
Behind enemy lines or by friendly fire
Why does everything we hold close damage us?
Towards the end of the 2nd verse, Alfa Mist gets on a roll as his thoughts become more focused. He starts mentioning bigger ideas, ruminating on death and the battle in his mind between good and evil forces. The final line in the song is arguably the best – "When it all gives way and I've had enough/I got a few words for the man above/When I'm Organic Rust. Trust." He signs off calmly, with the assertion that he's going to give god a piece of his mind when this is all over. These final words make the verse stretch into the distance, as Alfa Mist considers his plans for eternity.
While they exist in separate genre palates, Alfa Mist's vibe is next door to the morose wailing of King Krule, or the world-weariness of Ghostpoet. Occupying the same space as these contemporaries, his place in London's rich musical landscape is supported and informed by his fellow artists. These musicians illustrate the quiet claustrophobia of living in the capital, expressing dark moods and observances that are all too familiar to many people. Alfa Mist, now on the verge of his 4th full-length release, deserves to be considered on the same pedestal as these artists.
The final half of the song is instrumental. It adds weight to the verses as they sink in. While the simple keys solo floats through the speakers, listeners can reflect on what they've been told. It'd be easy to drop a third verse in this section, but that would dampen the impact of what's already been revealed. Alfa Mist has said what he's said, now it's time to sit back and think on it. His vibe is quiet and thoughtful, though a little too direct to be considered cerebral. He's not staring into space thinking about terraforming Mars: His mind is in the here and now, deliberating over the next step to take, in a world that is ready to push him back if he makes a mistake.
"Organic Rust" is about the frustration of starting to succeed in life, then realising you have the same problems as you did before, only now you get to deal with them in a nicer apartment.
— —
Stream: "Organic Rust" – Alfa Mist
— — — —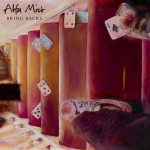 ? © Blue Note Records 
:: Today's Song(s) ::
:: Stream Alfa Mist ::