In the world of alt-R&B, it's often all too easy to become immersed in cookie-cutter beats and similar vocal tones. The sub-genre of dream-pop, especially, tends to offer a more homogeneous sound that, while incredibly pleasing to the ear, tends to veer in the direction of sounding redundant. These sentiments do not ring true, however, for UK-based artist Astronomyy, whose 2014 debut EP There For U (and later his 2015 follow-up, When I'm With U) showcases a distinct sound that not only separates him from his compatriots, but also allows him to put a unique spin on the music scene as a whole.
Listen: "When I'm With U" – Astronomyy
Based out of Worcestershire, London, Astronomyy has gained most of his attention through the blogging community; especially with help from SoundCloud. He posted his first track on June 21, 2013, entitled "Don't Need U." It has subsequently racked up over 560,000+ plays, which is not surprising when you take a listen to it: the bouncy guitar, pseudo-rap/singing (somewhat Ed Sheeran-esque), and "fuck-you" lyrics make the track a pleasant and entertaining tune. His page itself has gained a notable 17,000+ followers.
Listen: "Don't Need U" – Astronomyy
Following the release of this track, Astronomyy has since self-released his two aforementioned EPs, There For U and When I'm With U, which showcase his incredible knack for blending instrumentals and vocals together to create something that is impressively enticing and addictive. Self-described as "Surf-R&B" or "Surf/Urban," Astronomyy's relaxed vibe offers attractive, sanguine tunes that can often put listeners in a trance. His songs are nuanced, celestial, and exceptionally enchanting.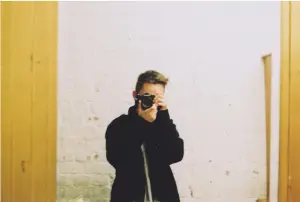 Aside from the songs merely just sounding pleasurable, the lyricism within them also gives listeners something on which to simmer. Typically lamenting the pros and cons of love, Astronomyy's storytelling can and will likely strike some sort of a chord with someone, in some form or another. In his social media bios, he describes himself as a "songsmith," which doesn't at all seem like a toot-your-own-horn move because of how impressively he crafts his tunes.
Tracks like "Not Into U," "When I'm With U," and "Nothin On My Mind" are probably the most attractive of his songs, treating listeners to spellbinding sounds accompanied by lyrics that masterfully put one into a nostalgia-induced trance. When one hears his songs, it's easy to become enraptured in Astronomyy's haunting, echoed vocals, paired beautifully with rounded synth, punctuating drum beats, and faraway guitar riffs.
Just recently, on July 16th, Astronomyy released an evocative, "lo-fi" version of his track "Not Into U," further proving his worth in the community. It is a redolent, mesmerizing, and captivating version of a song that is already oozing with an unrivaled coolness and nonchalance. "Not Into U" is the dreamy breakup song that makes one feel like everything can and will be alright in the end.
As the alt-R&B genre continues to grow, more and more artists are beginning to delve into this wistful, distinctive realm of music. As it continues to become more expansive, it is becoming incredibly vital for artists to create and maintain sounds and vibes that are inimitably unmatched. Astronomyy seemingly does this seamlessly; astronomically surpassing his fellow dream-pop comrades with his beachy "surf-R&B" influence.
Listen: "Nothin On My Mind" – Astronomyy
Though he has only just recently burst onto the music scene, it would not be surprising to see Astronomyy's popularity reach as far as his name suggests. Hopefully, we can expect a full-length album sooner rather than later – something for which the universe would certainly be eternally grateful.
You can follow Astronomyy on Facebook, Twitter, Tumblr, and Instagram.
Listen: There For U [EP] – Astronomyy
Listen: When I'm With U [EP] – Astronomyy