A concept album exploring sexuality and anxiety, The Blam Blams' debut album 'Opening Night' is an animated blast of the familiar.
—
Stream: "Throwaway Lines" – The Blam Blams
---




Sometimes the best way to come to terms with something is by turning it into a show. Putting on a performance allows us to express ourselves while also hiding behind a mask, releasing emotions while not revealing our true self. But even when not behind a mask, a show can be put on. Sometimes our true selves are best understood when approached as a form of entertainment, exaggerating the settings to give ourselves a greater sense of importance.
The lights are going up
The crowd is filing in to see the show
My life is on display, in a way
I feel I've been backstage
So many lonely days I watched the show
As my life would float away, like a play
Now the curtain's drawing
I hope I don't forget my lines
Now is my time
My opening night
– "Opening Night", The Blam Blams
Atwood Magazine is proud to be premiering Opening Night, the debut album by Nashville-based band The Blam Blams. It's a carefully arranged gathering of songs designed for the stage, specifically the theatre where narrative and extravagance are the underlying motive. The first track, which is also the title one, introduces this with its melancholic piano leading into tearful elongated vocals. There's an outpour of emotions that suggests that nothing is going to be held back within the following songs, bringing the listener/audience in with enthusiasm.
As a concept album, The Blam Blams have explored themes of sexuality, love, and living without a mask. Using theatre and the connotations of colours to build their songs means a strong visual element is woven into the narratives, which further enhances the playfulness that can come with making music. "Opening Night is a story about being heard, being seen, and being true to oneself," explains Brad from the band. "It follows the story of Sydney Fabel and the Galactic Theatre Company as they perform their first show at the Theatre Fantabulosa, and the narrative follows Sydney's love life as it takes some tumultuous and queer turns."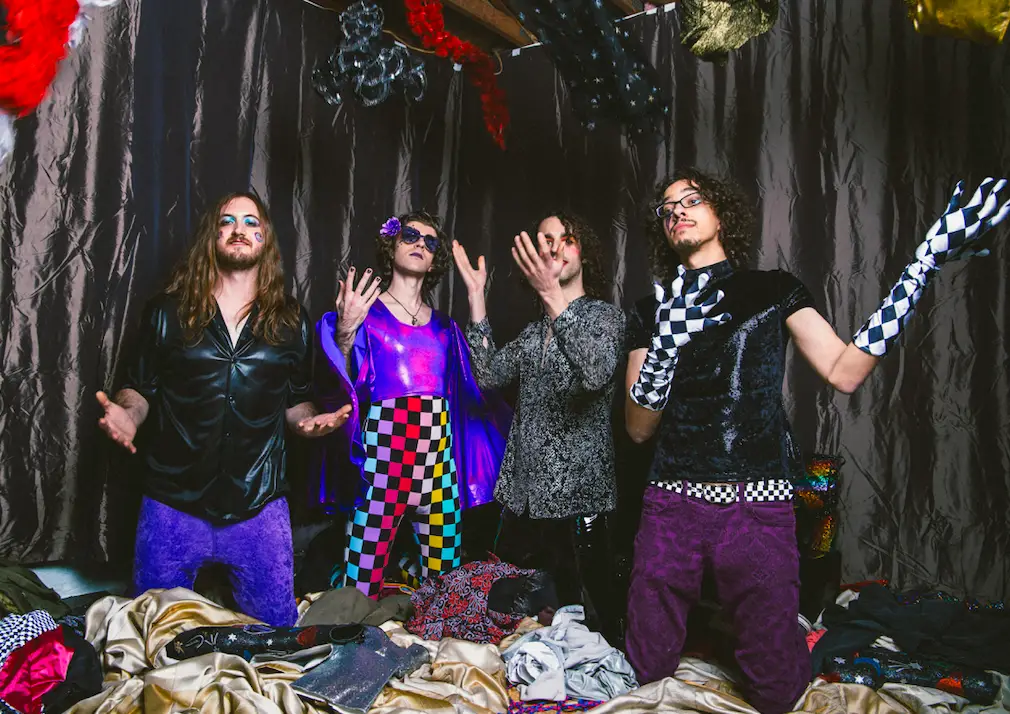 So what is Sydney Fabel's story? Well he performs in a show as part of the theatre company he founded, The Galactic Theatre Company, putting himself on display as both a form of expression and a disguise of identity. He has a girlfriend at the time but the love has faded, his satisfaction coming from wearing her clothes. ('Isabella, my love/ I sing your name in the morning time/ Thought of giving you up/ But a woman with your wardrobe is hard to find/ (gotta keep in mind, I can wear your high heels all the time' goes "Isabella", a playfully snappy track with the strong Freddy Mercury-style vocals that are present throughout the album). In a state of confusion, and following the break-up, he meets a man in a club who causes further emotional complexities for Sydney. 
But I'm…no I'm…well I'm
 All out of words now, I'm
Crossing this verse out in this uncompleted page
And you…yeah you…I know you
Won't understand it, but
I'm empty-handed without a pre-written phrase
And now I'm all out of words today
– "Out of Words", The Blam Blams
As Rob from the band states, "I want us to be the music you face that keeps your dreams alive and quells your nightmares… that makes you feel like a paper bag was just pulled off of your head!" Something that can applied to the protagonist of Sydney, who uses music and extravagance to come to terms with emotions. "We have each filled this album with our influences and desires for the world in every note we play. Our goal is to show the world: what music can be and who you can be are not limited to the values that capitalism and our toxic culture put on them."
On first listen to Opening Night, without context of the intentions, it can be hard to take the songs seriously. Glam rock as a genre dazzles firmly in the past, connoting the 1970s and eccentricity and gender stereotype rebellion. The Blam Blams, who are made up of Bradley Owens (lead vocals, piano), Christian Northover (drums), David Estes (guitar, producer), and Rob Stewart (bass), embrace this while channelling the familiar theatricality of Queen. "Blue Fire," for example is compiled of classic chugging of guitars and stadium-designed 'oohhhhh yeahhhh's, which is the same with "Arc Light City". 'Well I've been sitting in the dark too long/ I gotta bring up the lights; gonna have some fun tonight' go the lyrics, embracing the freedom of a glittering city. ''He Said'', which follows this, consists of a guitar solo emphasizing the objective of entertainment. But, with the album, Owens takes on the persona of Sydney Fable and the parody essence of Opening Night becomes less of a parody and more of an appreciation for how particular styles just work at portraying a picture.
This is evident when spotlight is put on other situations, such as "A Curious Intermission"- a piano interlude which is classical, sophisticated, and reflective- and "A Strange Interlude" which begins church-like but amounts into the sounds of somebody being possessed, Sydney Fables fully expressing his inner emotions. Closing track, "The Show's Over" is filled with melodramatic melancholy. It represents the extroverted and inward emotions conveyed in the narrative throughout but the pace picks up towards the end signalling a revelation. The songs therefore feel carefully curated, focusing on musical elements that instantly create a picture in the listeners mind as though watching it as part of a show in the theatre.
So I throw my life into the play
Each sold out show, each matinee
What a fool I was to say the show is over
 And though the night is at an end
The sun will rise, I'll love again
And now nobody can pretend the show is over, over
– "The Show's Over," The Blam Blams
However, Opening Night as a debut record isn't just about the fictional character of Sydney Fables. As Christian from the band explains, "The album is just as it says: our Opening Night. The album embodies everything we came together for: glitter, theatrics, a larger than life production, and respect for each other as people and musicians. It is filled with things that make us use underdubs, guitarchestra, cymbal screeches, and the mad genius that is Bradley Owens. In attempting to create a liminal space where everyone can be themselves, we did that for ourselves."
Theatrically is inclusive. While it can appear over the top, bizarre, too colourful, it pushes boundaries so that feeling like an outsider doesn't need to be the case. Channelling the past, fun, and sexual fluidity through music is an accessible and uplifting way of maybe making people feel more understood.
"I'm here to make music, not to stroke my own ego, rhapsodizing about the themes and meaning behind the album, as if to posture as some sort of genius to be marveled at," David tells Atwood Magazine. "If it's worth anything at all, Opening Night will make you feel, dream, and hopefully sing, without the need for me telling you what it means. That's up to you."
Experience the full record via our exclusive stream, and peek inside The Blam Blams' Opening Night with Atwood Magazine as the band take us track-by-track through the music and lyrics of their debut album!
— —
Stream: 'Opening Night' – The Blam Blams
:: Inside Opening Night ::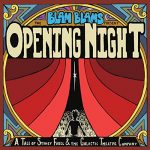 — —
Opening Night
Color: Black (Red Wine)
This is a song for anyone who struggles to express themself and longs to be heard and seen, even if it's scary to be so exposed. It narrates Sydney Fabel's inner thoughts as he prepares to step onstage to perform his first show with the Galactic Theatre Company. He has worked hard to get to this place, and the nervous excitement he feels is an undercurrent of the entire piece.
The crowd murmurs heard at the beginning of the track are taken from a recording of one of our live shows. Of course, there was usually music going on in the background, even as bands were setting up or tearing down, so the murmurs that appear in the song are actually just one tiny two-second clip that has been stacked and warped and reversed during the mixing process to sound like an ongoing murmur. David worked some real magic there.
Overture
Color: Black, red, green (lots of colors really) (Gray)
"The Overture" plays as the final moments wane before the start of Sydney Fabel's first show. Musically, the overture is hinting at several melodies and riffs that will come into play later in the album, but as far as the story of Sydney Fabel goes, this is the music he's hearing from the pit orchestra as he awaits the opening of the curtains and the start of his show.
The track was arranged fairly last minute. There were several versions of an Opening Night overture that I envisioned, but they were all too long, and so we ended up with the two-and-a-half minute track (much better and more concise than the glacial four minute original)
Blue Fire
Color: Blue (surprise!) (White, Gray during freakout)
The concept of "Blue Fire" is that we're putting on a hell of a show and it's going to blow you away! Sydney Fabel and his Galactic Theatre Company prime their unsuspecting audience for a show the'll never forget. An announcer greets the "ladies, gentlemen, and all those beautiful creatures who eschew such tellurian constructs"  and welcomes them to the Theatre Fantabulosa, an artsy playhouse in London's West End. The song breaks apart into a series of soaring sounds, odd delayed vocalizations, and crowd reactions before finally returning to the guitar riff and vocal refrain at the end.
The 'freakout' section of the song was the most collaborative, with each band member crafting their own little corner of a wild sonic landscape. Each of us took turns recording vocals into a delay effect pedal, and Christian recorded an entirely separate drum part to fade in and out with the pre-existing beat. The crowd sounds that appear in this section were recorded at a live show in 2019, where we prompted the audience to react in certain ways by holding up signs saying 'Ooh', 'Aah' 'Gasp', and 'Applause.'
Isabella
Color: Tan/beige when I'm listening to it; red/burgundy when I'm playing it (White)
In the song the narrator describes a relationship in which he wears his girlfriend's clothes when she's out of the house. Isabella was Sydney's girlfriend when he founded his theatre company, and this song introduces his relationship with her. The song initially presents Sydney's feelings as fleeting and surface level, his only reason for remaining in the relationship being his love for wearing Isabella's clothes. There is a sense that Isabella is accepting of him as a partner, and that there is a mutual respect there, even when her friends are warning her against him because of his gender fluidity. Ultimately, Sydney is happy in the relationship, even if he doesn't give his feelings the weight they deserve.
It was the first song recorded at Loud and Clear Studios in which I got to record with the beautiful Whirly electric piano there. It was so much fun that I decided to throw the instrument in a few of the other tracks for good measure.
Out of Words
Color: brown/goldenrod (Graphite)
This is a song about not having anything to say, and about a lack of ability to express oneself. There may be tons of emotion welling up in one's chest, but if the words aren't there to express those thoughts to others, then all that follows is silence. As a songwriter, I often feel that the only way I can express my feelings is through writing songs, and this song is about that struggle of communication. 
Sydney, though often an eccentric and at times flamboyant presence onstage, was often quite reserved in public. This song details his social anxiety, and hones in on his inability to express himself even to the one he loves. 
Interlude
Color: the color of a pearl (Graphite)
In the story it's a nocturne by one of the forgotten Romantics, often played by Sydney on the old piano in the green room of the theatre, while he sat in contemplation.
We recorded all the piano for the album at Creative Workshop in Nashville. The studio there is beautiful, with trees painted all over the walls, and the piano is one of the best I've ever played. It was an honor recording there and working with Joe Funderburk. We knocked out all the piano parts for the album in about six hours.
Throwaway Lines
Color: varyingly black, tan, and reddish depending on the section
This song communicates frustration about not feeling heard. I wrote it at a time when I was playing songs at open mic nights and coffee shops, and it was pretty hard to hold anyone's attention. It's a song that pleads for someone to listen, and I think the rawness of that emotion comes across in the intensity the band brought to the arrangement.
Christian recorded this wild rhythmic sound which I think involved a chain. David mixed in the chain sound, reversing parts of it to create a sort of reverse cymbal effect. It makes the beat of the song so much more heavy and impactful. It almost makes it sound like we're breaking glass or going on an angry rampage as the song progresses. I love how it turned out.
Interlude II
Color: green
At this point in the album, some emotions need to be expressed that don't fit into any words.
I wanted to adapt a theme from the last song on the album into a melody that could function as a canon. I love the idea of canons, and how a melody can harmonize with itself as it repeats back. Don't tell anyone, but I recorded the vocal line in two takes because I kept running out of breath. The takes were then stitched together seamlessly and the canon created.
In Case You Forgot
Color: varyingly black, blue, red, and goldenrod
This represents a scorned lover lamenting a collapsing romance. Isabella left Sydney, who could not accept that this relationship was over, vowing to love her until the end of time. This song is admittedly very melodramatic. I don't remember when I originally wrote it, but I think it must have been high school. 
This song always felt very personal to me, and in the recording, I played and sang every part of the track. It was very fun for me to record all my own harmonies, and very boring for the rest of the band.
Arc Light City
Color: electric blue! (Overcast Sky)
In this song Sydney goes downtown to drown his sorrows and meet some new people in the wake of his breakup with Isabella. Arc Light City is the name he gives to London's West End, an area teeming with night life, especially among the theatrical community and the queer community. Sydney hopes to meet some people like him there.
This was the first song we recorded where we really started to have fun with guitar tracking. I wanted some stacked guitar harmonies, and that resulted in a few very fun hours of recording line after line of guitar parts and coming up with cool arrangements with David as we slowly built the song up. We would come to affectionately call this sonic texture 'guitarchestra' and by the time we recorded the last song on the album, we were quite proficient at it.
He Said
Color: red, sort of tan in parts of the chorus
Here Sydney meets a mysterious man in a club who pressures him into dancing, but the man has ulterior motives, and Sydney is along for the ride. This song addresses Sydney's fluid sexuality, as well as developing the album's storyline. "He Said" is probably the most narrative of the songs on the album. It also features the most Polari slang, which has its roots among the queer community of London from the 1950s through the 1970s.
It took me ages to write. I came up with it piece by piece over the course of quite a few months. I finished writing it sitting outside of a house-venue in Louisville, KY, just minutes before we got on stage to perform. The ending section was a creation of my bandmates. I wanted something chaotic, and after a couple different ideas were thrown out, the aggressive guitar riff and wild rhythm section began to coalesce into a really cool outro for the song. The vocal delay effects were David's idea, and I was happy to contribute to the chaos in the recording. I love how it came out.
You Got The Drop On Me
Color: red
Following "He Said," this song expresses Sydney's frustration with the man from the club, as well as himself. He feels taken advantage of. The song is a further narration of the events of "He Said" but with more perspective. Perhaps it's how Sydney felt the day after his night on the town.
It is probably the simplest song on the album, but we decided early on to add some unexpected excitement with Christian's drum solo. He really nailed it on the album (as he always does live as well), with David adding a flange effect in mixing. Rob played a killer bass solo at the end of the song too, and I'm really glad that this song could put a spotlight on the talents of my bandmates.
Show's Over
Color: black, a bit of tan, green, and red throughout
The song begins in a state of sorrow, mourning the end of the show, as well as the end of a relationship, but the end of the song expresses some resolution and hope for the future. Sydney, dejected from the night's experiences, equates his love life to a show that has ended. His actual show has ended for the night, but Sydney vows to pour himself into his theatre company and live for their success, knowing that love may find him again one day.
This was the last song from the album that we learned as a band. We were still learning to play it while we were recording the other songs. I arranged a ton of harmonies for the end of the song, as well as guitarchestra throughout. This song was perhaps the most intricately arranged song on the album, but I think the work paid off for Opening Night's grand finale!
— —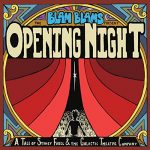 ? © 2020
Opening Night
an album by The Blam Blams
---