Seductively soft and hauntingly (bitter)sweet, Jolé's new 'Silver Lake' EP is an intimate indie folk time capsule of moments shared and memories made.
for fans of Sufjan Stevens, Dustin Tebbutt, Riley Pearce
Stream: 'Silver Lake' – Jolé
---
Seductively soft and hauntingly (bitter)sweet, Jolé's new EP is a time capsule of moments shared and memories made.
A record of revelry and nostalgia, of small "c" cinema, Silver Lake is a tender and captivating indie folk kiss on the cheek. An immersion of intimate warmth and wonder, it's a brief escape from the present inviting us to dwell in our heads and our hearts.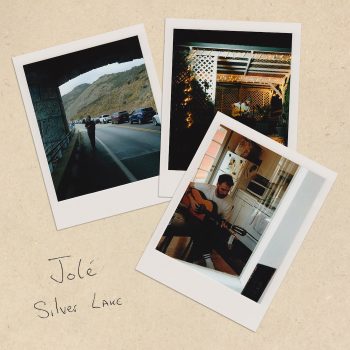 I can see
A sea of alpine green
Something that will stay with me
Sky is wrapped in blue
I wish that I could share with you
Like a photograph when times are good
When a flower begins to bloom
Life never felt so good
Independently released on August 21 via 4:3 Sounds, Silver Lake arrives this summer as Jolé's first EP since 2019's self-titled debut album. Previously described as a "well-rounded look at an artist growing in multiple directions all at once, showcasing electric and acoustic folk and folk-adjacent themes with finesse and heart," Jolé served as an exciting introduction to British artist Joshua Oliver, whose acoustic and raw songs seem to ring out as bursts of light in a dark space.
In contrast to his album's expansive and diverse nature, Silver Lake presents Jolé in an insular world unto itself. "I feel like this is the first release I have done that has a definitive sound," the artist tells Atwood Magazine. "My first album was an amalgamation of songs that I had written over the previous year or two and was more of a collection. This EP feels like it has more coherence and encapsulates a time in my musical journey."
Brought to life during an extended stay in Los Angeles last August, Silver Lake's title references Oliver's time spent on the West Coast; its songs are a reflection both of his experiences and his headspace during said trip. "Although we travelled around a lot we were based in Silver Lake. I wrote these songs when I was there and so it's a bit of a homage to that," Jolé explains. "Bar one song ('Still'), it was completely produced and written by me which is the first time I have done anything like that for my own project. It feels like a really positive thing to have achieved, and something I want to continue doing moving forward."
Opening with the tranquil "Alpine Green," Silver Lake begins by evoking the beauty and weight of memory. In premiering the song this July, Atwood described it as "a poetic indie folk lullaby full of poignant longing, heartache, and solemn acceptance." Minimalist production focuses our attention on a primary acoustic guitar pattern and solemn vocals, which will lead the way through to the EP's finish.
Jolé continues to dwell in his own depths as the EP progresses into the stirring "Pictures of You," singing: "Hold them close, won't let them go…you're the ghost I've always known…" His graceful voice weaves a lilting, gorgeous pattern of ups and downs, arriving to our ears over a bed of nuanced sound. The tearjerker duet "Still" reaches gorgeous heights through beautiful melodies and harmonies, showcasing just how much the artist can create with so little.
Jolé then closes with the striking "Tie Dye Sky," marrying a totally stripped voice-and-guitar affair with some of the more dramatic sonic scenery of the previous songs. Silver Lake, which spends so much of its time in the past, ends in the present: "In the end, I'll be here when I feel your light warming up my skin. And in good time, we'll make our lives together under tie dye sky," he sings, opening up musically on the last syllable to a wealth of stunning, lush sounds.
"I really hope people enjoy it firstly, but also to take their own stories and messages from the lyrics," Jolé reflects. "Although these songs were written in August/September last year they seem to have a lot of relevance to the current situation (especially Alpine Green) and I hope the listener can relate to that."
A thirteen-minute dreamscape, Silver Lake is an indulgent, colorfully entrancing escape. Its music is a deep breath of renewal that will inspire stillness and introspection. Beautiful and layered, the record marks an exciting new chapter in a talented emerging artist's journey. mbined streams, the record served to both close one chapter of the young artist's life and open another all at once.
Experience the full record via our below stream, and peek inside Jolé's Silver Lake EP with Atwood Magazine as Joshua Oliver goes track-by-track through the music and lyrics of his new EP!
— —
Stream: 'Silver Lake' – Jolé
:: Inside Silver Lake ::

— —
ALPINE GREEN
"This song is about experiencing something beautiful or uplifting that you wish you could share with someone that can't be there. It's about feeling grateful in the moment but wanting someone you love to experience it with you also. Whether that person is no longer around or you haven't seen them for a while sometimes holding them in your thoughts can be comforting"
PICTURES OF YOU
"This song is really about good memories. I initially had the idea for this song when going through a break up but came back to it a couple of years later. It's about positive things coming out of sad moments. When I was going through this breakup something was coming to an end and that was really heartbreaking however there were so many good moments that came before that it was really just about feeling grateful for what was had rather than what was lost."
STILL
"When I was writing this song (with the amazing Grace Fulmer) we were chatting about being away from our partners. We discovered we had both been through something similar where we were away from them and had been quite miserable. In this moment it was the thought of them that calmed our minds and made us realise they were our comfort – "where you are that's what feels like home". It has a similar concept to Alpine Green."
TIE DIE SKY
"This song is all about starting a new life and living it simply. The concept of Tie Dye Sky came to me whilst watching a sun set. The sky was lit up in all sorts of colours and I thought it looked a lot like tie dye. It sparked an idea of going back to basics, back to nature, living a simple life away from the city."
— —
— — — —

? © 2020
:: Stream Jolé ::
---