With a knack for highlighting the little details, Bendigo Fletcher's latest EP 'Terminally Wild' is a light-hearted insight into the realness of life's ups and downs. 
Stream: 'Terminally Wild' – Bendigo Fletcher
[soundcloud url="https://api.soundcloud.com/playlists/651879033?secret_token=s-5kKYV" params="color=ff5500&auto_play=true&visual=true&hide_related=false&show_comments=true&show_user=true&show_reposts=false" width="100%" height="450″ iframe="true" /]
---
For all the pain and difficulties that we face in our daily lives, there are moments of joy too. Maybe it's just in the atmosphere, a lightness that can put a spring in our steps, or maybe it's because of those people that we know are by our side. At times, we can understand these things even when not directly experiencing them. That's what films and books are for. And songs too.
You sat cross legged in the winds of Indiana
Alone and on the hood of
your silver Chevy Malibu
We'd lay our heads the engine warm
in the winter strokes of evening
We'd let the pinks and the
purples wash the blues away
And focus for a night on the
only thing that we could hold
"Winter Strokes", Bendigo Fletcher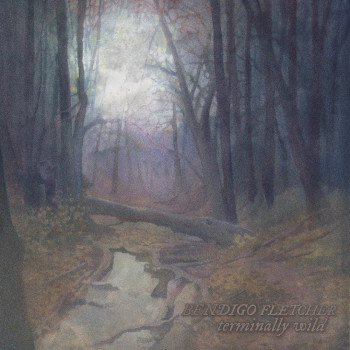 Atwood Magazine is proud to be premiering Terminally Wild, the latest release by Louisville-based band Bendigo Fletcher (released February 19). The three tracks that make up the EP are sunny and familiar, with an easy-going catchiness and toe-tapping energy, but under the surface there's a gloomy realness highlighted through topics such as alcohol dependence, broken hearts, and loneliness.
The opener, "Wilderness Medicine," begins wistfully- the guitar being a lonely winding path that the protagonist is walking down, hands in pockets. 'I got drunk in time for the wedding/ and bypassed the church for the trees' he explains, immediately confiding in us as though in desperate need of someone to talk to. There's a specificity to the lyrics that continues throughout, bringing the listener in to the tale, but it's coated with a poetic playfulness. Therefore, despite the troubling situation the protagonist is in, there's a distinct sign of hope and we and him are inclined to deal with it together.
I've abandoned the war on machine
And surrendered to the self check-out line
To bag up what's left of my shame
In the event that my cards all decline
And there's an overdraft
bite coming in like a rattler
And discounted wilderness medicine
for something so terminally wild
And you can tell them you tried
To trade in my Red River blues
and wet tennis shoes
For good leather boots and a light
So the next time you lose me in the woods
There'll be no further blame on the night
– "Wilderness Medicine," Bendigo Fletcher
"No Smoke" and "Winter Strokes", the two singles released in November and January respectively, both focus on relationships and the juxtaposition of emotions but with slightly different approaches. "Winter Strokes" balances pain with positivity, remembering intimacies before recounting moments of departure. Again we feel like onlookers, watching their lives play out in front of them, life being just like a film full of ups and downs. The sound compliments this with the intimacy of frontman Ryan Anderson and acoustic guitar then joined by harmonies and gradual increase in pace. It's sweet but tinged with a sadness.
"No Smoke", on the other hand, is the liveliest of them all. It has a gliding folkiness that whisks the listener along, the story sometimes lost behind the rhythm. The first half is about dealing with a breakup ('pain is permission from the universe/ to free yourself from worry and settle the score') through playing video games in a cloud of smoke, while the second half is a clearing of the mind, finding enlightenment, and securing 'a new job a steady girl some wheels for the west'. With it all there's a happy-go-lucky ambience that suggests that these kind of things are just meant to happen.
Terminally Wild is Bendigo Fletcher's third EP, following the self-titled 2017 debut and classically acoustic Consensual Wisdom of 2018. This one is shorter but there's instant vitality, the mix of Americana, folk pop and indie helping to set clear scenes. As listeners, we're awkwardly there at the grocery store as a transaction can't be made- feeling like we should do something but know we can't. And we're there when two people in a relationship are parting ways, one driving away with tears down their face while the other watches out the window.
Although Terminally Wild takes it name from "Wilderness Medicine," the following lines in "Winter Strokes" sum it all up nicely: 'I'd lay you down / and touch the ocean of humanity before me and drink it in'. The vastness of what life entails can be overwhelming and relationships, whether romantic or friends and family oriented, are treasurable. Pausing to take everything in on our own is needed for moving on but knowing there's somebody there in the sidelines makes it so much easier.
Experience the full record via our exclusive stream, and peek inside Bendigo Fletcher's Terminally Wild EP with Atwood Magazine as the band go track-by-track through the music and lyrics of their latest record! Terminally Wild is out everywhere Friday, February 22, 2019!
Stream: 'Terminally Wild' – Bendigo Fletcher
[soundcloud url="https://api.soundcloud.com/playlists/651879033?secret_token=s-5kKYV" params="color=ff5500&auto_play=false&visual=true&hide_related=false&show_comments=true&show_user=true&show_reposts=false" width="100%" height="450″ iframe="true" /]
:: Inside Terminally Wild ::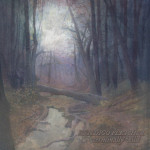 Wilderness Medicine
"Wilderness medicine" is almost void of hope. The speaker's in a feedback loop of whiskey dependence and broke-ness, but they're privileged enough to feel embarrassed at a grocery store when a transaction goes unapproved, prompting the hungry shopper to leave the already bagged groceries at the counter with a "dang" and a lofty promise to return later with sufficient funds. Luckily, there's someone on the other line who cares. 
No Smoke
"No Smoke" was recorded in two studios. The 'bones' of the song were laid down at Springhurst Recording Studio in Lexington, Ky, and we later had help from RayLand Baxter down at Thunder Sound Recording Studio in Franklin, KY, when he added some shaker, an additional guitar part, and a backing vocal (such is the case with a few other songs on a full album to be released in the Fall of 2019). However, we thought "No Smoke" fit with the woodsy sulk of 'Terminally Wild', and perhaps it saves the EP from being entirely slow and sad. Anyway, Thunder Sound was owned by the late Billy Swayze, a celebrated musician and curator of some really badass studio equipment, who tragically passed away on January 19th, 2019 at 32 years old. Billy seemed coolly excited about the music we were making, and his expressions of support never failed to boost our confidence—"this song's fuckin killer, man"— in the presence of some true blue recording artists (RayLand, the guys of Morning Teleportation, not to mention Billy himself). To be in any room with him was a blessing. 
"No Smoke" was written as a testimony to the air of good will that can exist between two people who, intentionally or not, haven't interacted in a long time. There's hope, namely in the refrain, that the positive parts of a relationship otherwise laid to rest can transcend, given the time and space, to a more real layer of connectedness beyond the physical sense. For your enjoyment, here's a clip of Billy playing one of his songs with utmost visceral passion. He leaves you no choice but to believe and follow him, and it's pure-hearted. He harnessed this kind of energy, more or less, on the daily:
Winter Strokes
"Winter Strokes" is a reflection on a relationship's ending and beginning and ending and beginning and ending again. When it was written, I was reflecting on the tough, love-soaked moments of letting go when grief might find a counterpart in the beauty of nature or 'the outdoors'. During a tough transition, i think it's comforting to think about how the best sunset you've ever bonded over could very well be honorably challenged, if not topped, tomorrow. Trudge a bit further to learn that nature is fluid and can't be ranked against itself. It's been a everything so far, and it'll take us forward through inspiring sights and sounds. I assume that's why most condolence cards show paintings of willow trees and pastel beaches and things like that. 
— — — —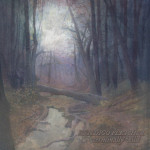 ? © Josh Kranich