Our conversation with Freakout Records' Skyler Locatelli is an illumination on what goes on behind the scenes of these plucky starships we call independent music festivals. 
---
Treefort is really special because I just feel like they do it right. In terms of a music experience at a festival. It's very inspiring to what we do with Freakout Fest.
"No matter, you're going to end up going to the Neurolux" probably best defines the common denominator of the Treefort experience. Located just down the street from the festival's main stage, I found myself heading there for bands as varied as Acid Tongue, Wild Pink and Habibi. If I had been more wise to the power of my press badge, I would have seen Open Mike Eagle there, too.
Alas, I was not wily enough to recognize the power in my media badge.
However, when I met up with Skyler Locatelli, his veteran knowledge of a festival's inner workings belied his experience. Locatelli is the co-owner and operator of Freakout Festival. He also helps manage the festival's publishing branch, Freakout Records. Together with Guy Keltner and Ian Cunningham, he forms the core of an enterprising Seattle music microlabel.
His character is as fun as his last name; multi-syllabic, with a rhythm all its own. Easily able to shift from Skyler the festival organizer, to Skyler the music fan, to Skyler the Trekkie. A Next Generation kind of guy, when asked between Scotty or Chief O'Brien, he'll take the latter every day of the week.
One of my biggest questions during Boise's premier music event consisted of how does the music festival transform in the face of a pandemic? How does it maintain the music in lockstep with the security? For Locatelli's part, he finds that Treefort leads the independent music festival world in finding answers for those questions. Just as it has led the way in finding the right balance between small, cult favorites and the big hit artists. If you end up attending a smaller festival, like Freakout Festival, you'll find it's been influenced by Treefort, the biggest fish in the Pacific Northwest.
The relationship between these organizations requires nurturing, friendly gestures. Like showcases, networking and talent buying. All together, the right curation will transport people to a space outside of themselves. And my conversation with Skyler is an illumination on what goes on behind the scenes of these plucky starships we call independent music festivals.
A CONVERSATION WITH SKYLER LOCATELLI
Atwood Magazine: What have you been listening to recently?
Skyler Locatelli: Oh, man. Well, it's always tough for me because anytime I'm doing my music fest, I'm constantly listening to a lot of the artists that are playing or any new records they put out… Liz Cooper has a new record called Hot Sass. Really amazing… Sometimes I just have to like look at my playlist and see what's on there.
You listen to too much at some point. It's so much that you can't even remember basically.
Skyler Locatelli: Exactly, exactly. Have you heard of the artist Jamie Wyatt?
Name seems familiar.
Skyler Locatelli: She's like a kind of outlaw country type artist and doing a lot of stuff in that genre. A lot of female vocalists to be honest. I love Courtney Marie Andrews… but other than that, like I'm always into psych rock. All different forms of it. Old and new.
Everything from Wooden Shjips to Brian Jones Massacre to The Zombies?
Skyler Locatelli: Yeah. And then you know, my dad grew up in the 60s in the San Francisco scene. So all of that music I'm obsessed with too.
Freakout is also a record label. What kind of records do you specialize in?
Skyler Locatelli: Freakout was born out of the festival. It started as the psychedelic holiday, Freakout. And then in 2016, Ian Cunningham, Guy Keltner and I decided to launch a record label and… name it Freakout records. And we've done about 24 records since then. Some of our core bands would be Smokey Brights, Acid Tongue, and the Grizzled Mighty. And we have a newer artist, we've only released a couple of singles, so far. But she's working on her debut album and her name is Shana Shepard. All four of these artists are here at Treefort.
Epic. What is like the relationship between Treefort and Freakout? Do you look at them as a contemporary or industry leader?
Skyler Locatelli: Definitely industry leader. I live in Seattle, but I was born and raised in Idaho. And for me, Treefort is really special because I just feel like they do it right. In terms of a music experience at a festival. It's very inspiring to what we do with Freakout Fest. 
We started as like a 20-band DIY music festival. Now, in our ninth year, we have over 90 bands and four nights and seven venues and that's sort of still a fraction of what Treefort does. I just love the curation. I love the interaction with people here. And just the general vibe. Everything is in proximity. It's really fun.
How early does your team get started on planning each year's Freakout Festival?
Skyler Locatelli: It happens in November, so typically we wrap up and then you know, holiday break, and then kind of starting in January basically, booking again — sometimes earlier than that, and we're planning more events. We do that annual Fall Fest, and then we present shows throughout the year as well and also do showcases at places like Treefort. We've done South by Southwest and then do shows in LA or New York. And so we're working on more kinda like Two-Day, Mini-Festivals in 2022.
I like the Star Trek shimmer on your ringtone.
Skyler Locatelli: Yeah, you just caught my inner Trekkie there. Beam me out.
Would you prefer Scotty or O'Brien?
Skyler Locatelli: Chief O'Brien for sure. More of a Next Generation, Deep Space Nine fan.
All right. My kind of man. One of my friends is a big Original Series fan and I'm a TNG fan. And I'm always just like, TNG: it's just better. It just is.
Skyler Locatelli: It is just better. Yeah, yeah, I haven't really gone back and watched much of TOS. I've seen some episodes, and I like certain ones. But I like the Star Trek movies better than the original series.
Oh, interesting. I think that's just because TOS was made for a completely different audience. Anyways, how did we get to Star Trek?
Skyler Locatelli: My text message?
There we go. When you are scheduling Freakout, are you reaching out to artists? Or do artists apply to play for freakout?
Skyler Locatelli: Both. I mean, so my partner is sort of the main talent buyer. He is fielding a lot from his musician friends. We do a lot of just, like, "quick" booking in terms of like messaging our bands that we know. But for sort of the major-agent-style artists, we're reaching out and making offers. It's a tough game, to be honest, especially in the COVID years.
How has COVID-19 affected your music contracting? Have there been new clauses to allow for artists to drop out if the pandemic is too much for them?
Skyler Locatelli: Yeah, to be honest, it hasn't been that bad. We've only had a couple people cancel so far. And one of them was for a visa issue. We book a lot of international artists, specifically from Mexico and South America. So we had one band from Mexico City, they had a visa issue and so they pulled out. But in terms of COVID, we'll see. This is a really good testing ground being here at Treefort and seeing how they're handling it. They're doing a really good job. Freakout Fest put out a COVID statement and everybody was happy about that. But we also live in Seattle, and it's doing a good job in terms of vaccination and people wearing masks. And so we also just have to follow the city and state rules as well.
Have you guys been in contact with local government about setting up the festival according to state guidelines?
Skyler Locatelli: Not so much because, Freakout is similar to Treefort except we don't have an outdoor main stage. Everything happens in indoor venues… that are having shows all the time. So we don't really need to deal with it so much. Because these are businesses that are already operating, we're not putting up fencing and porta-potties and, you know, check in points like that. We're kind of fortunate in that matter, that we don't have to go through a lot of hoops.
What do you think the importance of a smaller music festival is to the music industry? What opportunities do they provide that can't be found elsewhere?
Skyler Locatelli: Everything is about experience to me. In terms of events like Outside Lands or Bonnaroo or Lollapalooza or whatever, you've got bands that cost a million dollars. For places like Treefort or Freakout or Lose Yr Mind… you may or may not know, a quarter of the bands or any of the bands. But you go because you trust the festival that is curating bands so that you will stumble upon, you know, and discover.
It's a lot about music discovery and experience and very calculated curation in terms of the stages. We also don't want you to just like, go to the Tractor Tavern and stay there all night. Go pop into all the different shows and see different things and you'll likely discover something you've never heard and you really love.
Yeah. We were talking earlier about like, South American and Latin American bands. Brazil, is that frequently in the mix?
Skyler Locatelli: We actually haven't had any Brazilian bands. We were supposed to have one on the stage here this year, but a glue trip but mostly Mexico and… Argentinian artists are on my radar too. Are you familiar with NRMAL?
No.
Skyler Locatelli: It's a music festival in Mexico City. Very inspiring to what we do. But this year we we collaborated with their talent buyer, Moni Saldana, and we're curating like a NRMAL at Freakout showcase. We have 10 artists from Mexico and South America coming up this year.
How common is this practice to collaborate between different festivals? Is this a normal industry practice?
Skyler Locatelli: Um, yes, yes. And no, I mean, there's certain festivals that kind of fit well with that. Treefort for sure. Our other friend who does Fisherman's Village Music Festival in Everett, Washington. We do stuff with him. And he does stuff at our thing. The NRMAL thing was just like, I got to meet Moni and just had a good relationship. And it was like, we should collaborate. And now it probably means that we'll do some type of Freakout Mexico City thing. That's my goal. I just want to be able to travel and do you know, showcases in different cities of the world.
I think that's the biggest excuse for music ever... It's like an excuse to go travel places. Maybe not an excuse, but a reason.
Skyler Locatelli: Yeah, exactly. I've done basically that my whole life.
What is the wildest abroad festival that you've been to?
Skyler Locatelli: You know, to be honest, I haven't really done like a big music festival thing like in Europe—like a Glastonbury or Primavera or something. Those big festivals don't really interest me that much. I would rather see that band play their own headlining show and a smaller theater.: I'll go to see the Rolling Stones in an arena or whatever, but I prefer these type of festivals.
As awesome It would be to be in that ocean of, you know, Led Zeppelin fans freaking out. That kind of appeal, comes at the cost of a better audio fidelity that you hear in an opera hall. That's the premium for Freakout and Treefort. The venue isn't massive, but there's so many different little intimate venues that wherever you go, you're going to be in it.
Skyler Locatelli: Exactly. Exactly. And that's when you have the best experiences with people that way. And, and also, you run into, you know, a younger generation and, you know, funky drug culture that's just not really there for the right thing. That's why these this is such a great fest. Everybody is so music driven, you know? And and it's all the artists that are… all coming out to see stuff. And that's, that's awesome.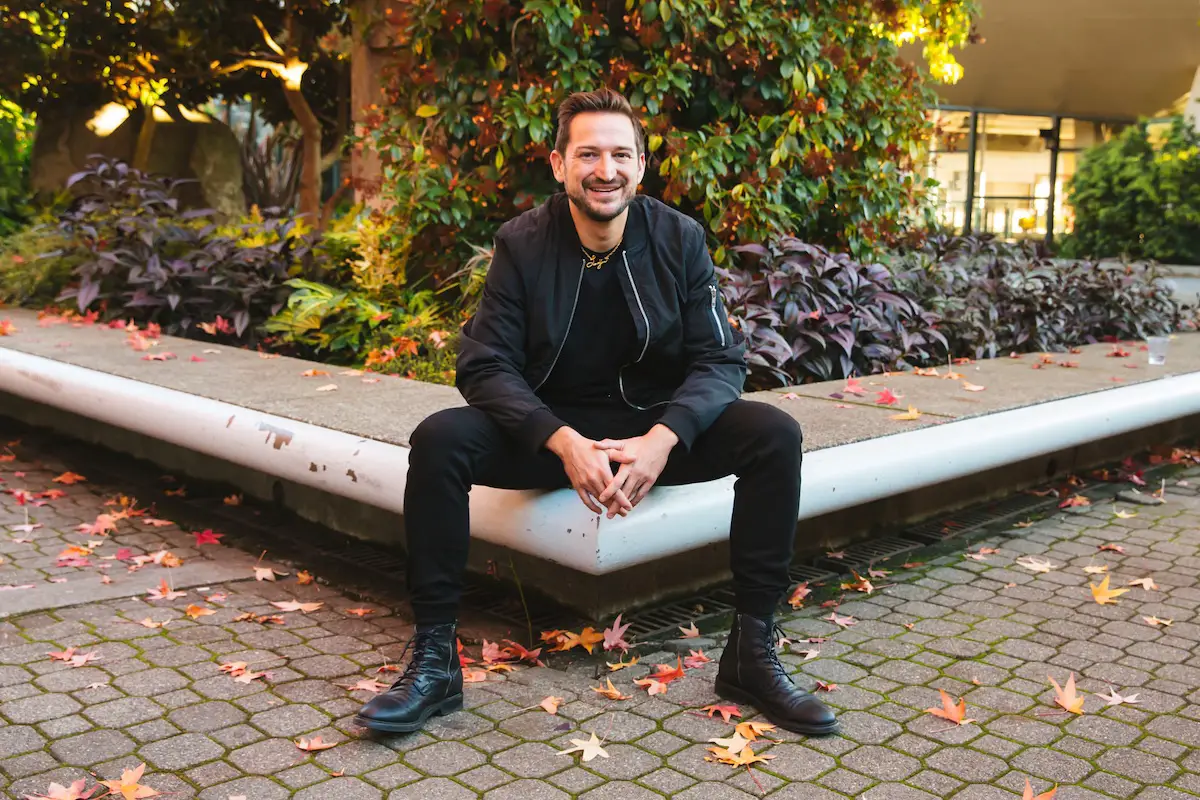 How does that change when artists are the ones who are making up the audience as well? How does that change the energy of a festival?
Skyler Locatelli: Yeah, I mean, it does. I mean, for example, last night, I was at Mdou Moctar and Doug Marsh is there hanging out. It just brings a different vibe to to the room… and you see people dancing and grooving and happening.
How about that Mdou Moctar show last night?
Skyler Locatelli: It was the one thing yesterday that was like not to miss for me. I love that band. And that was the first time I'd seen them. It was amazing. I'm into a lot of those South Saharan desert rock [groups]. I've seen Tinariwen a half dozen times and Tamikrest and Bombino, I've seen a couple of times.
Did you see him at KEXP when he performed?
Skyler Locatelli: Yeah… I just I love that music and, but Mdou Moctar's kind of the psych-heavy driven version of all I love.
"I've just charges it into this psychedelic blues odyssey essentially. He did "Tarhatazed" last night and I think the craziest moment was watching like him bring his guitar up to the crowd… I don't think you'd get that experience in like anywhere else but a small venue."]

Skyler Locatelli: Yep. Yeah, exactly. If you're at an outdoor big stage, now there's a giant fence between you. I love the El Korah Shrine. It's a really fun venue for that and I'm really excited one of our bands, Smokey Brights, is playing there tomorrow.
What would you say is your favorite fort or stage venue at Treefort?
Skyler Locatelli: It's very artist dependent. I'll see a rock and roll heavy band at The Shredder or big old horns and soul and funk at Humping Hannah's and everything else at the Shrine. Neurolux is not—I mean, no matter what, you're going to end up going to the Neurolux, but it's not my favorite spot, I would say. The Linen Building is pretty cool too.
I have yet to go to The Shredder; what do you think is the appeal about The Shredder?
Skyler Locatelli: It's just kind of a gritty bar, you know, like, you want to go in and hear some heavy guitars. You know, drink some whiskey. I saw Treepeople there a couple years ago… that was super cool. And then Prism Bitch who's kind of pals with Doug too. We put out one of their records as well.
I saw them at the main stage last night. The last thing I'll ask you is what are you looking forward to seeing at Treefort?
Skyler Locatelli: Well, besides Mdou Moctar? My buds in Low Talker. They are from Athens, Georgia. Acid Tongue, the Neurolux at 8:20. Oh, I'm really excited about which is like super chill is Arooj Aftab… I love Vulture Prince. I'm also into slow ambient stuff, too. It's just calming.
It's a completely different vibe than I associate with India and Pakistan, which is very sitar-based music… ''Mohabbat'' was put on Barack Obama's summer playlist. I don't know what's happened there; our former president has become a tastemaker in the music industry.
Skyler Locatelli: I know, right? You get that when you're on that list, all of the artists share it, you know. It's like this kind of a validation that you just wouldn't get every day but you get the Barack stamp of approval. Pretty sweet.
He should just quit the speaking gigs and start writing for Pitchfork.
Skyler Locatelli: (chuckles) Right, absolutely.
— —
:: stream/purchase XXX here ::
— — — —
? © 2021