In an age where the guitar is all but absent within hip-hop music, Big K.O. is dialing back to an era where funk-laden riffs and fuzzed-out jams were kings.
•• •• •• ••
Val B. King says I remind her of her grandfather – B.B. King – when I play, which is the most amazing compliment I could ever get.
These days, you'd be hard-pressed to find a "chart-topping" hip-hop jam with even a trace of guitar on it.
And if you do, it's probably sampled by some sort of machine or AI-based software.
Indeed, it's a sad state of affairs, but it's not all bad, is it? Of course, if you're a purist, you've always got her old guard to harken back to – Run-DMC, Kurtis Blow, and Grandmaster Flash. And if you dig deeper, or if you're a crate digger, you might find that digging into hip-hop's influences – which run the gamut of jazz, funk, and soul – is more suited to your tastes.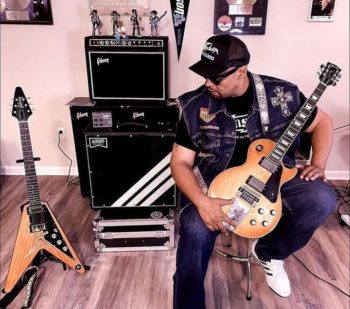 No matter, especially if you're a gunslinger like Big K.O., a Firebird-wielding guitarist who's worked with the likes of Val B. King, Run-DMC, and, oh yeah, he's pals with ZZ Top's Billy Gibbons, too. In Big K.O., we see a guitarist – and producer – who's fully immersed himself in the age-old tactics which made hip-hop guitar nothing short of inspirational in the '80s.
And so, be it through his upcoming work with Darryl 'DMC' McDaniel on his latest record, Ghetto Metal, or his yet-to-be-titled record with B.B. King's granddaughter, Val B. King, you can be sure that Big K.O. will remain a the forefront of guitar within hip-hop, soul, and funk music.
As he prepares for a busy year ahead, Big K.O. dialed in with Atwood Magazine to run through his latest endeavors, his love for guitar, gear, and much more.
— —
A CONVERSATION WITH BIG K.O.
Atwood Magazine: What first inspired you to pick up the guitar? Who were your primary influences?
Big K.O.: Absolutely television in the late '70s, like Soul Train, American Bandstand, and variety shows. TV theme songs were funky and rocked hard. It seemed like amazing music was everywhere, from commercials to cartoons. When I was very young, I saw the Jackson 5 on Soul Train, and my eyes gravitated to the cool older cats on the ends with Guitar and Bass, Tito, and Jermaine Jackson. In fact, Tito Jackson is a hero of mine. He always played amazing-looking Gibsons. He played a Cherry Red ES on the Ed Sullivan Show and had Les Pauls and ES's throughout the '70s.
Being a kid that grew up in the '80s, guitar was everywhere, and R&B music suddenly had high-gain guitar tones. I remember trying to figure out the solo to "Candy" by Cameo, which was a classic '80s Funk tune. But definitely, the sound and music that made me beg my parents for my first guitar were seeing Run-DMC on MTV and the great Eddie Martinez in those videos. Also, of course, Van Halen's influence, especially on the 1984 album and Michael Jackson's "Beat It."
Who influences you most today?
Big K.O.: I love listening to producers like Mutt Lange, Eddie Kramer, Bob Rock, Rick Rubin, Norman Whitfield, and Gamble and Huff. How they used the technology of their time to make timeless music. It's inspiring to have modern technology at your fingertips as a guitar player/producer today.
How did you become hooked up with Run-DMC?
Big K.O.: I met DMC ten years ago and sent him a few riffs I had late one night. The next morning I had four messages from D saying how much he dug the sound and he was going to record later that day! It was mind-blowing; I played air guitar and rapped in the mirror to Run-DMC like thousands of others as a kid. I realized I had an opportunity to play a big part sonically in DMC's second act after Run-DMC, kinda like Wings or George Harrison's stuff outside the Beatles.
What new music are you working on?
Big K.O.: I just finished my and DMC's full-length album, Ghetto Metal, which is reminiscent of his '80s hits like "Rock Box" and "It's Tricky." The first single is called "Heros 4 Hire," with big '80s drums and even bigger guitar riffs. I was inspired by Chuck D from Public Enemy saying tracks should rattle the scoreboards in arenas. [laughs] Huge riffs and beats that have space that creates a natural ambiance.
The title track from the record, "Ghetto Metal," puts the concept across well. That's one of the ways my approach has changed. Leaving space so things can feel BIG. Uncomplicating riffs create a harder sonic impact. I'm also working on a full-length album of duets with Val B. King, the Granddaughter of B.B. King. I'm very excited about that.
How has working with ZZ Top's Billy Gibbons altered your approach and perspective?
Big K.O.: We've been kicking it for over a year; I'm good friends with his tech Evan who linked us after a 2021 show at Hard Rock Tampa. The craziest surreal moments are getting random texts from such an influential legend. Every word from Billy weighs a thousand pounds, and I treasure the knowledge he's passed.
In October, we hung out after a ZZ Top show in Tampa and talked until 2:30 am on his bus about life, guitar gauges, sunglasses, and pork rinds. [laughs] He gave me a Swarm pedal by Beetronics that I fell in love with. And now I also have a Vesspa fuzz; that's crazy. We're working on a song mashing up ZZ-Top and Run-DMC, like "Walk This Way" on steroids. I can wait for people to hear it.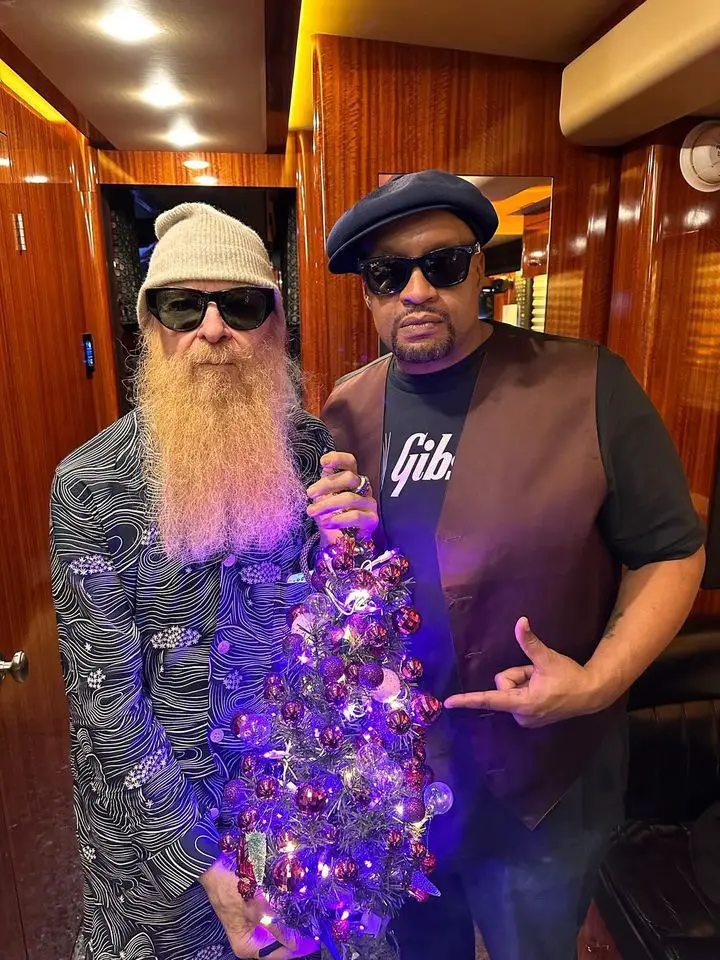 Every word from Billy Gibbons weighs a thousand pounds, and I treasure the knowledge he's passed.
Describe how you achieve your signature tone and vibrato. Do you feel vibrato is as important as it's made out to be in terms of being a calling card?
Big K.O.: The sound is a sharper edge funk fuzz tone. Not as tube saturated. A dynamic clean amp with a lot of clean headroom slammed with fuzz and phaser for leads. Vibrato is super important. I've been working on the butterfly technique for some time, and it's great, especially on that thin E String! I flap up so that I don't fly off the fretboard; [laughs] Val B. King says I remind her of her grandfather – B.B. King – when I play, which is the most amazing compliment I could ever get.
What guitars are you using now? Do you prefer vintage or new?
Big K.O.: My main guitars are Gibson Firebirds and Les Paul's. I just got a custom set of Firebird pickups from Dylan Talks Tone that are the best I've ever heard. The articulation and clarity across the strings are phenomenal. They are also the loudest Firebird pickups I've ever played and can stand toe to toe with the Humbuckers in the Les Paul.
I'm not a vintage player, although I love the history of classic guitars. I'm kinda odd in the fact I dig stuff with a '70s and '80s aesthetic as opposed to most vintage collectors liking '50s and '60s stuff. If I do grab a vintage guitar, it will be an '80s model.
What other guitars do you use/have you used and why? Is there one guitar that means the most?
Big K.O.: I love Kramers. I have a Barretta that makes me feel young again! I hadn't had a Floyd Rose-equipped guitar for a while, so it's been fun to just go crazy on the bar. I always find myself going back to Firebirds because of their size, feel, and weight. The one I'm currently playing is a 2018 Elite, and it is phenomenal.
What amps and other gear are you using? Are you okay with Kempers, or do you prefer tube amps?
Big K.O.: I have the amazing honor of being a Benson amplifier user. My signature amp is called the Rockbox. It's a 3×10 40-watt combo with reverb with power scaling to 0.5 watts. It's been one of the biggest highlights of my career to work with Chris Benson and see this amp come to life. It's based on his Chimera circuit with some extra sauce. I have an EXT cabinet on the way, so it will be a stack soon!
I'm currently using the Tonex software and Pedal from IK Multimedia; the accuracy and realism of the captures are incredible and, in my opinion, surpass the Kemper stuff.
Are you a pedal addict? If so, which do you like?
Big K.O.: I'm not an addict. I need to be able to recreate the sounds of records on stage. I'm using the X Series from IK Multimedia, which I love.
Are there any guitars, amps, or pickups that you don't like?
Big K.O.: Not really. As a producer, you should have a full arsenal of guitars and amps, from high-end to solid-state stuff – which is great –single coil, etc. As a player, I prefer neck pickups that sound great. Whenever I play a new guitar, I'm going to the neck first to check for creaminess. [laughs]
Do current trends alter your style and technique at all? How do you stay inspired?
Big K.O.: I say on top of technology gear-wise, but current trends don't influence my playing. I always go back to Motown music to return to my Roots. My soul starts to crave it. [laughs] It's like going back home to your old neighborhood and having an incredible home-cooked meal. I stay inspired by always trying to learn and get better. Also, listening to multiple genres. There is heavy metal music that is beautiful; there is funk music that is heavy.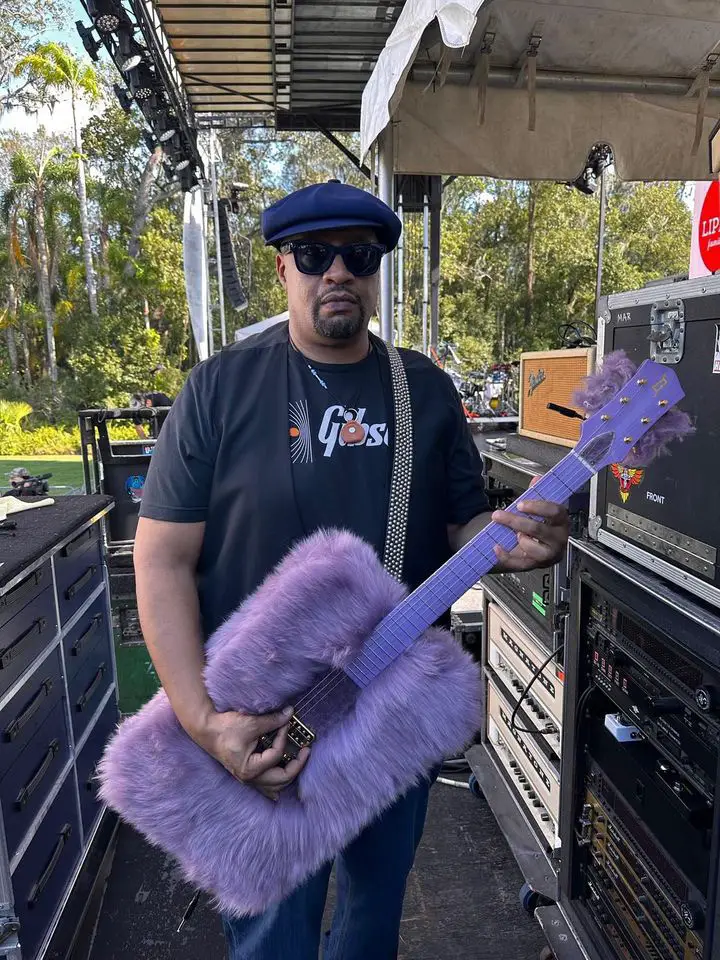 Do you feel the guitar is properly represented in hip-hop? If not, how do you change that? What is the guitar's true place in hip-hop when most music is sampled?
Big K.O.: It hasn't been traditionally, but I'm seeing more live bands backing hip-hop artists, which is amazing! Great players like my friend 'Captain' Kirk Douglas from the Roots – the house band for The Tonight Show – rips it nightly and is an incredible guitarist. I think moving forward, it's going to be important for more bands to be incorporated into hip-hop, as sampling fees and rights are a nightmare. Whether it's replaying samples or creating new grooves, I think the guitar will be at the forefront.
What's next for you in all lanes?
Big K.O.: Finishing up Val B. King's album, Run-DMC's final show at MSG, and the Ghetto Metal album is the lineup next. We have some big shows this summer that I'm looking forward to as well, trying out new hot sauces from BFG!
— —
— — — —
? © Rashad Gilcrest, courtesy of Big K.O.
:: Stream Big K.O. ::
---