This Black History Month, Atwood Magazine has invited artists, like those who produce contemporary art prints, to participate in a series of essays, interviews, reviews, poetry, playlists, and more features in recognition of, and out of respect for the symbolism and significance of this month.
---
Today, Sydney, Australia-based artist PRICIE shares her painting "The Black Expression" as a part of Atwood Magazine's Black History Month series. Born in Nigeria, PRICIE recently introduced herself through this February's buoyant, feelgood debut single "too dang good," written with Melbourne's Lucianblomkamp and released via Sweat It Out. A triple threat singer, songwriter, and rapper, PRICIE's first offering showcases her powerhouse husky vocals and charismatic, animated flow, her evocative lyricism, and her dynamic presence. Soulful and sweet, "too dang good" soars with effervescent melodies, vibrant instrumentation, and a beautiful message of sexual liberation and self-love.
"'too dang good' was a last-minute studio magic moment – we honestly didn't expect to make anything, but myself and Lucian literally just vibed each other and decided to jam. As he made a beat I began to freestyle on it and 'too dang good' was born," PRICIE says. "The message is for women to know their worth and understand that although some things may transpire within their relationship, they're just way too dang good for it." 
"too dang good" is an unforgettable standout debut in 2021, marking the beginning of what is sure to be an exciting and triumphant career for PRICIE.
"My existence revolves around stabilising myself in the beauty of my Blackness. Any time Black people, Black culture or Black things are celebrated it is extremely significant to me simply because it is who I am… I try to honour my Blackness through my music and show the confidence that being Black naturally produces for me." – PRICIE
•• ••
"THE BLACK EXPRESSION"
:: artist statement by PRICIE ::
No, it isn't just within the imagination — the Black expression is a real and well-established aspect of our being!
Made from Earthly flesh and Godly souls, the Black expression shall no longer only be categorised under pain and suffering but instead of endurance, strength and stability.
Long shall we reign magnified in our melanin.
— —
Stream: "too dang good" – PRICIE
— — — —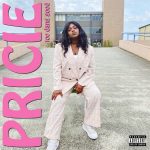 ? © 2021
:: PRICIE ::
---