This Black History Month, Atwood Magazine has invited artists to participate in a series of essays, interviews, reviews, poetry, playlists, and more features in recognition of, and out of respect for the symbolism and significance of this month.
---
Today, Seattle's virtuosic Delvon Lamarr (of Delvon Lamarr Organ Trio) dives into the origins of the song "Little Booker T" off 2018's Close But No Cigar album, as a part of Atwood Magazine's Black History Month series. Delvon Lamarr Organ Trio is a Seattle-based instrumental combo active over the past five years. The group conjure smoky 1960s jazz stylings of Jimmy Smith and Baby Face Willette, and the snappy soul strut of Booker T. & The M.G.'s and The Meters, along with dashes of Motown, Stax Records, blues, and cosmic Jimi Hendrix-style guitar. In addition to instrumentalist and bandleader Lamarr, the trio is rounded out by dynamo guitarist Jimmy James and powerhouse drummer Dan Weiss. Delvon Lamarr Organ Trio recently released their third LP, I Told You So, on January 29 2021 via Colemine Records. To date, the album's tracks have already accrued over half a million streams on Spotify alone.
•• ••
"Little Booker T"
a Delvon Lamarr Organ Trio original off 2018's Close But No Cigar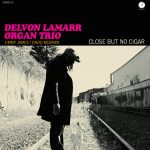 This song was inspired by my dog Booker T Little. He was adopted back in August  2015 and used to go to all our shows at The Royal room in South Seattle. This is where the conception of Delvon lamarr Organ Trio took place. A weekly residency on Tuesday nights in the bar area creating a very intimate experience for those who came to listen. The majority of our songs were developed on that very stage in front of our growing fan base.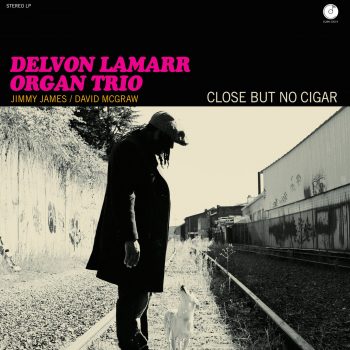 In October, one night, around 1:30 am, while we were packing up the gear my wife and I tied up Booker around the tree right in front of the venue, in a very secure way. We were going back and forth putting everything in the van and when we went back into the venue to get the last of my gear and say goodbye to some folks.
When we walked outside, Booker T was gone. Someone had snatched our dog, leash and all. We both went crazy and started looking for him all over the neighborhood by foot and car. My wife, Amy Novo, immediately went on social media and posted photos of Booker all over the place and letting people know that he was just stolen from us. The very next day we went back to the same area and drove up and down all the streets looking for Booker from town to town passing out flyers. He was nowhere to be found.
Between the flyers and the social media posts we have a few hundred people looking for him. There were several people who were saying that they spotted him and we went to their house with cops and scared some people in the process. None of them lead us to Booker T.
After 4 1/2 days we were out in front of the venue handing out flyers Amy received a call from a girl who works at the shelter saying that they think they have our dog, she said she was not sure but that he fits the description and that if we wanted to come and see we can. He was supposed to have been chipped but when they scanned they could not find a chip so that created doubt. So we drove to the Seattle Animal Shelter and our stomachs were tight and quite nervous. They allowed us to go in the back with all the animals and when we walked through the door, there he was. What a feeling that was to get him back.
Amy wanted to give back to the community, neighbors, animal shelter for all helping us get Booker T back home safely. We also had a food drive to gather animal food for the homeless and low income that had pets. Attached is a copy of the original flyer of the event and all those that were part of the special moment. I had to write a song after Booker T and his experience.
— —
— — — —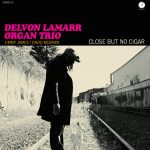 ?  © courtesy of the artist
:: Stream Delvon Lamarr Organ Trio ::