This Black History Month, Atwood Magazine has invited artists to participate in a series of essays, interviews, reviews, poetry, playlists, and more features in recognition of, and out of respect for the symbolism and significance of this month.
---
Chicago artist Krystal Metcalfe dives into the origins of her music and how she grew to become the powerhouse, show-stopping artist she is today as a part of Atwood Magazine's Black History Month series. Metcalfe's music is impactful but it's her voice and all the power within it that arrests and hypnotizes you when you listen. She exudes confidence and the certainty that she's right where she's supposed to be. Speaking to Atwood Magazine, Metcalfe also talks about the significance of Black artists in the rock genre, how she honors their legacy in her music, and what's next for her.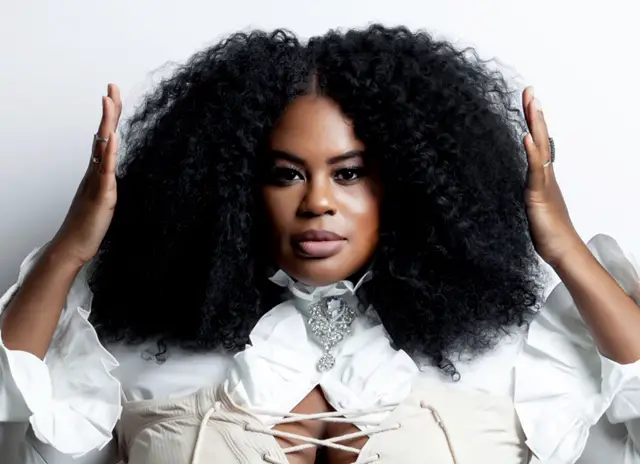 •• ••
A CONVERSATION WITH KRYSTAL METCALFE
Atwood Magazine: How did you start making music?
Krystal Metcalfe: I grew up surrounded by the arts. My parents cultivated and nurtured my gifts early on.  I was in choir, musical theatre, the sunshine band at church. I would create songs here, and there, but I didn't realize I was good at it until my junior year of high school. One of my final assignments for music class was to create an original song. The song was called "The Sun Will Shine After while". It was a masterpiece if I do say so myself. From there I kept a journal of songs, and continued to create.
Who were your greatest inspirations when you first started and who are your greatest inspirations now? Have these changed over time?
Krystal Metcalfe: My greatest inspirations growing up initially were all Gospel artist: Kirk Franklin, The Clark Sisters, Mary Mary, and thee legendary composer Quincy Jones. Growing up in a Christian household that's all that was played. I started sneaking, and listening to other things. That's were I discovered my love for Aretha Franklin, Queen, Chaka Khan, and Destiny's Child. My inspirations and musical taste have definitely evolved over time. It's an eclectic mix of what brings me joy!
How do you define your music?
Krystal Metcalfe: I would define my music as Rock & Soul.
What do you love the most about making rock music?
Krystal Metcalfe: I absolutely love the freedom of it.  I feel freest onstage hearing the amplification of the electric guitar. Feeling the vibrations and pulsing energy of the bass and drums.  I love that it's not expected of me.  To me rock music feels like magic.  It gives me the freedom to express myself unapologetically.
Rock is most commonly pictured as music made by an all-male, white group, yet you're the opposite of that. Were there any challenges in entering the industry and occupying the space you earned and deserve in it? What is there to change, and how do you think change can be achieved?
Krystal Metcalfe: It's flummoxing to me that rock music is pictured this way.  When in fact it was Chuck Berry & the Godmother of Rock n Roll Sister Rosetta Tharpe who were the inventors and trailblazers of the genre.  With rock drawing directly from black musical genres of Gospel, Blues, R&B, and Country Music. Their contributions are often erased and forgotten.
There were and still are challenges in entering the industry and occupying the space.  In the very beginning it was such a challenge to play anywhere. Talent buyers automatically assumed I played rnb music, and they weren't interested.  They would often close the door before even taking a listen or viewing anything I was selling.  Even still it's a challenge to play festivals. Sometimes the buyers have reached their quota and have their carefully curated black artists picked.  I've gone to so many festivals and seen 5 white indie rock boy bands play back to back. Why is there only enough room for ONE black artist on the bill?  It's nonsensical and perpetuates a systemic bias but alas, we rock on.  Change can be achieved by eliminating the gate keepers. Hiring more diverse and inclusive staff to bring on more diverse and inclusive talent.
Considering the powerful influence of Black artists in rock music, how do you see your music and you as an artist today? How do you honor their history and legacy with your music?
Krystal Metcalfe: I've been performing for over 20 years, and I always feel like I'm just getting started!  I see myself as a Fearless artist, fighting got change. A breath of fresh air, yet a bolt of lightning, spreading love, and honoring the greats who came before me.  I want to continue to create timeless art, and take up space as a black, woman, rock n Soul artist.  Like Betty Davis.  Like Jimi Hendrix. Like Lenny Kravitz.  Preserving our rich cultural heritage and changing the world one stage at a time.
Can you give us some recommendations of other Black artists in rock music who deserve to be more well-known?
Krystal Metcalfe: Of course! I would love to.
Kimberly Nichole – Veruca Salt
Liv Warfield – The Unexpected
Dazz & Brie – Darlene
Brittany Howard – Stay High
Adia Victoria – Different Kind of Love
Betty Davis – They Say I'm Different
Nikki hill – The Fire That's In Me
Sate – Know My Name
Nona Hendryx – Sugar & Spikes
Divinity Roxx – Black Betty
The Txlips band – hold on a little less tighter
What's next for Krystal Metcalfe?
Krystal Metcalfe: Rock n Roll of course, and minding my black owned business! 🙂
— —
Stream: "Fearless" – Krystal Metcalfe
— — — —
? © Hallie Duesenberg
:: Krystal Metcalfe ::
---