Neo-classical piano prodigy BLKBOK debuts 'Black Book', a 12-track body of work illustrating the world he's in as a Black man and an artist in the 2020s.

Stream: 'Black Book' – BLKBOK
---
You see me one way, you hear me another. It's about marrying those two concepts and building bridges through music.
Born and raised in Detroit, neo-classical pianist BLKBOK (Charles Wilson III) grew up with his hands on the keys. He emerged as an acclaimed piano prodigy by the age of 8. His moniker clearly nods to Bach, one of the greatest pianists and composers of all time, but also to the hybrid musical expression (that of pop, hip-hop and classical) that is integral to his identity.
"Growing up, I was into hip-hop and rap like all the kids in my neighborhood, but I was also obsessed with the music of Mozart, Debussy and Bach – just as much as I was with Mos Def, or Biggie, or Busta Rhymes."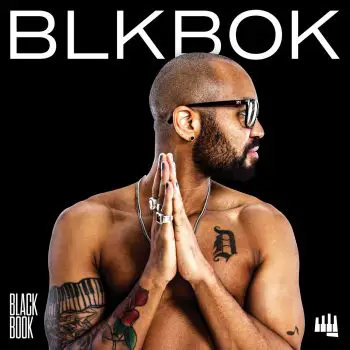 BLKBOK debuted Black Book on June 18th, his first album since signing to Billy Mann and Benton James' icons+giants, and a tribute to the movie Green Book and pianist/composer Don Shirley. Black Book "is a series of musical poems that illustrate [the] thoughts, emotions, and perspectives of the social climate that we live in, stories of [BLKBOK's] personal relationships, and an opportunity to view the world through the keys of the piano."
"When people see me, snapback, inked up Black man, they make a lot of assumptions about me, people expect me to start rapping, and they're not 100% wrong, I am a rapper. Except I spit lyrics and I tell my stories through my hands, with these notes."
The twelve-track body of work is dexterous and virtuosic, but not over-ripe or indulgent. Using classical conventions, BLKBOK truly conveys narrative through the keys bringing you into his head and his heart with precision and bold articulation. "Amelia's Ocean" opens the album on a daunting sea peppered with patches of light. Repetition and rhythm lulling you into the ebb and flow of the waves. "Cookie Waltz" is a carnival ride, child-like and hopeful. "George Floyd & The Struggle For Equality" dynamically soars through a range of fierce emotions. "Communication" plays out like a turbulent relationship. The inescapable progression forward mimics the brain-on-love – content when lingering in bliss and always conscious of inevitable loss.
A mid-album turning point, the tides change with "November 7th, 2020." Similarly to the day itself, the piece is charged with anticipation and hope. The first track written for the album, "Michelle's First Day At The White House," starts somber and fierce like a stoking fire and blossoms into elegant power⏤a graceful strut. Melodically, the track captures the essence of Michelle Obama's saying: "When they go low, we go high." The album's conclusion, "My Life," includes the record's only vocal collaboration from Grammy and Tony award-winner Renee Elise Goldsberry reflecting on what truly matters from a birds-eye view.
Black Book reveals BLKBOK's superpower: Telling his unique story and constructing a bridge between worlds in the process. Listen to the debut record now on all streaming platforms and follow BLKBOK on TikTok and Instagram to hear more of his work.
— —
— — — —
? © Spencer Heyfron
:: Stream BLKBOK ::
---