Maine's Oshima Brothers dive into their captivating sophomore LP 'Dark Nights Golden Days,' a sonically and emotionally rich record that captures both the beauty and pain of the human experience.
Stream: "Goldmine" – Oshima Brothers
---
Like a coin with two sides, we wrote 'Dark Nights Golden Days' to explore life's contrast with themes of dark times and golden, smiles and tears, forest fires and downpours.
The warmth and wonder of the wild comes to life in Oshima Brothers' sophomore album.
Life is undeniably miraculous, but it's without a doubt a rollercoaster filled with as many highs as lows, as many triumphs as follies. Our days are both sweet and bittersweet, and we are forever balancing on this taught, fine line of beauty and pain. Oshima Brothers endeavor to wrap their arms around the totality of the human experience on Dark Nights Golden Days, a sonically and emotionally rich record that radiates with sweet, stunning harmonies and captivating charm.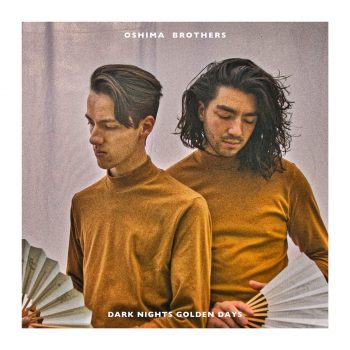 Goldmine, laying in the sunshine
Running to the shoreline with you
Your smile, crooked as the coastline
When I made a b-line for you
Goldmine, loving through the hard times
Winter follow spring I need you
Your eyes, lit up to the bass line
Put my arms around your waistline, hold you
– "Goldmine," Oshima Brothers
Independently released April 1, 2022, Dark Nights Golden Days is a wellspring of light and love sure to put a smile on all who listen. The follow-up to Oshima Brothers' self-titled 2016 debut LP finds the Maine band of Sean and Jamie Oshima roaring into the spotlight with seductive style and grace, channeling their inspiring, mood-enhancing music across seventeen stirring tracks. Best known as weavers of charismatic folk pop, Oshima Brothers seem to have broken out of any and all genre constraints on their new LP; their songs incorporate a wealth of influences, including folk, pop, alternative, R&B, funk, rock, and so on.
And yet, Dark Nights Golden Days is exceptionally cohesive: An enchanting journey that rises us to the highest heights, and brings us down to the lowest depths, with resounding ease and unwavering confidence. Moments of fragility and strength collide sweetly alongside calming acoustic guitars and soaring electric guitars, exceptionally emotive vocals, and a pulsing bass and drums rhythm section.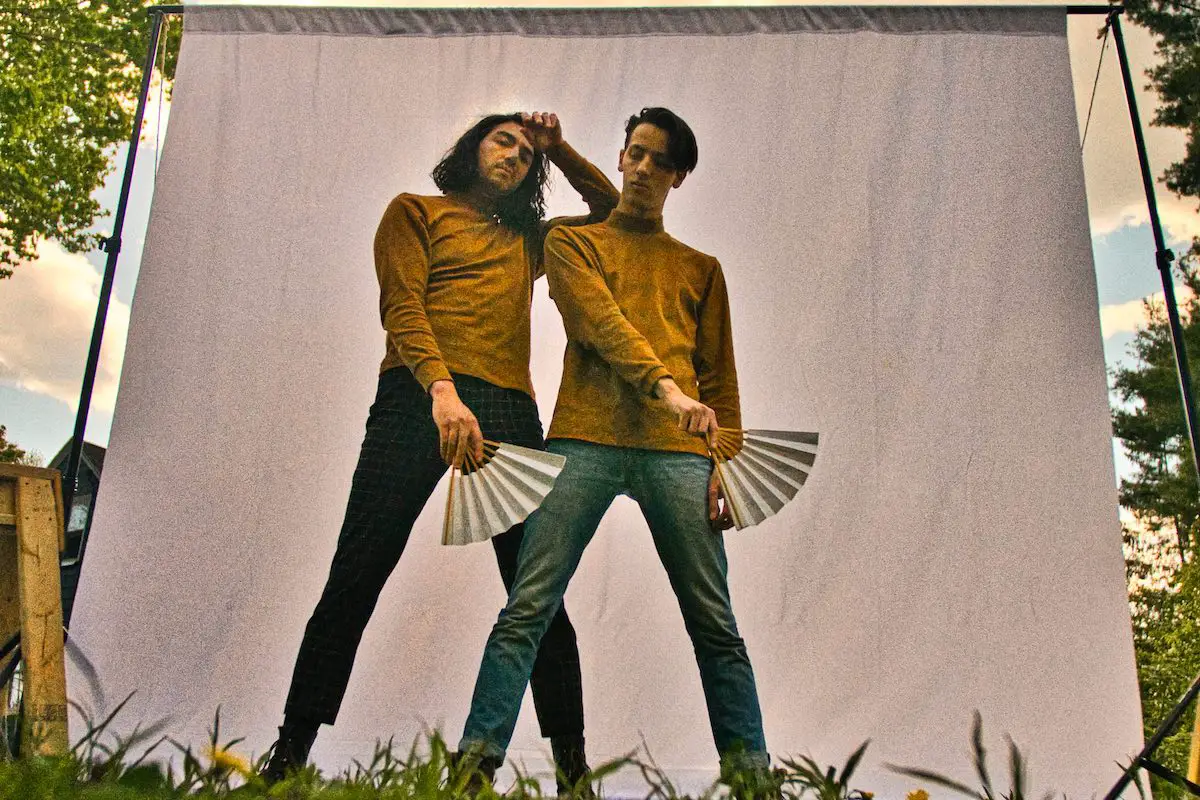 If anything can be said of this music, it is that it glistens with an inner light. Oshima Brothers made sure of that.
"Like a coin with two sides, we wrote Dark Nights Golden Days to explore life's contrast with themes of dark times and golden, smiles and tears, forest fires and downpours," Sean and Jamie Oshima tell Atwood Magazine. "While the imagery centers on the wilderness of Maine, the music feels like it's coming from a club on a city street. We release new songs as often as we can, but the goal with this album was always to create one long cohesive work."
"It felt like this record happened around us. There were things we wanted to say, and songs we had to sing, The vision was simple at first, but it quickly started to snowball. We dive into climate change, death, disenchantment with technology, love, and simple pleasures like dancing at the grocery store. As the snowball rolled we decided to release it in three parts: Dark, Golden, and ultimately Dark Nights Golden Days. Then came the avalanche: We decided to film, direct, and edit a full-length album music video to go alongside our 17 track album."
---
That massive video project is still underway, with over half of the album's videos already released and more to come as 2022 continues. Certainly no one can doubt the sheer breadth of Oshima Brothers' artistic ambition: For both brothers, this record is the truest expression of who they are as people; it's their multimodal vessel of self-expression.
"We are DIY to the maximum," Sean Oshima explains. "We write, record, produce, film, direct, edit, manage, tour, design merch, develop and wire electronics, and so on. The album is the culmination of a lifetime of work. The videos are too. We love having the freedom to say and do what we want. To be who we are and share that joy. I feel a massive sense of accomplishment having finished this mountain of a project with my brother at my side."
The title Dark Nights Golden Days holds its own bevy of meaning as well. "Sometimes facing climate change makes me feel helpless and small, hopeless and alone," Oshima admits. "But art that reflects the world has brought about so much change. Music is powerful and I believe it could save us. The title comes from the chorus of the opening track 'Burning Earth': 'This burning earth is turning, you are the rain, falling on dark nights and golden days.'"
---




Sun-soaked and shimmering, Dark Nights Golden Days is the perfect companion for spring and summertime adventure.
Standouts include the achingly expressive "Burning Earth," the soothing, tranquil "Goldmine," and the driving, dynamic "The Afterglow." The tender "Love Is Tall" and the buoyant, groovy "Dance with Me" have found tremendous favor with audiences online, but truly there are no weak points on Dark Nights Golden Days. The album glows with a spiritually cleaning magnetism from start to finish; deeper cuts like the smoldering "Put Your Phone Away," the jazzy "Mountain," and the delicate ode "Flowers on the Moon" have an uncanny way of finding a place in our hearts.
"We love the nostalgic strings on 'Flowers On The Moon', the hard-hitting snare on 'Mountain', and the swaggering acoustic production of 'Cadence,' Sean Oshima says, reflecting on some of the band's favorite moments on the album. "We also loved working on 'Put Your Phone Away'. Stemming from a line I would sing to my partner or at myself it became a sort of mantra. I love how intense the song turned out with a message that hits close to home. 'Put your phone away I wanna look in your eyes, I don't want to stare at you stare at other people tonight.'"
"We wear our hearts on our sleeves and feel things deeply," he continues, turning his focus to the album's lyrics. "The chorus of 'Love Is Tall' [is a personal favorite]: 'Life is short, love is tall, hands and heart, learn how to hold it all.' And this one from 'Disco Down The Aisle' makes me laugh: 'Doing the disco down the aisle, hope the checkout lady likes my style.'"
---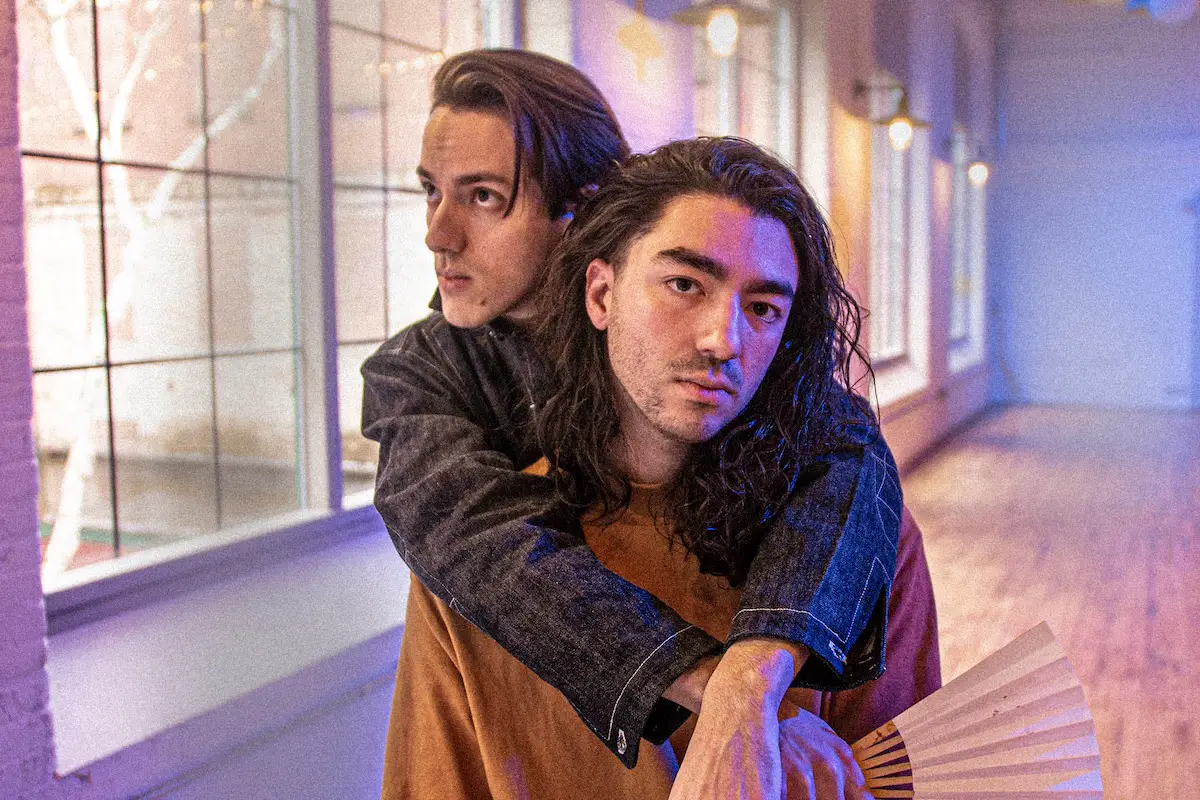 Wherever you are in life, Dark Nights Golden Days is sure to put a smile on your face and a pep in your step.
It's a calming, cathartic collection that can't help but capture some of life's inherent magic within its folk-adjacent sound.
"We hope these songs keep you company on late-night drives, dinner parties, while crying in bed, stressed-out days, while love-making, and those low-intensity workouts," Oshima Brothers share. "We're stitched pieces of ourselves into this album and it's been a most wonderful place to hide. It's an album for us, our dreams, joys, and frustrations, and now it's an album for you too. With love."
Experience the full record via our below stream, and peek inside Oshima Brothers' Dark Nights Golden Days with Atwood Magazine as the band go track-by-track through the music and lyrics of their sophomore LP!
— —
Stream: 'Dark Nights Golden Days' – Oshima Brothers
:: Inside Dark Nights Golden Days ::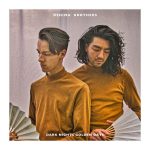 — —
Boys On Tape '01
When we were little boys our parents got us a tape deck with a built-in microphone. The album starts with a count in from our childhood bedroom, Spring of 2001.
Burning Earth
Our house is burning. It happens to be the earth. As this song was born I was nestled by the blue-green ocean, writing about how each of us feeds the flames in small ways. To heal this planet, we each have to be the rain that saves it. I set out to write a hopeful song about a changing climate. One that acknowledges the golden and carefree past then sets course towards a hard and crucial future. Instrumentation: acoustic guitar, electric guitar, synth, drums, bass, Rhodes electric piano, percussion, cello, violin, viola.
Dance with Me
I have always loved to dance; alone or with a partner it just feels good. Through the years I've danced hip hop, west coast swing, blues, and contra. Most of all I like to put on a record and dance around the house. When you're moving to music with someone it's a conversation. Done well, it becomes incredibly intimate communication.
The music video depicts the multi-potentiality of being a musician. We write, record, engineer, produce and mix our own songs. We also film, direct, and edit our music videos. We update the website, run social media, package, and ship our merchandise, take our own promotional photos, design the graphics for our albums, and keep detailed business spreadsheets. Sometime we're at home, sometime we're on tour, all the while attempting to keep healthy relationships with our friends, family and each other. All is wrapped into one in this music video in our studio in Maine. As the video (and work day) concludes Sean dances around the kitchen with our husky puppy named Cow. Instrumentation: fiddle, acoustic guitar, thumb piano, electric guitar, synth, drums, bass, Rhodes electric piano, percussion.
Goldmine
I wrote Goldmine while the sun burned my skin on a beach in Lincolnville, Maine. Some songs take years to write, some come in a flash. This one felt complete in the space of 3 minutes. For the next hour I sang it on repeat to the woman I love. Instrumentation: acoustic guitar, Wurlitzer, piano, synth, bass, drums.
The Afterglow
The world needs more platonic love songs. In the woods of Maine, at age thirteen, I built a small wooden cabin. That cabin was the first place I drank beer with friends and the first place I felt real freedom. "The Afterglow" is about the sepia-tinged days I spent with my closest crew and how our lives have changed. I sang it at my childhood friend's wedding in the gold dusk last summer. Instrumentation: piano, Wurlitzer (electric piano), synth, electric guitar, acoustic guitar, drums, bass, percussion.
Cadence
A cadence in music is "a sequence of notes comprising the close of a musical phrase." It's also the inspirational core of this song. I wrote Cadence looking back on the bittersweetness of love and the end of a good relationship. Throughout my life, specific songs often tie to distinct memories. In this case, it's the sound of strings, of compositions by Beethoven that would play from her violin and our record player.  In the recording, we quote Beethoven's Für Elise at the end of the verses and hum the beginning of a cadence at the end of each chorus.
Being a musician is often distancing, both emotionally and physically. It's hard on relationships and hard on hearts. But we must love. Even if Beethoven is forever changed in my ears, I don't regret the past. As the song closes you hear a string quartet take up the theme and play us out for nearly a full minute allowing our memories to linger long after the lyrics have ended.
Jamie says "the recording process really brought this song to life. I captured noises in a voice memo on phone and braided them into a song my brother wrote. I tired to create a sonic experience that was full of acoustic guitars and vocals but also the musical sound of a thunderstorm, cars passing on a rainy street, and other everyday background noise you'd hear from a city apartment.
Love Is Tall
I began writing "Love Is Tall" about how human it is for life to be both happy and sad. I never felt it was finished and over time the lyrics changed and settled. Months later I met a teen who lived in our coastal town. She liked our music and though her shy friends stayed behind, she would always bound up to me and say hi. It made my day. Six months after we first met she was hit by a car as she was biking. Tragically, she passed away in the hospital. We played this song at her celebration of life surrounded by her heartbroken community. Instrumentation: electric guitar. acoustic guitar, fiddle, vocoder, organ.
Whitefield
I spent a week in the woods near our childhood home in Whitefield, Maine. My friend let me stay at her empty tiny house for a little retreat from big city life in Portland, Maine. I couldn't get over how homelike those woods felt and even smelled. This guitar piece came out of that time, slow and nostalgic. Instrumentation: Electric guitar. Synth.
Put Your Phone Away
I am so unintentionally obsessed with my phone, it's frightening. We work all day on computers, socialize on our devices, and relax while gazing into screens.
Jamie says "one day we working on Put Your Phone Away and really struggling to find the right chords and melody. Then I stumbled an old demo of a beat and a grove I had completely forgotten about and we started singing the quiet acoustic chorus over its electronic groove. In a matter of seconds we knew we'd found the bones of a good thing. The message of this song, a look at how magnetic our smart phones are and how they sneakily affect our human relationships is really important to us.
Wilderness
This song swaggers from the city to the forest with a gritty bass-line and a fiddle played hook. It's about a getaway road trip to leave behind the grind and escape with someone. And it's about sex. My favorite line "when we hit the road, I love it you're ruthless, bring only a toothbrush along" is just a piece of the weekend whirlwind. Instrumentation: fiddle, piano, Rhodes, electric guitar, bass, acoustic guitar, drums, synth, organ, percussion, hammer dulcimer
Mountain
Committing to a meal on a menu has always been hard enough for me. So it should be no surprise that committing to a new relationship choked me up with uncertainty. I floundered and killed time by making music. These jazz chords and the groove were like a meditation. The clarity never came but still I found myself asking her "when are you going to see that you mean the world to me."
Midnight In The Dark
Coming together and pulling apart is a natural part of life. Midnight in the Dark falls into that category of a heartbreak that you knew was coming, but only in retrospect. The casual devastation of love. For someone who treats life like a game, losing is not an option. I wrote the first verse of this song with tears in my eyes and it stayed as just a verse for a few years before finding a home in the rest of the song. I made a virtual art gallery from scratch with a computer program I learned to use for the project. Painting on the walls come alive and dance to the slow melody of the piano.
Colorblind
Life is messy and I haven't always been one to dive headfirst into communicating. It is a hard thing to do particularly well. But, over the years I've found some true clarity by intentionally talking, and listening to people I care about. Sometimes it takes a friend to help you see the world from a different view. This song is about getting outside, climbing a mountain, and finding a new horizon.
The video was filmed during quarantine in Maine. We'd had dreams of making it a huge production, but because we were home without access to many resources we focused our energy on making it what we imagined from there. We've always done most everything ourselves anyway. Jamie learned how to create and build a virtual museum in 3D that featured artwork by some of our friends. His character plays a security guard in the museum he builds. While I (Sean) leaned into my character: the painter. I painted several landscapes before finding the one I imagined. I also spent hours learning how to film Jamie, my first time behind the camera.
Last Minute Lover
I stole a flower from my girlfriend's neighbor's yard. She recognized it and might have chastised me but also put it in a vase. I've spent countless hours driving to see her this past year, blasting my favorite music on the car stereo. Maybe people will do the same with this tune.
Flowers On The Moon
I was by a bookshelf with my guitar when heard Billy Chapata's paperback edition of Flowers on the Moon screaming out to me to sing. It seemed the perfect title for a Bossa Nova inspired tune about falling in love in the light of the moon.
Disco Down The Aisle
I love shopping for groceries. It's a little bit of everything that makes me happy: shopping sustainably, cooking for people I love, conversations with strangers, dancing like a crazy person, and good bad music. We all need to eat, so it's a fairly universal subject matter, but how many songs have you heard about doing the disco at the grocery store? I know that someday this song will come on the speakers when I'm at the store to get what's on my list, until then I'll dance to whatever they're playing.
Journal No. 23
A stream of consciousness piano improv that I caught on tape. Journal No. 23 is a sound snippet from my life, an auditory journal entry. I can remember the time and the place and the feeling better than if I had written it down.
— —
— — — —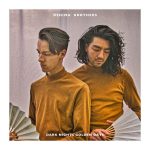 ? © Jamie Oshima
:: Stream Oshima Brothers ::
---