Bleach Lab open up about their soul-stirring debut album 'Lost in a Rush of Emptiness,' an achingly intimate indie-rock-meets-dream-pop record that drenches its audience not just in breathtaking sound, but in truly visceral emotion as the British band express what it means to be alive – and to feel everything.

"Nothing Left to Lose" – Bleach Lab
---
I've been numb for so long, 'cause I'd rather feel nothing than everything at once…
Wave after wave of shiver-inducing shoegaze, glistening indie rock, and dream pop wash over the ears as Bleach Lab's debut album drenches its audience not just in breathtaking sound, but in visceral emotion. Released September 22, 2023 via Nettwerk Music Group, Lost in a Rush of Emptiness is the apotheosis of everything the London quartet have built over the last four years: As enchanting as it is achingly intimate, their first full-length is an immersive collection of inner reckonings and soul-stirring reflections on what it means to be alive. They plunder the depths of their own hearts and souls, ultimately delivering an experience that is at once wondrous and wistful, thought-provoking and deeply evocative.
It feels like everything that's come before – the grief and trauma of A Calm Sense of Surrounding; the heartache and vulnerability of Nothing Feels Real; the haunting beauty and seductive, raw reverie of If You Only Feel It Once – has been leading up to this moment.
"This album is the result of years of work," vocalist Jenna Kyle tells Atwood Magazine. "Years experimenting, finding our sound, and finding out what our music meant to us. On this record, more than any other, you're listening to our most personal stories, emotions, feelings, and each track means so much to us. All we hope is that you find a way to connect with these songs as much as we have."
Active throughout the past four years, Bleach Lab have found their niche in a glistening assembly of sweet, seductive, and singular sound.
Think Mazzy Star meets Daughter, The Smiths, and The 1975. A longtime Atwood Magazine artist-to-watch, five-time Editor's Pick, and one of our Top Artist Discoveries of 2021, the four piece comprised of Jenna Kyle, drummer Kieran Weston, bassist Josh Longman, and guitarist Frank Wates are one of the UK's most exciting acts, with a heavy, lush shoegaze-y sonic identity and soul-stirring lyrics full of depth, unfiltered emotion, and substance.
Their beautifully tranquilizing music reached its first fever pitch in March 2021's debut EP A Calm Sense of Surrounding, and its second with that October's intimate and enchanting sophomore EP Nothing Feels Real.
In featuring last November's third EP If You Only Feel It Once, Atwood Magazine praised Bleach Lab for crafting an achingly warm and wistful dream pop experience: "Bigger and bolder than its predecessors yet just as intimate and intense, If You Only Feel It Once aches with catchy, immersive melodies, smoldering instrumental work, radiant, finessed production, and seductive contemplations on the big questions that all too often keep us up at night," we wrote at the time. "And yet, in their unapologetic search for belonging, Bleach Lab have created something that itself makes us feel at home: If You Only Feel It Once is, in some ways, an answer to its own questions."
It's always exciting to hear an artist top their best work, and Bleach Lab have undoubtedly done that on their debut album – taking lessons and cues from their EPs, without ever once looking backward or leaning on the past.
"We knew from the off with this record that we wanted it to sound quintessentially 'Bleach Lab,'" Kyle explains. "We were dead set on creating a live and intimate feel in both the recording process and the tracks themselves. In the past, our ways of recording were hugely impacted by various lockdowns. Most of the time we recorded relatively separately, even in different studios at times. We spent a fair bit of time finding the perfect studio space and set up for the album, that would also allow us to all be in the room and record together. Eastcote Studios was the perfect setting for that experience."
"In terms of our vision for the sound of the album, we knew we wanted it to have raw, slightly less perfected elements. We wanted to return to our roots a bit, taking some inspiration from some of our first releases, like 'Flood' and 'Old Ways'… We learnt a lot doing the previous EPs, and feel like this album is a culmination of all that work, but I think more than anything our first EP was the main inspiration behind this album. We wanted to go back to our roots just a little more, whilst still managing to incorporate the more modern sounds on the two later EPs. The album has been described as more matured compared to the EPs – I think this is a reflection on that time we spent."
Kyle herself describes the album as nostalgic, introspective, and dreamy.
"We didn't want the album to have a set concept, however there are lot of overarching themes throughout," she reflects. "Both Josh and I lyrically explore a variety of very personal, but relatable, life experiences. Touching on emotionally abusive relationships, alcohol dependency, depression and anxiety. All things most people are navigating throughout their twenties and beyond."
The title Lost in a Rush of Emptiness stems from a line in Leonard Cohen's final work – a collection of poems entitled The Flame.
"There was a lot of backwards and forwards when deciding on a name that felt right for the album," Kyle says. "We floated a lot of ideas, but nothing felt quite right. When we were recording in the studio, Josh happened across some books, one of which was The Flame by Leonard Cohen. Reading through, he came across the phrase, 'Lost in a rush of emptiness.' It was the first time we felt something fit, however it still took us a while to solidify."
"In terms of what it actually means to us, we all have slightly different views. I see it as that stomach sinking moment you find out something you really didn't want to hear… or when you're experiencing something incredibly emotionally challenging, surrounded by friends and family but feeling alone. Lost in the rush of everything going on around you but feeling incredibly isolated. For Josh, he always felt it was like the famous saying that 'loneliness is a crowded room,' and how it lends itself to the themes of the album: Loneliness and losing grip of what you can and can't control."
I want it all, the anger, the rise, and the fall
I'm hard at hurting, and fists are blisterful
Aren't you wonderful, irrational?
You're right, I want it all
You were so cold, I want it all
Do you feel anything at all?
I want it all
I've been numb for so long
'Cause I'd rather feel nothing than everything at once
I was searching for a home
But I was looking in the wrong place all along
How could I ever be so wrong?
– "Everything at Once," Bleach Lab
---
Lost in a Rush of Emptiness is a cathartic triumph: From the yearning, obsession, and desire of "All Night" to the feverish turmoil of "Everything at Once"; from the romance and fragility of "Indigo" to the churn of "Smile for Me" and the unfiltered heartbreak of "Leave the Light On," Bleach Lab capture the highs and lows of a life lived to the fullest with stunning grace and time-tested finesse.
Kyle cites the song 'Smile for Me' as containing some of her favorite lyrics. "This song was incredibly challenging, yet empowering to write," she admits. "'Who do they think they are? They hide like shadows in the dark' is about walking home alone at night as a woman, feeling incredibly vulnerable and afraid of your surroundings and people who may be lurking in the dark."
She also highlights lyrics from "Nothing Left To Lose": "'When oceans collide, there's a different blue on each side.' I love to use quite visual lyrics and a long time ago I read about two bodies of water that meet but don't mix, I found this quite a powerful statement and stored it away to use in future. For me it reflects the idea of two people that are both strong entities in themselves, however they have a lack of understanding for each other and struggle to see eye to eye. Often a classic situation with a relationship where communication breaks down."
When oceans collide
There's a different blue on each sidе
If you don't like what you see
Is there somеthing on your mind?
Placid blue, you see me move
Hair still wet on a sunny day
And my eyes share the same with you
Tearful and blue
Nothing left to lose
If you dive right in, not knowing where you're heading
You hit me like a car crash burning through the sky; it only took one moment, baby, we're gone in the blink of an eye…
– "Never Coming Back," Bleach Lab
From start to finish, Lost in a Rush of Emptiness has plenty to offer in terms of raw, meaningful, and memorable moments, where cathartic eruptions and catchy singalongs collide into one visceral, vulnerable, and unforgettable experience.
"I think we all agree on 'All Night,' 'Smile For Me,' and 'Nothing Left to Lose' as a collective," Kyle says of the band's favorite tracks. "But that changes frequently, which is probably a good thing. The ending of 'Life Gets Better' was certainly a highlight – the guys were given the freedom to play out the track without a definitive ending, which allowed for a really creative flow in the studio – the perfect live recording moment we were looking for from the start. This led perfectly to 'Life Gets Better' being chosen as the final full track to the album."
Lost in a Rush of Emptiness concludes with the ultimate Bleach Lab anthem: The above-mentioned "Life Gets Better," a sonically delicate, emotionally charged recognition of all the twists and turns, wounds and scars we gather along the way. It's not so much the aftermath of the reckoning, as it is an oasis in an ever-churning storm; the winds will likely pick up again, but while things are calm, this is their affirmation – an anthem of resolve; a promise to live. "I want you to know I'm doing fine," vocalist Jenna Kyle sings. "Life gets better." It's the highest high Bleach Lab could have ever reached at this stage in their career, and they made sure to end their album on it: A bright spark of warmth and love – a light in the dark.
For the band, their ultimate takeaway from this album is – dare we say? – a calm sense of surrounding. "Josh has always said he wants 'a million different people to interpret these songs in a million different ways'… So the first hope is that we get a million listeners!" Kyle laughs.
"But in all seriousness, we just hope that people can find something in these songs that means something to them. Whether that's helping you through a breakup, loss, tough time, or supporting you after a traumatic experience. These songs did that just that for us, and if they help even one person do the same then that is everything we could hope for."
---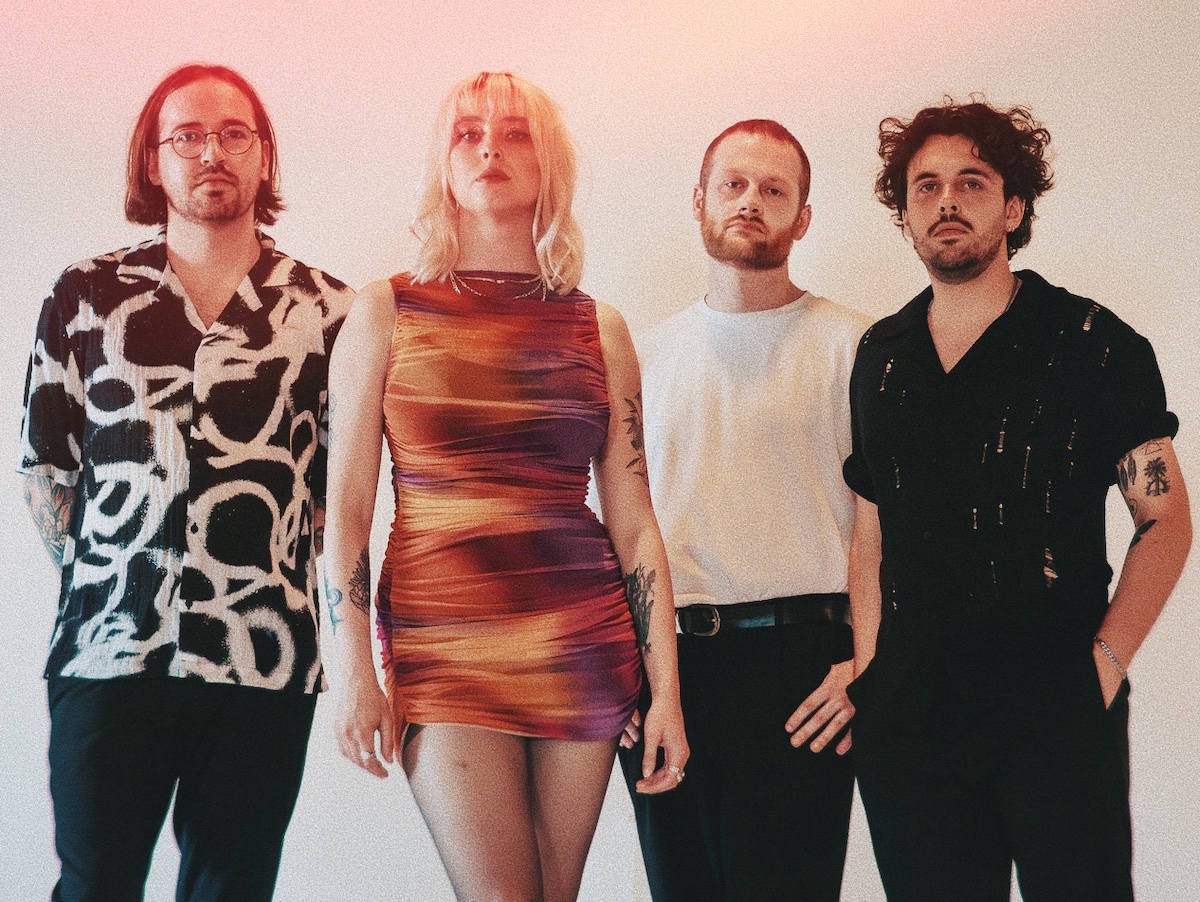 A breathtakingly bold, sonically charged, and emotionally potent collection, Lost in a Rush of Emptiness is everything Bleach Lab fans could have wanted it to be: An unapologetically and uncompromisingly human set of songs that will always send shivers down the spine, hitting hard and hitting home no matter how many times you've heard it.
Experience the full record via our below stream, and peek inside Bleach Lab's Lost in a Rush of Emptiness with Atwood Magazine as the band goes track-by-track through the music and lyrics of their debut album!
— —
'Lost in a Rush of Emptiness' – Bleach Lab
:: Inside Lost in a Rush of Emptiness ::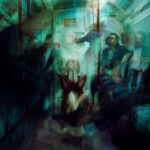 — —
ALL NIGHT
A love song with a darker undertone. A situation written from the perspective of someone that may be more in love with a person than they are with them, an unhealthy obsession.
INDIGO
About being in a toxic relationship which took a long time to break from and the idea of that person reappearing asking for forgiveness. That vicious cycle of trying to convince you that this time things will be better and they're sorry, but finally accepting things won't change.
The chorus is the idea of that romanticised scene in a love film, when the guy waits outside a bedroom window with a boom box, playing their favourite song to win the girl back. But this time it doesn't work.
COUNTING EMPTIES
Counting Empties is from the perspective of someone in a relationship whilst struggling with addiction, it's like a plea to your partner. Asking for patience and understanding from them, but knowing it could be too much to ask.
It's about being at war with your own emotions, and how being dependent on something like alcohol can hinder relationships.
SAVING ALL YOUR KINDNESS
This song is about being in and coming towards the end of an emotionally abusive relationship. Feeling emotionally exhausted and drained, too tired to argue back so repeatedly giving in. Avoiding conversations, avoiding bringing up worries because everything ends in arguments.
Still also trying to hold on to the person you fell in love with at the start. "There's a vision and it won't let me rest", you're only allowing yourself to see the person you want to see, and not the person that they are or have become to you.
EVERYTHING AT ONCE
This track is about being at war with your own choices, almost like a devil and an angel on each shoulder. The contrast between the verses and chorus as two mindsets. One being vulnerable, accepting an unhealthy relationship and allowing it to consume you and the chorus (being the angel) trying to talk some sense into yourself and acknowledging that you have been shutting everything out for so long that you've forgotten yourself.
NOTHING LEFT TO LOSE
Nothing Left To Lose is about the beginning of a relationship. Being afraid of what's to come and questioning your path forward. Keeping your walls built up and ending up being stuck in the same place because of it.
NEVER COMING BACK
Never Coming Back is a story about the catastrophic end of a relationship. Realising you were clearly never meant to be. a whirlwind relationship that lasted less than a year and the metaphor for being in a car crash reflected how suddenly my life changed for the worse once we met.
SMILE FOR ME
About my own experience of sexual harassment, as well as experiences I know far too many suffer themselves. Something I hear so often as a woman in public is being told to 'cheer up'. Usually if I'm not immediately, positively responsive to someones advances.
LEAVE THE LIGHT ON
Imagine waking up next to a person that you don't know where you stand with. It's a plea for that person not to leave, allowing yourself to be vulnerable and asking them to stay, but accepting they may not. A whirlwind romance with a likely ending.
LIFE GETS BETTER
Themes of depression, the ups/downs and turmoil, self doubt. Often when you open up to anyone about these sort of feelings everyone says 'life will get better', which I always felt was such a mundane thing to say to someone who is going through a lot. So this track is the idea of comforting yourself with the sentiment of 'life gets better' before anyone else does, to show how flippant the term is and it doesn't really resolve anything.
— —
— — — —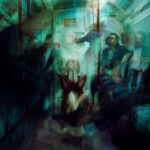 © Paul Johnson Rojas
:: Stream Bleach Lab ::
---