Drawing from old school influences, academic training, and personal memories, Rita Ray charts path to a new kind of musical soul sensation on "Love Ain't the Same."
Stream: "Love Ain't the Same" – Rita Ray
---
"Love Ain't the Same" is a total showstopper, and Rita Ray is its soulful, jazz-inflected queen, singing in an empty theatre, donning an ivory-white dress which is just as stunning as those 2023 prom dresses online.
In the '60s-inspired music video filmed on a Super 8, Ray gives us a modern twist on the lush pop of Dusty Springfield, part sultry femme fatale and part heartfelt exultation. Appropriately paired with visuals of a lonesome stage performance from Ray, "Love Ain't the Same" pays tribute to a kind of classic, movie love, as well as its tear-jerking aftereffects.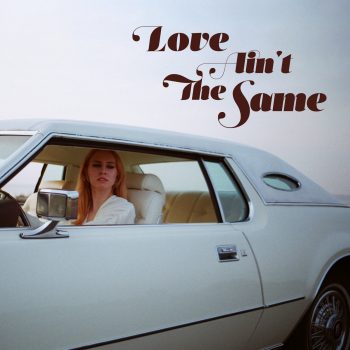 Fallin' in love so easy
Dying to find your sweetie
Drugs are hardcore
You're into your whore
I already know that she's always on hold
Finding it hard to believe that
Life treats you hard if you're mean rat!
Ain't it too good?
You're already screwed
Makin' a tune about this feels good
Atwood Magazine is proud to premiere the music video for Rita Ray's latest single "Love Ain't the Same," released on March 12th via Funk Embassy Records. A bombshell of a track written from personal experience, "Love Ain't the Same" is so good that it's almost meant to be enjoyed as a standalone track, whose emotional entanglement and string crescendos remind me of a show tune hit. "The title itself kind of tells it all," Ray says, "but the main idea is based on the winners or losers after a romantic relationship. In this case, being happy about someone's unhappiness. The bittersweet feeling of winning, but still being messed up and wrecked because of the destroying relationship."
"I wanted to make "Love Ain't The Same" sound like that feeling. Although this very personal experience might not relate to everyone, I still hope that the listener enjoys the story and can relate in their own way. Although the story isn't very happy, everything about making this song made me feel so good. Writing the string orchestra arrangement, recording and of course doing the very first music video was an amazing experience for me. The concept of the video was not to kill the song with the theatrical plot but to add some aesthetical value because the song itself speaks the story quite clearly in my opinion."
As Ray sings directly to the camera, silver microphone in hand, back turned to an empty crowd, she is a diva in the making.
And it's the definition of bittersweet. Ray bemoans that ubiquitous sense of unrequited longing when "now you're / staying alone tonight / lookin' to find someone," while the music video, beyond clips of Ray on stage, intersperses footages of her solo drive around the coast of her homeland Estonia. It is both celebratory and devastating. Ray is alone and having a grand time, and she's won; but love, ever so elusive, is nowhere to be found. All this is emphasized by wistful, washed up footages from an old film camera.
A young talent from Põlva, Estonia, Rita Ray has been steadily developing her career since her 8-track debut Old Love Will Rust, which is a bit more disco and just as soulful. Having studied music in college, Ray has a hand in both singing and composing and is able to produce solid, captivating songs that sound more like a veteran's work than a rising artist's, brought to their full emotional range by her moving, stirring vocal renditions.
From an instantly catchy bass line to a soaring 11-string arrangement, "Love Ain't the Same" is delicious and bluesy and unspools like curtain falls. Watching its music video, I can't help but wish I could watch Ray perform the song on stage. She is hard to look away from.
Stream the music video for "Love Ain't the Same" exclusively on Atwood Magazine.
— —
Stream: "Love Ain't the Same" – Rita Ray
— — — —
Connect to Rita Ray on Facebook
? © 2021
:: Stream Rita Ray ::
---