The Wild State dwell in melancholic nostalgia on their breathtaking song "Youth," a majestic orchestral folk dream.
Stream: "Youth" – The Wild State
---
Time is a funny thing: The farther we get from the past, the deeper our perception of it changes. Our natural chemistry (part of our innate, fundamental survival mechanisms) predisposes us to linger in the good moments, and spend less energy on the bad ones. Slowly but surely, we come to see our younger years in a whole new light, our faulty memories sugarcoating events and blurring history into a story from another life, rather than the story of our lives. The Wild State dwell in melancholic nostalgia on their breathtaking song "Youth," a majestic orchestral folk dream.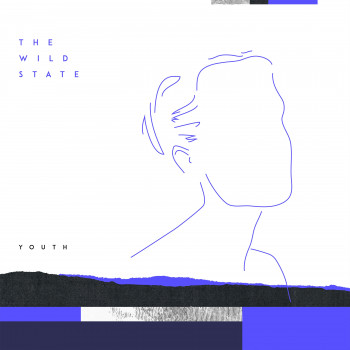 Sitting on the wall,
light headed, in a car park
Stay here for a while,
until the lights in the town, are visible
Atwood Magazine is proud to be premiering The Wild State's sophomore single "Youth," out everywhere Friday, March 8, 2019. The Brighton-based trio of Josh Difford (vocals, guitar), Oliver Spalding (vocals, drums), and Laurie White (bass), The Wild State debuted earlier this year with the song "Air Runs Out," a pop/rock production with glistening synths and a raw, palpable urgency.
"Youth" finds The Wild State ascending to a new level of creative prowess as the band immerse listeners in an emotive and moving soundscape. Working with Grammy-award winning produer Peter Katis, they strike a delicate balance between the greater sonic environment and its intimate forefront, where vocalist and drummer Oliver Spalding sings a achingly smooth lament. Soothing and as soft as a whisper, the song's chorus arrives in a heavy moment of sober realization:
Praying for the dark to never leave
For the night to carry on
Your clothes are torn
Ever want to talk, just let me know
You don't have to deal with him alone
My violet bird
"The whole song is viewed from the perspective of someone looking back on their youth, and the intense, desperate and very real love that comes with naivety," Spalding tells Atwood Magazine. "Those feelings we experience when reminiscing are rose tinted and dreamlike and that's exactly what we wanted to re-create in music."
Driving on a road,
where the branches of trees, make tunnels
Not been home for days,
and the light on her face, is dancing
I pray that time won't die, to stay young, with you…
"Youth" builds into a magnificently haunting arena of sound as The Wild State delve deeper into themselves, inserting horns for additional release while paying close attention to the spaces in-between – each an opportunity for listeners to catch their breath.
The Wild State are brand new, and they've got that magic spark that will take them far.
A definite artist to watch, the Brighton trio is expected to release a debut album later in the year via indie label Beverly Martel. For the time being, take a poignant journey through the past and stream The Wild State's "Youth" exclusively on Atwood Magazine!
Stream: "Youth" – The Wild State
— — — —
? © 2019
:: Stream The Wild State ::