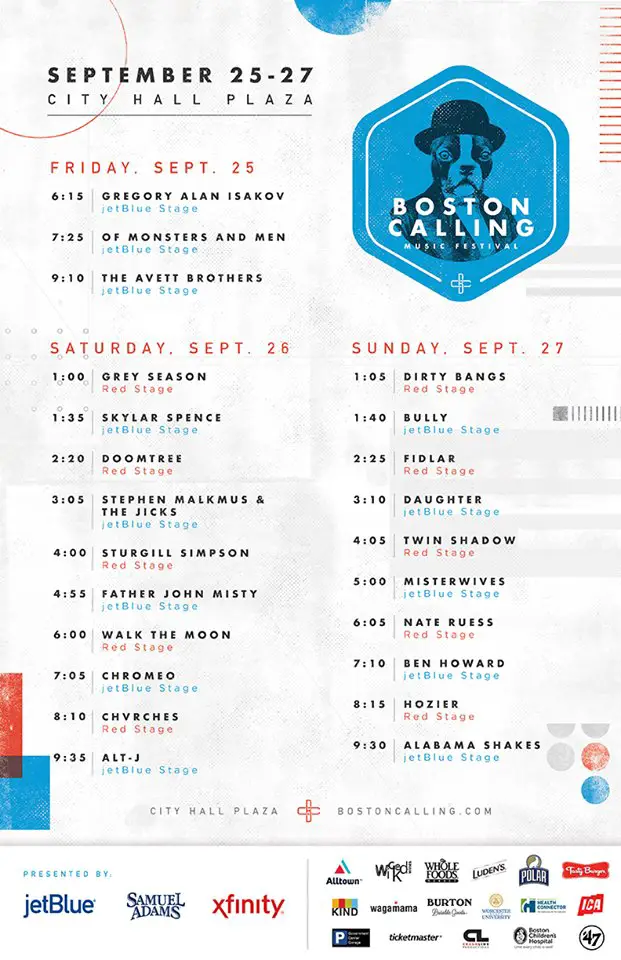 Festival organizers and publicity call it their biggest, most exciting lineup yet. From Alabama Shakes to Walk The Moon, Of Monsters And Men, and Alt-J, the sixth iteration of the Boston Calling Music Festival is a dizzying and diverse array of today's need-to-know music artists, with tomorrow's up-and-comers sprinkled in the mix. As per tradition, Atwood Magazine is here with (y)our guide to Beantown's most musical weekend, a festival preview with everything you need to know to make the most of Boston Calling 2015!
HIGHLIGHTS
This September's lineup offers a selection of popular music from all walks of life. As usual, there's a heavy focus on the 'indie' genres: indie folk (Of Monsters And Men, Daughter); indie rock (Alt-J, CHVRCHES); and indie pop (Walk The Moon, MisterWives). This season's music festival also includes a collection of singer-songwriters (Hozier, Ben Howard), electronic music (Chromeo, Skylar Spence), and folk rock (Father John Misty, The Avett Brothers). After all is said and done, Sunday night will cap things off with the unmatched rock and soul of Alabama Shakes.
KEEPING IT LOCAL
Forever faithful to its name, Boston Calling always makes sure its patrons know it to be Boston's music festival. Despite an increasingly corporate sponsors list, Boston Calling has been a major and constant supporter of local business and talent since its inception in 2013. In past festivals, that hometown vibe has presented itself through a Samuel Adams-sponsored beer garden, a plethora of in-grounds food trucks, and art installations. While the local food and beverage presence will continue in full swing this year, the most notable recognition will come from a local music memorabilia exhibit entitled "A History of Live Music in Boston" in the VIP area, a collection of over 100 pieces of local music memorabilia showcased by rock historian David Bieber. If you happen to have a VIP pass, make sure to check this out!
In addition to supporting local food and art, Boston Calling espouses support for local bands: The festival's openers have always been Massachusetts-based acts, and this year's fresh picks – Boston's Grey Season and Cambridge's Dirty Bangs – promise to rock our faces off and get us in the mood for nine more hours of musical onslaught. The goal of presenting top-tier artists while exposing local talent is a noble one, and it's refreshing to be a part of a festival that embraces its host city. Boston Calling would be nothing without Boston.
WRAP-UP
Festivals are one of the few instances that allow for, and perhaps even encourage extensive musical cross-pollination. Where else would you catch a folk, rock, synthpop, indie, and electronic music all in the same 10-hour span? The truth is, Boston Calling has always been a melting pot when it comes to music, and that's just what festival-goers should expect: Bombardment by artists of all shapes and colors. Make sure to catch Father John Misty and Walk The Moon on Saturday, and you'd be remiss to miss Alabama Shakes or Daughter on Sunday. See below for more about these and many more of this exciting weekend's talented lineup!
There's no two ways about it: Boston Calling is the place to be this side of the Charles.
BOSTON CALLING MUSIC FESTIVAL
SEPTEMBER 2015
FRIDAY
Schedule
Gates Open: 6pm
6:15 pm
Gregory Alan Isakov
7:25 pm
Of Monsters and Men
9:10 pm
The Avett Brothers
Gregory Alan Isakov
Our festival opener hails from Philadelphia by way of South Africa, and weaves folk and indie influences together in his songwriting. With two very long festival days looming, Friday night is a time for relaxing, de-stressing, and soaking in the crisp autumn air.  Isakov's music will set that tone perfectly.
"Big Black Car"
Of Monsters And Men
Icelandic indie folk/pop band Of Monsters and Men sent us into a tizzy with their 2011 debut My Head Is An Animal. They followed up this year with Beneath the Skin, but despite OMAM's massive popularity and Republic Records' immense marketing efforts, neither the album nor its singles have seemed to take root in the States. As a result, one can likely expect the band to play a slew of songs off their first record, with new ones scattered sparingly.
"Little Talks"
"Crystals"
The Avett Brothers
What do we need to say about The Avett Brothers? If you like acoustic, folk, and roots music and you aren't familiar with the sounds of Seth and Scott Avett and co., then you're doing it wrong. They are one of the most versatile, open-minded folk rock acts, and their musical blends will be the perfect way to energize Friday's crowd, both for the moment and for  the weekend to come.
"I And Love And You"
SATURDAY
Schedule
Gates Open: 12pm
1:00 pm
Grey Season
1:35 pm
Skylar Spence
2:20 pm
Doomtree
3:05 pm
Stephen Malkmus and The Jicks
4:00 pm
Sturgill Simpson
4:55 pm
Father John Misty
6:00 pm
Walk the Moon
7:05 pm
Chromeo
8:10 pm
CHVRCHES
9:35 pm
alt-J
Grey Season
They've wowed crowds at Bonnaroo and SXSW, and they're about to do it in their hometown. Grey Season describe themselves as a 5 piece folk-rock band based out of Boston, MA. The members met in 2011 and began crafting their music by busking on the streets of Boston and Cambridge, learning how to please and cultivate an audience in the process. Their Saturday start is the perfect balance to The Avett Brothers' Friday night close, and the show is sure to be jam-packed with as much life and fervor as can possibly be stuffed into a 30-minute set. For those who need to convinced to get to Government Center at 1:00, consider attending Grey Season's set and then hitting up either the food trucks or Faneuil Hall for lunch.
"Satellites"
Skylar Spence
Formerly known as Saint Pepsi, electronic music artist and vocalist Ryan DeRobertis now makes 80s-influenced electro-pop music under the name Skylar Spence. His debut album, Prom King, was released last week via Carpark Records, and it's full of buzzy numbers that will surely continue to amp up a growing Saturday crowd.
"Can't You See"

Doomtree
Here's your moment of real hype: Doomtree is a Minneapolis-based indie hip hop collective and record label with an expansive sound that will get everyone to their feet. Theirs is an odd placement – it feels like the festival organizers really wanted to include them, but didn't quite know how. However, an act of their caliber should have no trouble convincing the audience that they could have dutifully played any slot this weekend, regardless of context or style.
"Final Boss"
Stephen Malkmus & The Jicks
You may recognize the name Stephen Malkmus because he was lead singer and guitarist of 1990s indie rock band Pavement. It's been a long time since Pavement's dissolution, and Malkmus has been playing with The Jicks since 2000. Expect lots of guitar rock, cool solos, and weirdly inviting transitions.
"Tiger"
Sturgill Simpson
Does "indie country" exist? If it does, then Sturgill Simpson leads the pack, with otherworldy, yet distinctly country music that forces listeners to examine the often-dismissed genre in a new light.
"Turtles All The Way Down"
Father John Misty
Joshua Tillman (aka Father John Misty) is a brilliant eccentric and he wants you to know it. The Fleet Foxes drummer released his critically acclaimed sophomore album, I Love You, Honeybear, in February. The rest of the year has been a whirlwind of worldwide touring for the indie star, with a mind-boggling 160+ concerts in 2015 to date, and plenty more to go before December 31st. If you're running late on Saturday, make sure to get to Government Center by 4:45 to catch this must-see set. To many, 2015 was the year of Father John Misty: Don't you want to say, "I saw him when…" as well?
"Chateau Lobby #4 (in C for Two Virgins)"
Walk The Moon
There isn't a soul in America who hasn't heard Walk The Moon's song "Shut Up and Dance," the unbearably catchy blockbuster radio hit that skyrocketed this already-successful indie pop band to pop stardom. Is it overplayed? Maybe; still, that doesn't mean it isn't good, and even the haters wind up shouting the chorus' feel-good lyrics at the top of the lungs. The hour-long set will give Walk The Moon plenty of time to deliver beating hits like "Anna Sun," "Different Colors," and "Tightrope," as well as some deeper cuts and maybe even a few surprises! You'd be a fool to miss out on what will surely be a huge mid-afternoon Boston Calling dance party. Expect a rush of endorphins and lots of screaming during Walk The Moon's set.
"Shut Up and Dance"
Chromeo
If you're excited by terms like "electro-funk" and "nu-disco," then you'll absolutely love Chromeo. The Canadian duo will be following Walk The Moon's pumped-up set, and chances are they'll strive to match that energy level. If you're at the point in your day where all you want to do is drink some water and eat some food, then you'd be wise to use Chromeo's set as a breather before the night's final acts.
"Sexy Socialite"
CHVRCHES
What better time to catch a synthpop band than on the weekend of their sophomore record release? CHVRCHES' set is bound to be HVGE: Their new record, Every Open Eye, will be available worldwide on Friday, so Boston Calling will be like a record release show. Expect a high-energy set as Lauren Mayberry and gang churn through their joyful, melody-driven, synthy new tunes.
"Leave A Trace"
"The Mother We Share"
Alt-J
Alt-J aren't exactly the first name in festival headliners, but then again, this year they are. The Grammy-nominated band named after the shortcut for the delta sign (∆) pretty much defy all genres: Their music is a colorful pastiche that entirely their own. Proper preparation for truly enjoying the Alt-J experience includes listening to their sophomore album This Is All Yours, and then coming to terms with the fact that their headlining set may or may not sound anything like that.  Embrace the unexpected, the weird, the strange, and you will fully appreciate Alt-J.
"Left Hand Free"
"Every Other Freckle"
SUNDAY
Schedule
Gates Open: 12pm
1:05 pm
Dirty Bangs
1:40 pm
Bully
2:25 pm
FIDLAR
3:10 pm
Daughter
4:05 pm
Twin Shadow
5:00 pm
MisterWives
6:05 pm
Nate Ruess
7:10 pm
Ben Howard
8:15 pm
Hozier
9:30 pm
Alabama Shakes
Dirty Bangs
We'll write our own description of Boston's Dirty Bangs after their set: For now, their own biography is too beautifully written to not repost:
Five gentlemen who create loud, soft, loud melodies of far-out pop sprinkled with do-wop, rock n' roll, and dark days ingredients, bled from the pulses of old and new friends making a noise.  Take the anguished soul of Syl Johnson and Bobby Womack, add a slight bastardization of the sound with J&MC or BJM making love to Alan Vega and you got what Dirty Bangs is going for. These are songs for the spirited, songs for the misunderstood romantics, for the drunks and the saints. The sound is pure, honest, it is the sound of someone giving it their all, being real with you over a sipper of whiskey and smoke, or within the holiness of a beach breeze, with every rattle a truth or a lie for the listener to consume. Look out your window and imagine the whimsical pop of your city coming alive and trashing the place, and just feel it, man. This is Dirty Bangs.
"I'm In Love With The Summertime"
Bully
Nashville freewheeling rockers Bully are exactly what you're looking for in you early Sunday afternoon: Lead singer Alicia Bognanno's vocals give off an easy air, yet their grit never lets you forget the band's southern roots. Sometimes their music feels transplanted from twenty years ago, and yet in the blink of an eye, they seem to fit the modern scene perfectly. Sunday afternoon's starting lineup is filled with rock and punk influence, and Bully are certain to liven everyone's spirits and heart rates.
Fidlar
Sunday afternoon gets even louder with Fidlar, the skate punk/garage punk four-piece from LA. If you love punk and you don't know Fidlar, you're in for a real treat: These guys are no-frills, and they're bound to give you a good time. If you're not that hardcore, consider retreating to a nearby sitting location during Fidlar's set, enjoying them from a distance while reapplying sunblock, drinking water, and scarfing down some eats.
"40oz. On Repeat"
Daughter
How will British indie folk band Daughter follow Fidlar's high-octane set? By channeling all that aggression, noise, and boom into emotional and ambient energy. Elena Tonra and Igor Haefeli's songwriting will haunt you in your sleep for weeks on end – it's a good thing there will still be sunlight during their set, lest we succumb to their music's ethereal depths.
"Still"
Twin Shadow
Twin Shadow (known to friends as George Lewis Jr.) is something of a renaissance man: In addition to putting out three records, the most recent of which, Eclipse, was released via Warner Music, the Brooklyn-based artist has written a novel and composed music for fashion events. Grandiose indie pop in theory comes off in waves of studied, glowing verses and anthemic choruses. Not only does Twin Shadow serve as the perfect musical transition from Daughter to MisterWives, but he will also enchant audiences – whether they want him to, or not. This set will be fueled by passion.
"To The Top"
MisterWives
It's always a dance party when MisterWives are involved: Mandy Lee and co. have been running train on the indie pop world for over a year now, but it was when they released their debut album, Reflections, in January that things really took off. The past nine months have been a test of Misterwives' tour endurance, and their performance on Sunday afternoon will undoubtedly confirm that they've passed that test with flying colors. If we get really lucky, MisterWives might give Boston Calling a taste of the past with "Twisted Tongue," off their old EP. Either way, expect a constant stream of shouting girls.
"Reflections"
"Twisted Tongue"
Nate Ruess
The past three years have seen Nate Ruess' transformation from an indie pop frontman into what can only be described as an indie pop star: Thanks to mainstream pop radio's indefatigable spins of songs like "We Are Young" and "Some Nights," The Format and fun. lead singer's soulful, pained vocals are instantly recognizable. Ruess released his debut album, Grand Romantic, in June, and it continues along the path set out by the weathered songwriter in his last album. Left unrestrained, Nate Ruess exercises his passion for the bombastic. His characteristically introspective and reflective lyrics are coupled with majestic Broadway-esque choruses and Ruess' own larger-than-life vocals. If you liked fun.'s Some Nights, then Ruess will absolutely dazzle you. Take a chance and listen to his new material: It's not fun. or The Format, but rather something entirely new and his own. If it's not your thing, then 6:00 is the perfect time to grab some dinner and settle in for the festival's finale.
"Great Big Storm"
"AhHa"
Ben Howard
What does one need to know about Ben Howard, England's prolific singer-songwriter who seems to be everywhere, and with everyone, at once? The 28-year-old writes relatable, poetic verse from the heart, and his honesty, vulnerability, persistence, and passion for artist growth have made him something of an indie folk superstar. If you shove your way up to the front for Ben Howard's set, you'll be in for quite the thrill come Alabama Shakes – but that shouldn't be the only thing on your mind with this artist. Listen closely for the emotion Howard packs in as he sings his lyrics: His performance will be nothing short of inspiring.
"I Forget Where We Were"
"The Wolves"
Hozier
Speaking of superstars, few (if any) artists have experienced a greater ascent in less time than Andrew Hozier-Byrne, the Irish singer-songwriter whose song "Take Me To Church" turned Hozier into an overnight sensation. His musical blend of blues, rock, and folk styles results in a great amount of diversity in his songs, and it is perhaps this, coupled with his excellent songwriting and a great deal of luck that catapulted him into the music world's spotlight. Many critics have dismissed Hozier as a fad, but make no mistake: His live performance is an evocative spectacle, and well worth any festivalgoer's time. That said, you should have no trouble enjoying Hozier from within the packed crowd encircling Alabama Shakes' stage.
My lover's got humour / She's the giggle at a funeral
"Take Me To Church"
Alabama Shakes
Boston Calling's deserving headliner needs no introduction: They're one of the it bands of the moment. Alabama Shakes' sophomore record Sound & Color really shook things up this year as the band dove even deeper into the heavy, southern blues-rock-soul style that made their 2012 debut so impactful. Brittany Howard's massive, intoxicating voice will undoubtedly echo throughout downtown Boston's many winding streets long after Alabama Shakes' set. It promises to be the perfect end to the weekend, so don't even think about leaving before you hear Alabama Shakes.
"Don't Wanna Fight No More"
"Hold On"

What to bring:
Sunscreen
Hat
Sunglasses
Earplugs
Sweater/Sweatshirt (evening temp drops to the high 50s)
Non-professional film and digital cameras
(1) Factory-sealed bottle of water (non-glass container)
A small clear plastic bag (no backpacks are allowed inside the festival)
Valid Driver's License for will-call and/or to drink alcohol
Comfortable footwear
Food
What NOT to bring:
Large bags/backpacks (bags can be no larger than 12" x 12")
Weapons of any kind
Professional cameras & recording devices (no SLR/DSLR or cameras with detachable lenses)
Illegal substances
Squirt guns, misters, spray bottles, etc
Laser pens and similar focused-light devices
Chairs / Strollers
Cans, canteens, flasks (empty camelbacks and water bottles will be allowed)
Pets
Bicycles, scooters, personal motorized vehicles
Musical instruments
Sleeping bags (no overnight camping or sleepovers)
Umbrellas
Any container of liquid other than 1 factory sealed bottle of water
Totem poles or flag sticks
Candy
Walkie Talkies
Fake IDs – they will be confiscated and your wristband will be cut without refund.
Be Safe and Have Fun!
#####
For more Boston Calling information, go to: bostoncalling.com
#####