In order to write about HOLYCHILD's debut album, The Shape of Brat Pop to Come, I feel it is necessary to define what exactly 'Brat Pop' is. But that's easier said than done, I think. The album title itself is a bit tongue-in-cheek: HOLYCHILD simultaneously birthed a new term and then re-birthed it, as if Brat Pop had a long and established history, and now HOLYCHILD are looking toward the future and how the concept might change with their album. Of course, who's to say that that is not exactly what this group is doing, that they're hoping to inspire listeners to understand Brat Pop and all it stands for–inviting people to grow and change, as they grow and change this concept.
Brat Pop is, essentially, a mix of vibrant feminism, activism and unabashed vocalization of society's wrongs and rights, the good parts of call-out culture, and confident self-expression. HOLYCHILD create upbeat pop music, bubblegum to the extreme, with the catch that the lyrics aren't to be trifled with or brushed off as airheaded nonsense. Indeed, though it might be Louie Diller's frantic drumming that gets you dancing, or Liz Nistico's unique voice, at once both enthusiastic cheerleader and sultry pout that catches your ear, it will be the lyrics, each song individually strong, that keep you interested.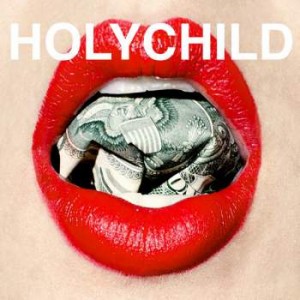 Listening to The Shape of Brat Pop to Come is almost a process of waking up: The combination of two relatively well-known concepts – that pop music is happy and upbeat, and that social injustices exist in the world – suddenly create a new notion, a way of hearing both things differently than you've ever before. In the middle of a live show, dancing with Liz, who has left the stage and is in the thronging crowd, chanting back lyrics to "Nasty Girls" ('Dye your hair! Tan your skin! Liposuction's really in! / Adderall! Join the fall! Do it to be beautiful!'), that is when, suddenly, you realize that you know truly what Brat Pop is. And that is when you look toward that future, eager to see what HOLYCHILD has in store next.
It will be the lyrics, each song individually strong, that keep you interested.
Listen: "Running Behind" – HOLYCHILD
And what is next for this band? With their debut LP released just a month ago, they've been on a constant tour cycle, from finishing up supporting Passion Pit, to launching into a small headline tour + festival circuit. Later this summer they'll be on the road once again, this time supporting Walk the Moon, which promises to be one heck of a dance party! See their tour schedule here.
Having established HOLYCHILD's mission to spread Brat Pop far and wide, it is important to analyze HOLYCHILD's tools for touring. The band's powerful album, The Shape of Brat Pop to Come, features twelve tracks, each uniquely passionate and empowered. Two singles, "Running Behind" and "Money All Around," were released prior to the album dropping, and each came with a video.
True to HOLYCHILD's form, the videos include visuals that the audience cannot look away from, while speaking a message that the audience cannot ignore. This is especially true for "Money All Around," which covers everything from food culture to ageism to gender roles. Going even further than covering these topics, the video features 'pop-ups,' containing facts meant to draw the viewer's eye, and to juxtapose the opulent fictional narrative created by the video, with the harsh reality of the band's daily lived narrative. Most upsetting is the pop-up that points out that the band, at time of filming, could not afford to eat at the restaurant they used. See for yourself in the video below:
Watch: "Money All Around" – HOLYCHILD
All 12 tracks on the album work together to maintain an upbeat, fever pitch of sound. The first track, "Barbie Nation," introduces the album with a bold, synthy drop before a chanting chorus and staccato, bouncing verses. With this fun introduction to Brat Pop, the second track, "Nasty Girls," with its cheerleader passion, hits hard with the societal criticism that runs throughout the rest of the album. Though this is one of the most fun songs on the album, it also is one of the most transparent, not allowing the listener to fade out, but instead demanding full attention to the lyrics as well as the composition.
The third track on the album, "Happy With Me," comes from an earlier release by HOLYCHILD, the Mindspeak EP, released last year. This song has since become anthemic for the band, usually ending their live shows. Also an older song, "Best Friends" comes from the soundtrack to the Disney film Earth to Echo, which points to HOLYCHILD's easy transition from live shows to licensing.
With their ambitious debut album and equally passionate live performances, HOLYCHILD continue to create a name for themselves as one of the most noteworthy new bands to know. Is HOLYCHILD creating a revolution with Brat Pop? The answer to that lies as much with the band as with their audience, with their fans and what they choose to do with the music.
One thing is for certain about HOLYCHILD: nothing can stop them now!