Every other week, Anthony Kozlowski pens the Atwood Magazine column Tunes & Tumblers, pairing new and classic albums with cocktail recipes. He quickly found however that drinking alone is a sad business. So he invited his friends Pedro Isaac Chairez and Ryan James into a recording booth to aid in mixing delicious drinks and to discuss the music that they all love. Strap on your headphones and enjoy a cold one on us. 
 
The search for a jingle comes to an end! This week, the Tunes & Tumblers crew sit down with power pop duo New New Girlfriend to debut the theme song and hear a special live performance of their new single "That's Why I."
   
The long wait is over! Having scoured the land near and far, fielding submissions from bands and artists the world over (okay, maybe we're exaggerating, but still), Tunes & Tumblers finally has its own jingle! Every episode of Atwood Magazine's favorite podcast will now be preceded by the sweet sounds of New New Girlfriend, the stamp atop the harmonic jousting of singer-songwriters Kylen Deporter and Griffin Burns.
It's amazing the kind of serendipity that can arrive on any random Tuesday night in West Hollywood. The State Social House sits at the river delta convergence of Sunset Boulevard and Holloway Drive, a wood-paneled saloon that seems out of place in the metallic glitter of the Strip. But this cozy venue introduced us to the musical stylings of Griffin and Kylen, belting sugar-coated pop songs with the lyrical scalpel of a Millennial Gilbert and Sullivan.
She's wearing my cardigan, cardigan
Just when I finally got the scent of her out of it
Swiping my cardigan, cardigan
Dinner, then breakfast, some flowers and dresses
Because she's driving my heart again, heart again
Halfway through their set, Pedro and I had an epiphany. "We should have them enter the jingle contest," he shouted over a round of applause. The rest will be recorded in the TnT Wikipedia page for all time (if one of you lovelies will make us one.)
New New Girlfriend is ear candy for the lovesick kid in all of us. Their songs bound along with unflappable energy like the first kick of a sugar high. But beneath the lights and colors, they sew in a lyrical bite, the sour yang of their special sauce. Listeners will bob their heads to laments of unrequited love or crippling self-doubt. But isn't that what makes the best music so deliciously deep?
THE ALBUM
Their Early Stuff
an EP by New New Girlfriend
---
A New New Girlfriend song is comprised of four simple elements:
Catchy
Clever
Humorous
Heart
With these powers combined, Griffin and Kylen enact their own Captain Planet synergy of 60's pop sensibility and infectious dual harmonies. Their growing library consists of short and sweet songs that don't overstay their welcome, and reward multiple listens as the layers peel back.
Besides writing one hell of a jingle that you can feast on yourself at the top of every new episode, they've already released an appetizer of their musical partnership to the world, the teasing and promising Their Early Stuff. In a mere four songs, they lay down their ethos as band. It's a great sampler of their range and overall cohesion, from the hook-driven showstopper "Over Over You" to the stomp-along syncopation of "Customize." It's the most effective use of 11 minutes outside an episode of Spongebob Squarepants.
 New New Girlfriend is the intersection of two distinct sets of sensibilities. While Kylen and Griffin find their styles meshing prettY easily, there are certain elements that make a New New Girlfriend song 50% one of them and 50% the other. In Kylen's words:
Griffin is a great starter. He'll just come up with something and I'll be like 'That! Hold onto that.' And then I can start putting the puzzle together.
On his own, he says, he tends to get stuck in his head. Paired with Griffin, the creative juices flow readily.
The New New Girlfriend origin story is a meet cute of rom com proportions. A few years ago, Griffin briefly dated the roommate of Kylen's girlfriend. At one point they ended up going on a double date, which ended up being an utterly forgettable night as far as romance was concerned. But the sparks between Kylen and Griffin flew.
Griffin's relationship with that girl eventually fizzled, but for a while he and Kylen played phone tag, looking for the opportunity to meet up again. He had carved out quite a successful career in Voice Over since landing in LA (fans of Devilman Crybaby may know him as Akira Fudo in the English dub), and Kylen wanted to pick his brain about making a splash in that industry himself. Finally, Kylen asked if he wanted to meet for lunch and Griffin said, "Yeah, why not now?" There was just one problem. Kylen was on his way to an exam. In a moment that would cause the music to swell if this were a movie, he decided to blow off the test and take a chance on destiny.
Lucy led to on writing as an exercise, which eventually coalesced into a music project. The first song they wrote together was the earworm "Anything," which would find its way onto the EP. And now, they live together.
It seems like the fairytale ending for a band on the rise, but their story is just beginning. It's a New new World for New New Girlfriend and we have a new new cocktail for their flagship journey. Please enjoy responsibly.
THE DRINK
A New New Fashioned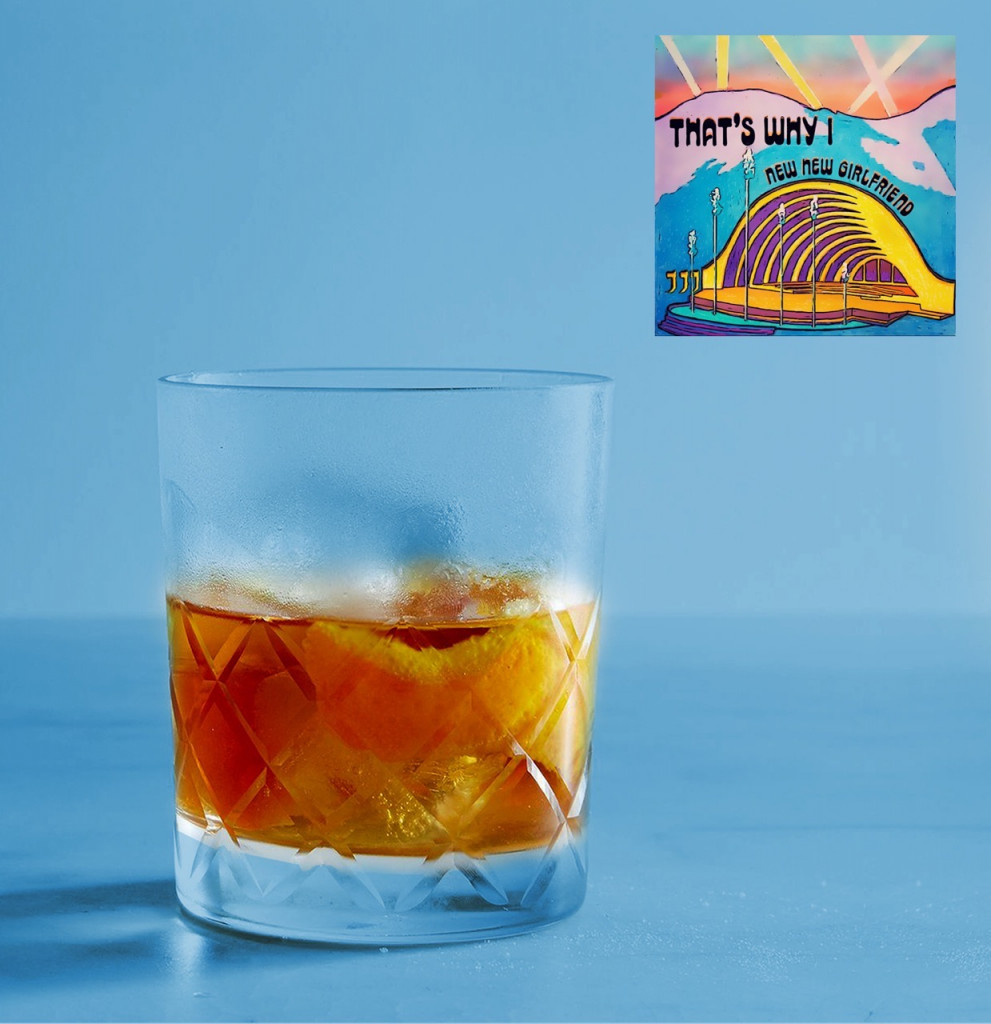 1.5 oz Spiced Bourbon
1 oz Amaro
1 Tbsp scoop of frozen Tangerine juice (or frozen fruit juice or sorbet of choice)
Instructions
Pour Bourbon and Amaro into tumbler over ice.
Add scoop of frozen Tangerine juice.
Stir and enjoy.
Cheers, Lovelies!
If I may break the fourth wall further than I already do, the Old Fashioned is often my drink of choice on a night out. It's simple, it's delicious (if I don't make the mistake of getting the $5 Happy Hour special at a dive on Sunset), and it saves me from having to read multi-page cocktail menus. As classic and reliable as it is though, it can get a little old (hence the name perhaps?).
New New Girlfriend blends together tried and true sounds, the effervescence of 60's pop harmonies, the wit and witticism of classic farce, and the earnest edge of 90's adult alternative. Yet everything feels blissfully fresh. For that reason, we decided to bring the Old Fashioned into the 21st century.
The New New Fashioned is remarkable in both its simplicity and the elegant way it compliments the sound of Their Early Stuff. Typically, the Old Fashioned will consist of nothing more than Bourbon, bitters, and a sugar cube. It packs a punch, but lacks complexity — bitter, but light on sweetness. To give a full sense of that interplay, Pedro subbed the bitters and sugar for the more syrupy taste of Amaro, and the unexpected pop of frozen tangerine juice.
It's a powerful combination — enough for us confiscate producer Drew's keys and call him a Lyft. But it's also sweet and inviting, a nice small drink you can enjoy slowly. Maybe it's over a bit too soon, like New New Girlfriend's EP. In that case make another and let the sweet melancholy overtake you.
THE SHOW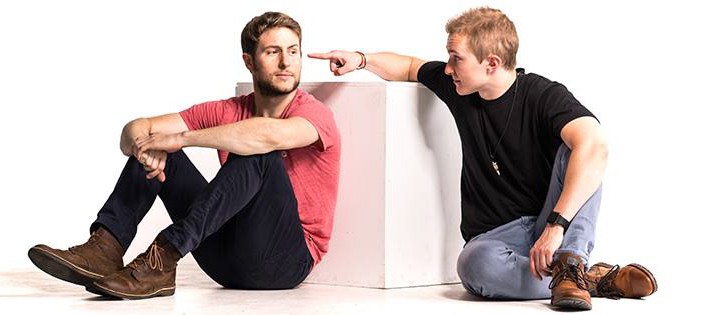 Today's episode is stuffed to bursting with firsts. The jingle of course takes enter stage (those pouring sound effects give us goosebumps every time), but New New Girlfriend has also blessed us with what we hope to be the first of many live performances on the show. Their new single "That's Why I" drops today, yet another bounding pop ditty that hides confessions of infidelity under its cheerful exterior.
That's why I didn't show up
To CrossFit or yoga
That's why I looked forlorn
When we were getting boba.
They pour out damning admissions of cheating, but buried beneath singalong mentions of hipsterisms like "CrossFit" and "boba," they're almost invisible. Like their previous work, "That's Why I" makes bittersweetness manifest.
And the boys gifted us with a version recorded right in the pit of Tunes & Tumblers headquarters. Stay tuned to the end to hear New New Girlfriend in their element, the way that made us instant fans upon seeing their West Hollywood performance.
The sonic treats come aplenty as always too. Kylen and Griffin nearly break the "Getting Carded" segment with their attempt at valid IDs. Pedro regales the gang with his misadventures in Oaxaca (which got a little out of hand on day one). Ryan explains what it's like to be bullied by sand. Plus Kylen and I recap our past lives as foley artists on an MMA film.
There are far more Easter eggs to uncover, and the best way to do so is to swing on over to your podcast platform of choice. Come for New New Girlfriend's catchy pop melodies. Stay for the wordplay that cut deeper than you expected. Their career is just beginning to unfold, and as Pedro says of Their Early Stuff, "If this is an appetizer, I'm stoked for the entrée."
Tunes & Tumblers 013:
New New Girlfriend and a New New Fashioned
---
Catch up on Tunes & Tumblers wherever you listen to your podcasts!
If you want to add any of the music discussed to your library, check out the full episode playlist below:
Have your own idea for a Tunes & Tumblers pairing? Let us know in the comments, or hit us up on Twitter.
Connect to New New Girlfriend on
Facebook, Instagram
 © Pedro Isaac Chairez