Recommended If You Like: Cherry Glazerr, Ty Segall, Black Lips
When the fleeting nature of life gets us down, it's way more fun to dance than it is to cry. This was the same idea the "dudes" from Twin Peaks had when they returned with their latest single "Butterfly," an amplified tune for the end of the world. "Butterfly" is the second single off their new album Down in Heaven and the introduction to a new era for Twin Peaks.
Oh, it's such a butterfly feeling to have you for a friend
Oh, but somehow I get the feeling that I'll be lonely again
Listen: "Butterfly" – Twin Peaks
---
The contrasting elements of wanting to fly away with a good friend and yet understanding that life is a solitary journey somehow flow together, creating a juxtaposition that is both very relatable and real for everyone. An underlined sense of impermanence in the chorus gives the song its kick, urging the listener to make the most of their time on earth by enjoying things for what they are. With a nod to The Zombies, "Butterfly" references the sex drive of classic rock n' roll while still being sweet enough to help us score a dance partner. The infectious "ba-ba-ba-ba-ba"s reference the likes of The Ramones or The Rolling Stones evoking a plight of youth that has remained continuous through the years. "Butterfly" is a fuzzy power ballad at its finest.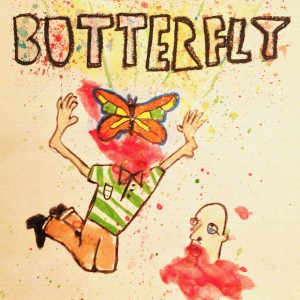 The Chicago band has transcended the garage rock scene, developing a more classic inspired, highly polished sound with Down in Heaven (released May 13, 2016 via Grand Jury). Having released their first album 3 years ago, Twin Peaks are taking us through their escape from adolescence. "Butterfly" is short but not sweet; the song addresses existential crises in between guitar riffs and a catchy chorus. It's more reflective than anything we've previously heard from them. It seems as though they have become privy to the fragility of a rock n' roll lifestyle, yet they haven't been discouraged.
Having returned from their most recent run at Austin's SXSW Music Festival, Twin Peaks exude an air of serenity and accomplishment while still banging out the classic guitar-laden melodies and edgy vocals we all look to them for. In a facebook post, vocalist Clay Frankel released a statement about writing "Butterfly."
"This song was written in Texas last year, when I was in a sickened state after playing twelve or so shows in five days. So the lyrics are a mixture of negativity and exhilaration. Exhilaration because I was doing what I most loved to do, and negativity because it was really taking a toll on my mind and body. Death was on the mind. Also sex. Also The Zombies (there were posters of them everywhere). So I took the gentle and fleeting image of a butterfly and a simple group of chords and lots of yelling to make a sort of doomy dance song that quite honestly could be summed up as 'let's have sex because we're all going to die.'"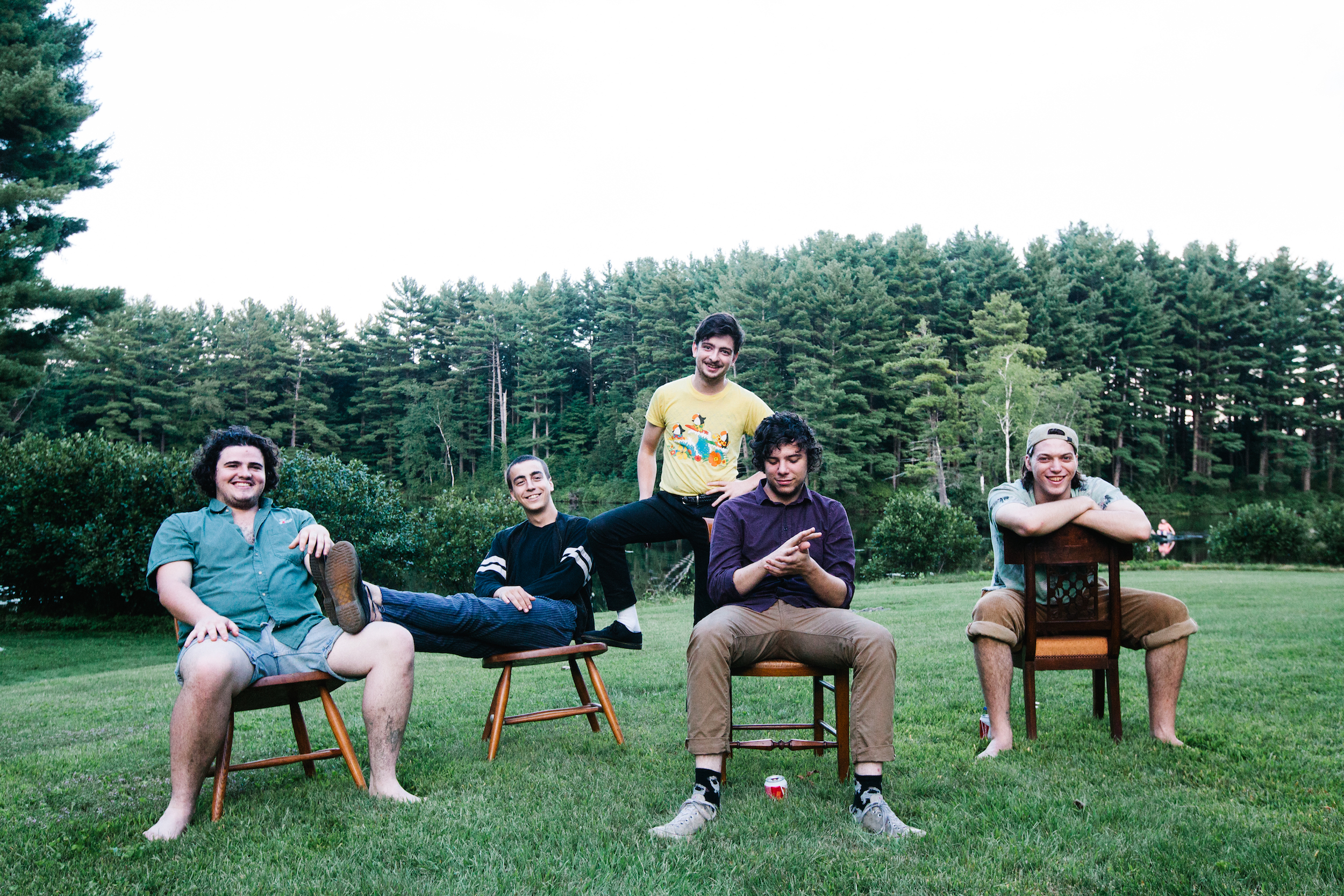 And when The Zombies started singing 'bout the season
You know your daddy got up to dance
And it wasn't for any other reason than the feeling is his corduroy pants
Twin Peaks have introduced a more interactive experience with Down in Heaven. They allowed fans to design their own album covers on their website and delivered hand-decorated LPs to those who pre-ordered the record. "Butterfly" has two music videos, one of which features lyrics drawn and assembled by Clay.
Watch: "Butterfly" (lyric video) – Twin Peaks
---
And in a little while I'll be gone
It only takes a little while to get along
So come on baby give a smile and come on
As for the official video, the band is shown wandering through a graveyard, all the while jamming out and getting into friendly antics. The band creates their own funeral, with drummer Connor Brodner dressing up as a priest. In the end, the boys burn a makeshift casket creation and we never discover the identity of a mysterious "reaper" figure. The whole thing is filtered through the lo-fi lens of a VHS tape and seamlessly integrates with the vintage tones of "Butterfly."
Watch: "Butterfly" (official video) – Twin Peaks
---
"Butterfly" is a great taste of the new album and is sure to be the gritty, introspective hit this summer needs. Listen to Down in Heaven and check Twin Peaks out on tour.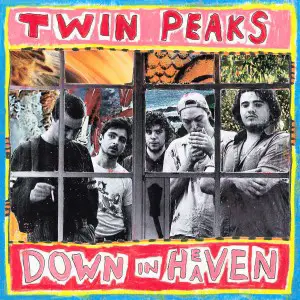 Twin Peaks 2016 Tour Dates
4/15 – Sheffield, UK @ Picture House Social Club w/ Thee MVPs
4/16 – Glasgow, UK @ Stereo w/ Thee MVPs
4/17 – Manchester, UK @ Deaf Institute w/ Thee MVPs
4/18 – London, UK @ Old Blue Last w/ IAN
4/19 – London, UK @ Camden Barfly w/ Thee MVPs – SOLD OUT
4/21 – Paris, FR @ La Mécanique Ondulatoire w/ Mitski
4/22 – Évreux, FR @ L'abordage w/ The Big Moon
4/23 – Reze, FR @ Festival L'Ere de Rien
4/26 – Madrid, ES @ Joy Eslava w/ HINDS
4/29 – Austin, TX @ Levitation
5/13 – Chicago, IL @ Lincoln Hall w/ White Reaper, The Funs – SOLD OUT
5/16 – Toronto, ON @ Horseshoe Tavern w/ White Reaper, Jimmy Whispers
5/17 – Montreal, QC @ La Vitrola w/ White Reaper, Jimmy Whispers
5/18 – Boston, MA @ The Sinclair w/ Ne-Hi, Jimmy Whispers
5/19 – Washington, DC @ Rock 'N Roll Hotel w/ Ne-Hi, Jimmy Whispers
5/20 – Philadelphia, PA @ Boot & Saddle w/ Ne-Hi, Jimmy Whispers
5/21 – Northampton, MA @ Pearl Street Nightclub w/ Ne-Hi, Jimmy Whispers
5/24 – Brooklyn, NY @ Music Hall of Williamsburg w/ Ne-Hi, Jimmy Whispers
5/25 – New York, NY @ Bowery Ballroom w/ Ne-Hi, Jimmy Whispers
5/26 – Pittsburgh, PA @ Club Cafe w/ Ne-Hi
6/3 – Louisville, KY @ KFC Yum! Center w/ Cage The Elephant, Portugal. The Man
6/4 – Cleveland, OH @ Jacobs Pavilion w/ Cage The Elephant, Portugal. The Man
6/5 – Columbus, OH @ Express Live! w/ Cage The Elephant, Portugal. The Man
6/6 – Indianapolis, IN @ Joyful Noise Recording w/ Ne-Hi
6/7 – St. Louis, MO @ The Firebird w/ Ne-Hi
6/9 – Manchester, TN @ Bonnaroo Music Festival
6/10 – Minneapolis, MN @ US Bank Theater w/ Cage The Elephant, Portugal. The Man
6/11 – Madison, WI @ Alliant Energy Center w/ Cage The Elephant, Portugal. The Man
6/14 – Calgary, AB @ Big Four Building w/ Cage The Elephant, Portugal. The Man
6/15 – Edmonton, AB @ Shaw Conference Center w/ Cage The Elephant, Portugal. The Man
6/17 – Vancouver, BC @ PNE Amphitheater w/ Cage The Elephant, Portugal. The Man
6/18 – Troutdale, OR @ Edgefield Amphitheater w/ Cage The Elephant, Portugal. The Man
6/19 – Seattle, WA @ WaMu Theatre w/ Cage The Elephant, Portugal. The Man
6/21 – San Francisco, CA @ The Independent w/ Ne-Hi, Golden Daze
6/24 – Los Angeles, CA @ Echoplex w/ Ne-Hi, Golden Daze
6/25 – Las Vegas, NV @ The Joint w/ Cage The Elephant, Portugal. The Man
6/26 – Glendale, AZ @ Gila River w/ Cage The Elephant, Portugal. The Man
6/27 – Albuquerque, NM @ Launchpad w/ Ne-Hi
6/28 – Denver, CO @ Larimer Lounge w/ Ne-Hi
6/29 – Omaha, NE @ Waiting Room w/ Ne-HI
7/15 – Sun. 7/17 – Chicago, IL @ Pitchfork Music Festival
7/23 – Sun. 7/24 – Detroit, MI @ Mo Pop Festival