Atwood Magazine honors the late Scott Hutchison from Frightened Rabbit, who preserved the message of true rock into the changing eras even when the world stopped listening. 
— —
In 2011, my mom and dad surprised me with tickets to a Death Cab for Cutie concert. It was the latest band I'd found, and to me they were different. As a sophomore in high school, I was just beginning to blossom out of my extreme emo and pop radio phase, ditching bands like Mayday Parade for something more understatedly depressing. It was then I found Death Cab and their wide array of soothing, yet soul-searching albums.
What I didn't know at the time, was that surprise concert would be the door which opened my ears and my heart to alternative music entirely.
I walked into UIC Pavilion in Chicago and found our seats with my mom. She loved them too, so we were equally excited to see them for the first time.
Frightened Rabbit was the opening act – a band I'd never heard of, but was intrigued by, given their exotic name. When they took the stage, I was immediately confused as to what type of music they were playing. They sounded folk, yet were so manically energetic. It was my first taste of true alternative: something slower, more passionate, yet filled with the rock sounds that can entirely consume a live stage.
I don't remember the setlist well. But I remember the moment the switch flipped in my head. I want to say the song was "Not Miserable," but the memory is foggy. Anyway, the song caught me completely off guard, took my breath away, did all of those things that make you feel a new part of yourself open to the experience around you. I left the concert more focused on finding that song than on anything else.
The band became a secret to me. It was the first time I held a song or a name so closely, it felt like my own. It was the first time I listened to something with such hidden depth, not a depth being screamed like an announcement. In The Winter of Mixed Drinks and Pedestrian Verse, I framed my early high school years. I went on advancing my musical catalog in the vision of their music. I was, suddenly, a full on rock fan, still not knowing what that meant.
Then Frightened Rabbit made a 2016 comeback with the incomparable release of Painting of a Panic Attack. They hadn't become a band I'd forgotten about, but definitely one I'd put on the side to make room for new discoveries.
Painting of a Panic Attack reminded me that Frightened Rabbit was evolving in sound, but still holding true to the definition of rock music. Rock music started so commercially with The Beatles and The Monkees back in the 60s, but grew to fill with anthems for misfits and misunderstood listeners.
In the grunge years of Nirvana, and the aftermath of early 2000s rock, the spike of Green Day and Lincoln Park, rock proved to be an explosion of unhappiness and personal and political disapproval. It spoke on topics avoided by every other genre. Rock was real, it was raw, and it was uncomfortable in the most beautiful way.
Frightened Rabbit's 2016 release of Painting of a Panic Attack is one of the best modern interpretations of this classic concept. It's an album of obvious messages and haunting sounds to fit the message. While it's not as loud or volumatic as some of the eras before, the album is representative of true rock in an era of pop sounds that water down the real meanings behind the words.
The album's opener "Death Dream," speaks of suicide, death, and panic attacks.
The "I Wish I Was Sober" lyrics read,
Oh come and shake me
'till I'm dry,
Oh I wish that I was sober,
Oh come to me and
kill the night off,
I wish that I was sober
---
Throughout the album, there are both obvious lyrics like this, and less obvious manifestations of the depression and discomfort that plagued Scott Hutchison. His devastating death (confirmed yesterday, May 10, 2018) has broken my heart, but also framed the words in the songs I've loved as dire truth. It nearly mirrors the life and death of Kurt Cobain, and the memories formed in songs that were never taken as more than songs.
Scott Hutchison and Frightened Rabbit have created a legacy in their display of the reaches of art pertaining to depression. They show the deeper side of rock music, the message behind it, and the reality that lives past the recording.
It begs the question: what is behind the mask of today's rock music? From The 1975 to Paramore, messages aren't necessarily positive, but most tracks feature a groovy, radio-ready beat and contagious lyrics.
Rock music has returned to a commercial standpoint, being appreciated by a wide range of listeners. 13-year-olds in white adidas bop along to The 1975's poppy sound while mouthing words about doing cocaine off a toilet seat during a wedding. It's an odd image, maybe a view of a slow disintegration of the reason rock music formed: it's messages. It's images like this, and then those of the deaths of our beloved rock leaders, that makes me wonder: We all love to listen. But is anybody really listening?
— — — —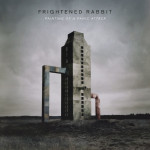 ? © The Skinny
:: Stream Frightened Rabbit ::