Radiantly vibrant and achingly expressive, Grace Weber's stunning debut album 'A Beautiful Space' charts a journey of resilience and healing, self-discovery and self-love.
"Thru the Fire" – Grace Weber ft. Chance the Rapper
---
Radiantly vibrant and achingly expressive, Grace Weber's stunning debut album charts a journey of resilience and healing, self-discovery and self-love. It's a coming-of-age album for all ages; a set of songs meant to inspire and ignite our inner flames. A deeply honest and multifaceted experience, A Beautiful Space is an intimate collision of radiant R&B and sweet soul that will have us singing and swaying all summer long.
Smoke rising, rising
Off the heat of the world
Lifting silence, like a stain, have you heard?
Words so cruel, I'll use it for fuel
And I'll make it through
I'll burn my way through the fire
I'm hitting the pavement, mmm see
I'm falling off the wheels but I'm working
I'm reaching for comfort, yeah
Pushing through the night though I'm hurting
My eyes are strained
Watching a meltdown
Stress turning but let me burn it
Yeah I can use that shit for fuel
I'll burn my way through the fire

– "Thru the Fire," Grace Weber
Released June 11, 2021 and produced by the The Social Experiment, Grace Weber's first full-length LP is a joyous reverie and a stirring reckoning all at once. True to its name, A Beautiful Space offers both escape and indulgence, compassion and connection as Weber floods the senses in pools of enchanting and moving sound – all in an effort to connect with herself, her world, and those around her on a deeper level. The Grammy Award winner (she penned Chance the Rapper's song  "All We Got" featuring Kanye West and Chicago Children's Choir) holds little back on twelve tracks that face insecurity and self-doubt with unapologetic vulnerability, tap into tension and turbulence with cool confidence and clarity, and through it all, still find a way to celebrate the magic that is our everyday lived experience.
"It's been a really amazing, exciting, and wild journey making this album," Weber tells Atwood Magazine. "I started the entire journey in 2016, when I first started working with Nate Fox and Nico Segal. I remember the first day we started working together, I was sitting on the couch in the studio and Nate walked up to me and handed me an SM57 microphone and said, "Just start singing when you feel inspired." And that was the way the entire album making process went… We just followed our inspiration. We didn't put any expectations of a genre or outcome for the album; I just got to create what I loved and be myself completely in this space that Nate and Nico created for me. I felt like Nate and Nico really saw and heard me for who I really am, and they created a space where I felt safe enough to share my true self completely on this album."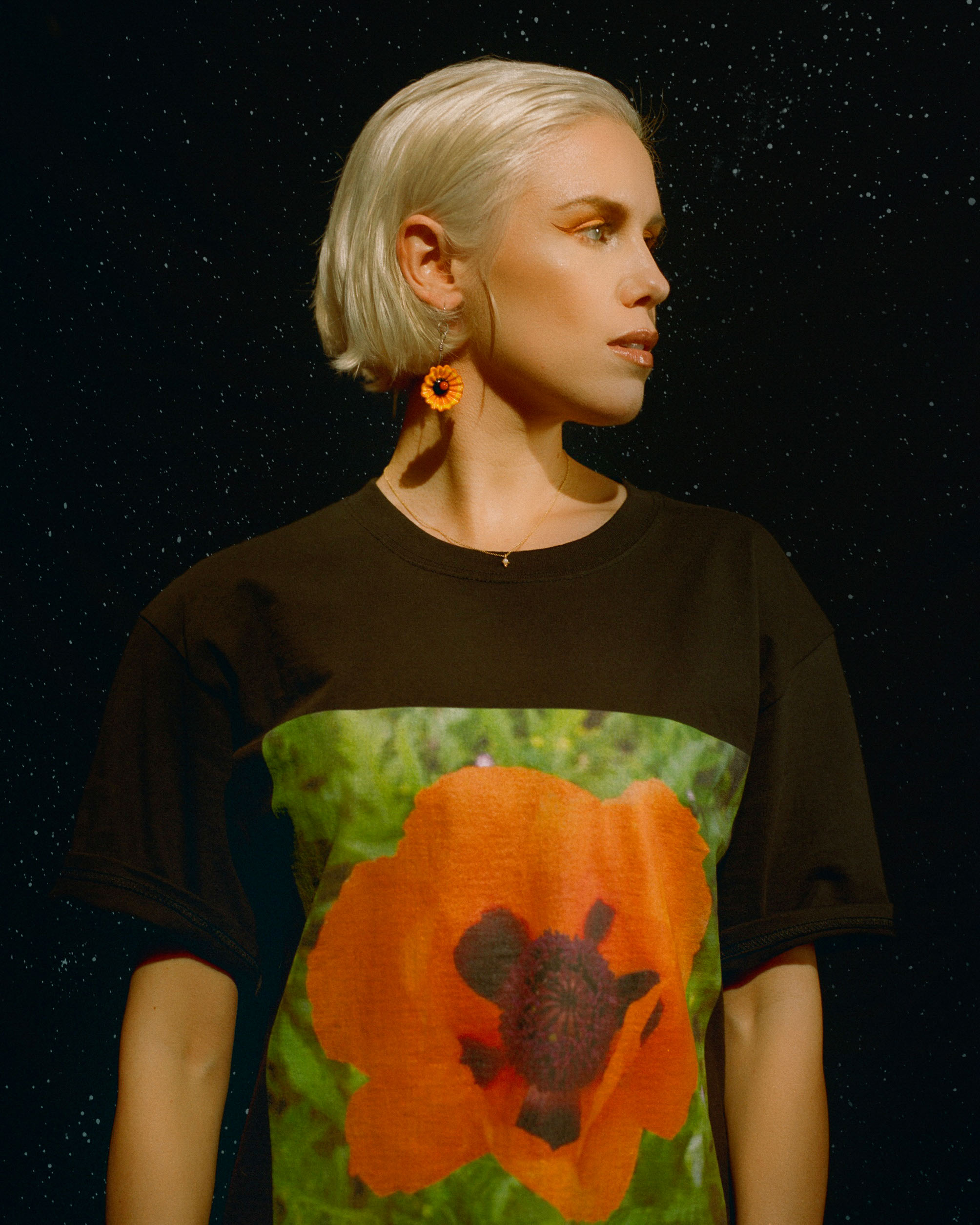 Active in the music industry for the past decade, Weber first began releasing music shortly after graduating from NYU in 2010. Her debut album is ten very long years in the making, and yet this is somehow only "the beginning" – a taste of her full potential, and a teaser showcasing the many sides of her exciting artistry.
"My vision for this album was always that I wanted something that really introduced me and my sound," Weber explains. "And I think I thought I knew who I was before I started this project, but I didn't realize just how much of a wild ride the album would take me on, one that would actually lead me towards really finding myself and understanding who I am as an artist. This album is about going on a journey towards resilience, growth, and self-love, and I had to go through the process of making it and growing through it to really understand what the ultimate vision was for it."
"I think "A Beautiful Space introduces me exactly how I hoped an album would," she adds. "I wanted to create a project where I could tell my story as honestly as I could, but also leave space for people listening to hear their own stories woven into the songs too. I wanted to create a space with this album where people could escape their worlds for a moment, walk into a new space and go on a journey of their own. I grew up in a very musical family and I joined a gospel choir when I was young, so singing and music has always felt like healing, and love, and family to me. I wanted this album to feel like that."
Wondering where you are
Leaving with a bad taste on your lips
What would you say to me?
If I was happily
'lone in my bed
We had the ability
To be more than friends
Funny how it all came down, funny how it all came down to this
---
Weber's album journey is admittedly a personal one that resonates for her, but it's equally and immediately accessible to listeners as well. It's a journey that roars into view on the opening song "Thru the Fire" (featuring Chance the Rapper), one that spills itself out in full on songs like "Feels Like Heaven" and "Playing Favorites" (featuring WESTSIDE BOOGIE), wears its heart on its sleeve in tender moments like "More Than Friends" and "Played Yourself," and ultimately comes to a cataclysmic, celebratory crescendo on "What's Good," "Other Side" (featuring Nico Segal), and the revelrous closing song, "Coming Home."
"I really love "Playing Favorites," "Other Side," "What's Good," and "Happy Thoughts, " but honestly I love every song on the album!" Weber says. "I'm so proud of what we created and how it all came together at the end."
I feel like I put my entire self into this album and I'm so proud of that.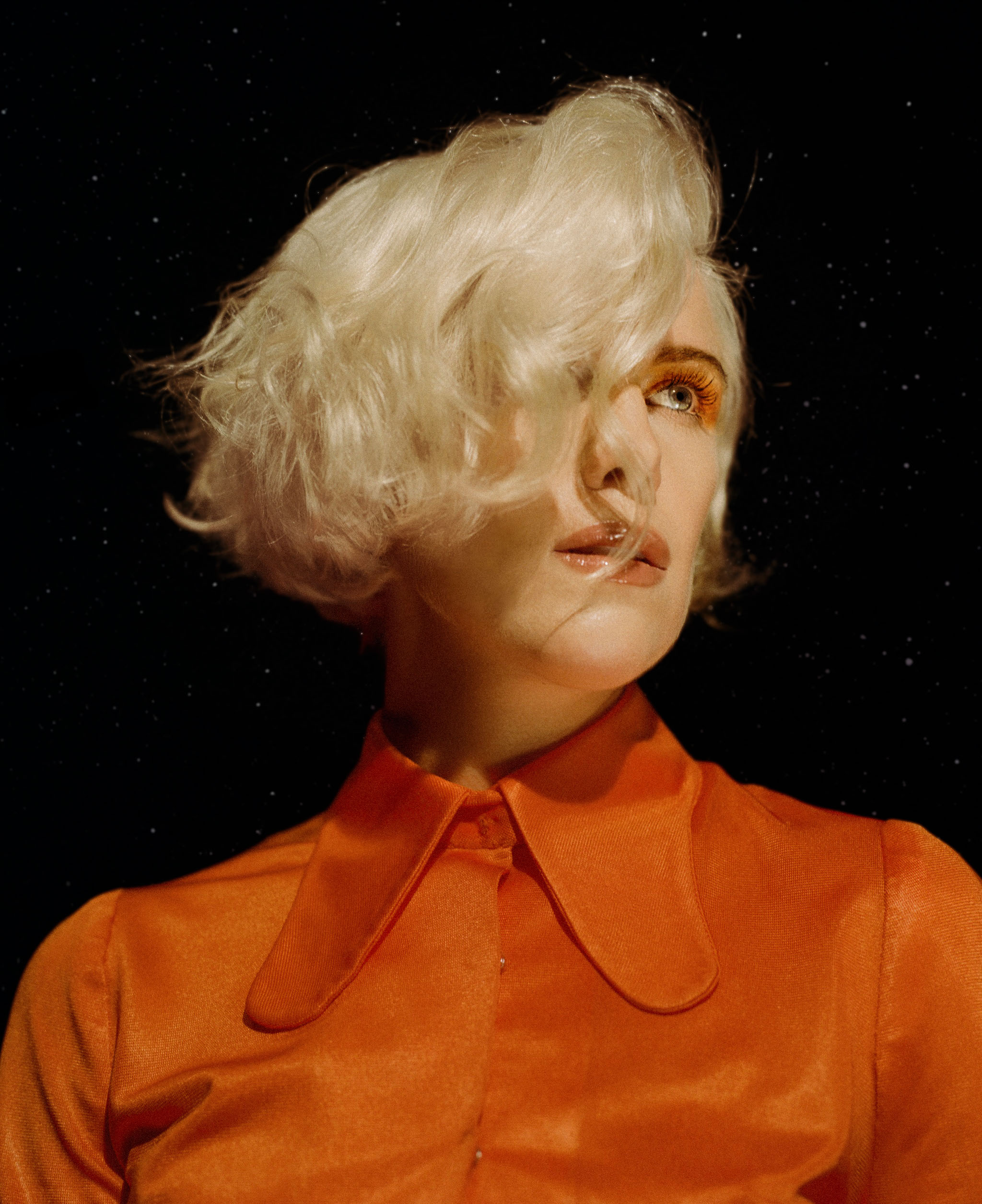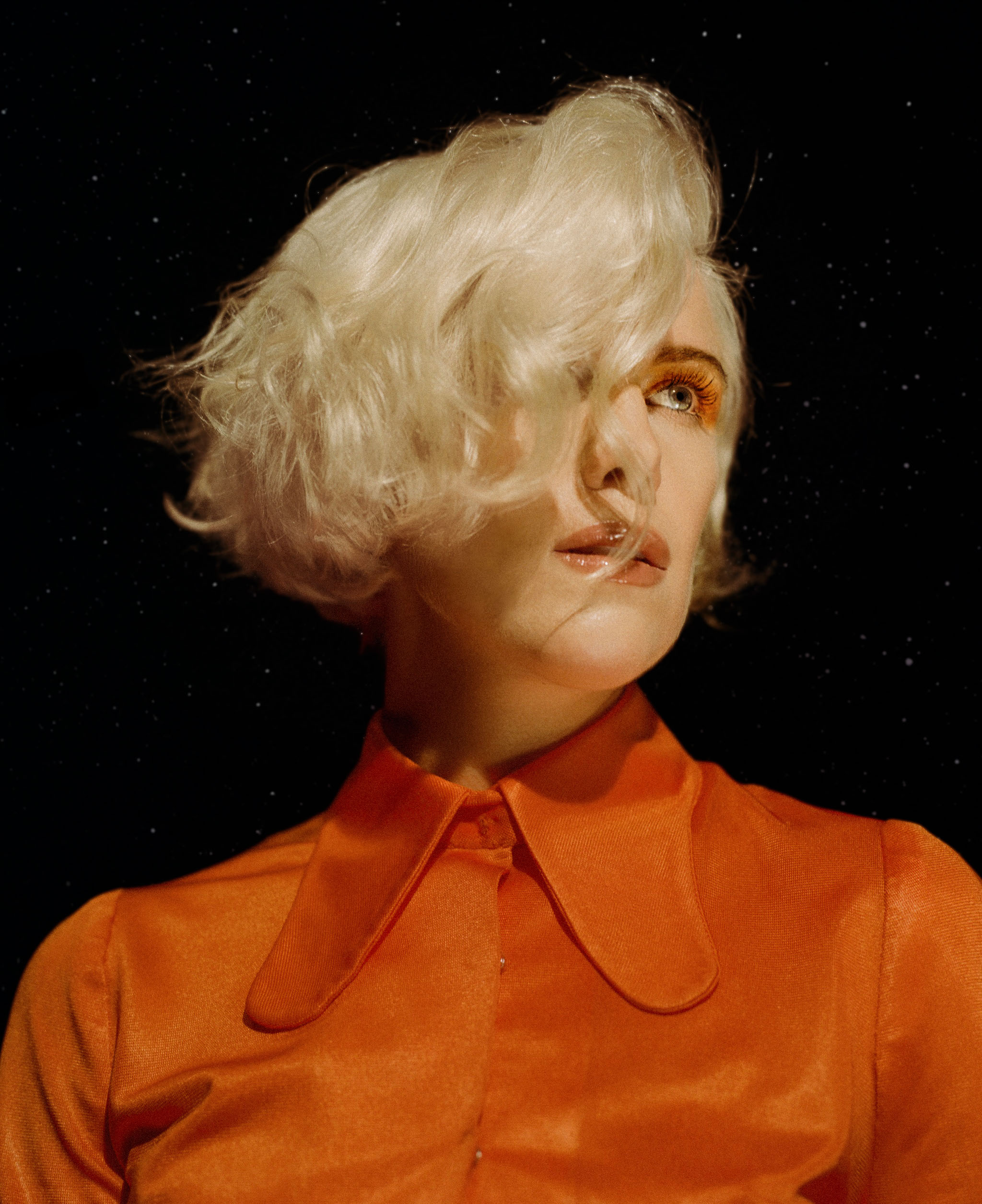 Weber didn't need featured guests to make her album any more memorable or meaningful, but the additional presence of artists like Chance the Rapper, Nico Segal, and Westside Boogie only makes an already special record that much more singular and unique. Each respective artist brings his own voice (and in Segal's case, trumpet) to the fore with a kind of refinement, raw conviction, and finesse that plays to all of Weber's strengths.
"Chance and Westside Boogie are both such amazing artists, and I am so grateful they're a part of my album," Weber says of the two featured rappers. "It was incredible witnessing both of them creating their verses – I learned so much from the way they both write and create. I first met both Chance and Boogie at Nate and Nico's studio while I was working on my album, and then I got to collaborate with both of them on their projects – Coloring Book and Thirst 48 Part II."
"It was really important to me that the features on the album really felt like they were a part of the journey of the album, and that anyone featured on the album were also friends of mine because the project was so personal. I feel like Chance and Boogie and the third feature, Nico Segal, really helped bring the album home with what they gave to the project, and I'm so grateful."
---
Another quality that lends this album endless allure is Weber's own songwriting: Intimate and expressive, she captivates through enthralling performances while seemingly diving headfirst into her depths and pouring her insides out.
"I have so many favorite lyrics on the album," Weber says, citing lines in "happy thoughts," "more than friends," "Other Side," and "Thru the Fire" as some of her many highlights:
"if i can wake up from this mourning, oh i wanna be reminded that the light comes clearer after the sacrifices, and in my happy dreams when they come for me oh i'll be free my love  so let me lift my head up"  – happy thoughts
"Sending your regards in paper, Trying to collect on your regrets" – more than friends
"Tried to do something different this time. Tried to be someone else. But if you're intent on changing your mind, Start with helping yourself. I know life's been kicking you while you're down, And I know it's been hard, But just know we all get by, tricking our minds, If you don't jump you're never gone fly, It'll all make sense….On the other side" – other side
Smoke rising, rising…Off the heat of the world. Lifting silence, like a stain, have you heard?  Words so cruel, I'll use it for fuel.. And I'll make it through" – Thru The Fire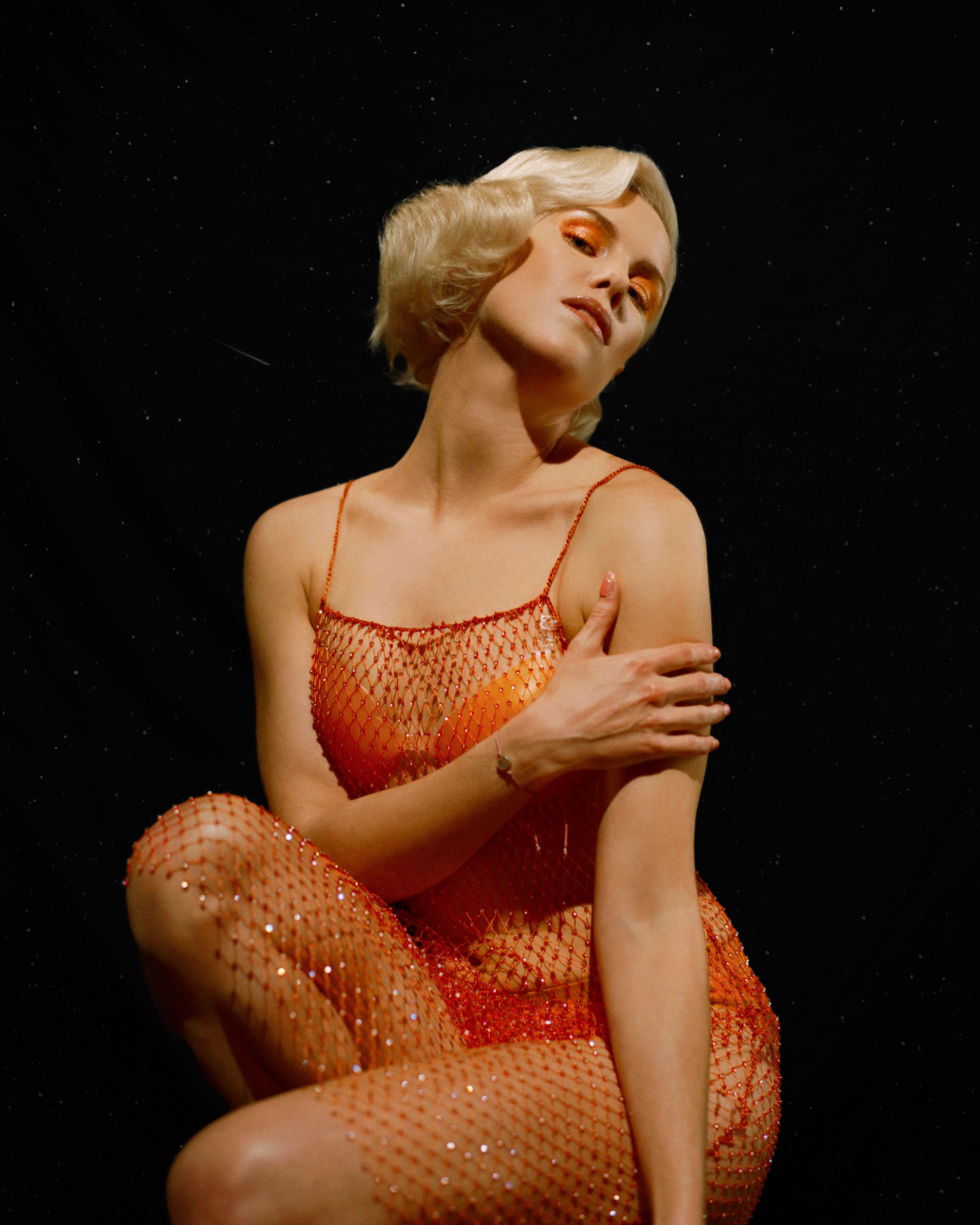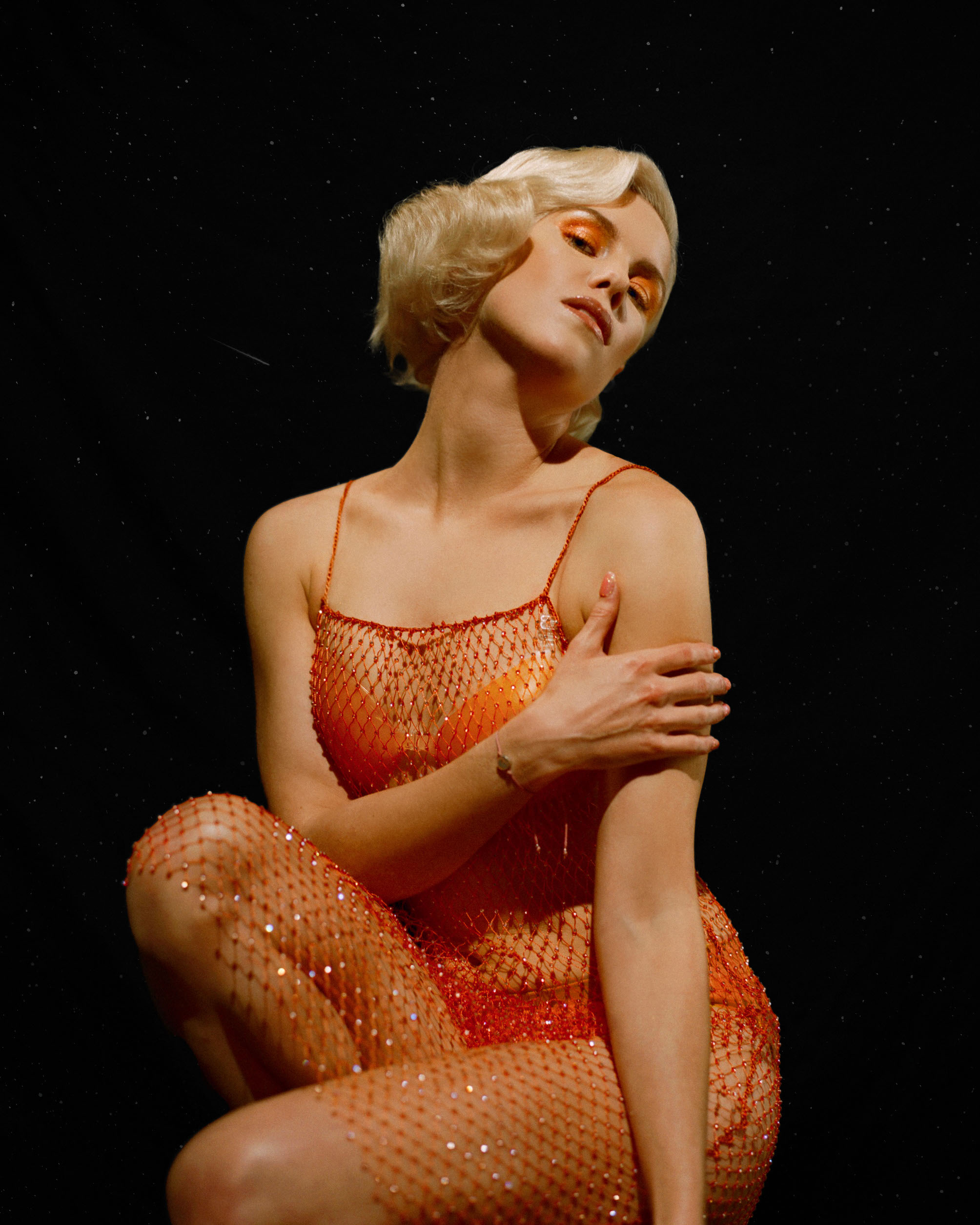 Whether listeners are ultimately drawn to her diary-like confessionals or the sheer golden beauty of her voice, or some combination of these qualities and more, there is no denying Grace Weber's sheer magnificence. The R&B phenomenon has come into her own with dynamic drive and a sweeping, graceful presence that hooks us in and keeps us longing for more long after her debut has played its final note.
"This album is about going on a journey towards resilience, growth, and self-love," Weber shares. "Each song on A Beautiful Space was like a breadcrumb that helped lead me down a path home to myself. I hope it can be a source of inspiration for others to follow their own breadcrumbs too."
This truly is a beautiful space.
Experience the full record via our below stream, and peek inside Grace Weber's breathtaking A Beautiful Space with Atwood Magazine as she goes track-by-track through the music and lyrics of her debut album!
— —
Stream: 'A Beautiful Space' – Grace Weber
:: Inside A Beautiful Space ::
— —
Beautiful Space Intro
This track was the very last track to be added to the album. I was listening to the project with my team one last time before sending it to mastering – and we all felt like there was one little piece missing. I found this track from one of the earliest sessions with Nate and Nico — and we realized it was the perfect way to start the album. I used to sing "His Eye Is On The Sparrow" all the time when I was younger, it was the song I auditioned with when I joined the Milwaukee Central City Youth Gospel Choir, and it was the song I sang on Showtime At The Apollo. In a lot of ways it was a song that taught me how to sing and helped me become the singer I am today.
Thru the Fire (feat. Chance The Rapper)
I'll burn my way thru the fire!! This song captures one of the main themes of the album: resilience. Having Chance on this song is so cool to me. I'm such a fan of him and his artistry and I feel so blessed to have him on the project.
Feels Like Heaven
This song was one that helped me understand what the full journey of the album was going to be. I think before I wrote this song, the album was still in the beginning part of its journey … and this song helped me see my growth and see where I wanted to bring the entire story of the album to. This is my freedom song of really getting to the other side of something crazy, and embracing how good that feels.
Water's Edge
"Water's Edge" is about mistakes, and forgiving yourself for those mistakes. I wrote this one with my buddy Peter Cottontale and I loved the production he did on this one. My best friend Elliott Skinner sang background vocals with me and I love it so much because I really wanted to get Elliott's beautiful voice on my album, and it happened with this track!!
Playing Favorites (feat. WESTSIDE BOOGIE)
Boogie is one of my favorite artists and I was so excited when he laid his verse down on "Playing Favorites." Boogie had asked me to sing on his project "Thirst 48 Part II" and so I knew that I would love to have him on my project as well. This track was produced by Garren Langford, and I think this might be one of my favorite songs on the album.
More Than Friends
"More Than Friends" is the song that started it all. It was the very first single I released for the album (before the album was actually finished) and it was the song that basically started the entire journey towards what the album is today. It will always have a really special place in my heart.
happy thought (interlude)
I knew I wanted an interlude on the album to help balance it and also bring it all together. "Happy Thought" is the transition that takes you from the first half of the project, the part where I am in more of a "questioning" or searching phase of my journey, and into the more confident and certain and grounded part of finding myself.
Played Yourself
"Played Yourself" is an important song to me because it's an anthem of healing and recovery. The song touches on a lot of themes on the album including resilience, and I hope it can give listeners the strength they need whenever they need it the most.
Happy Thoughts
"Happy Thoughts" is another one of my favorite songs on the project. I wrote this song with the idea of the form of the song being like a flower blooming or something unfolding. The first chorus is ⅓ of the entire chorus, the second chorus is ⅔'s, and the final chorus is the full chorus. The song is a discovery of self-love and understanding, and I find it piece by piece in the same way that the choruses unfold in the song.
What's Good
This is definitely the most fun song on the project to me. I love the opening lyric and the chorus lyrics. It's about letting go of whatever's dragging you down and just holding on to what's good.
Other Side (feat. Nico Segal)
This was one of the last songs I wrote for the project and it sort of captures the entire theme of the album — this idea that the things you go through, the journey you're meant to go on — that it will all make sense on the other side of those hardships, those journeys. It's about holding on to resilience and knowing that part of the purpose of this life is to grow and learn and stay curious about what's around the corner. And that no matter what, it really will all make sense on the other side. I love Nico's horn feature on this song and I was so grateful he was down to lay down something magical on this track.
Coming Home
The final song!! This song is about choosing to come home to yourself. The lyric "lay down in the poppies" in this song is what inspired the album cover and it plays on the idea of Dorothy going on a journey back home, and finding herself on that journey. It's about choosing to stay true to yourself and listening to your heart.
— —
— — — —
? © 2021
:: Stream Grace Weber ::
---