Recommended If You Like: Neil Young, Fiona Apple, Cold War Kids
The beauty about getting older is that one gets to experience all that this world and life have to offer. The trouble in getting older is that not all of those experiences are good or positive. When we're young, we thrive in stability – the comfort of a 'home base' from which we may flourish. As we grow, life becomes increasingly unstable and random: We lose the innocence of childhood at some point, and eventually take over our own guardianship, assuming the responsibility to provide for ourselves. We lose the comforting 'home' we once knew – we must seek out a new one for ourselves. We ask more questions, and get fewer answers.
Home. Home is where I wanna go
But home is just a dream, I know
"Home is where I wanna go. but home is just a dream, I know," croons Rae Fitzgerald on her new single, "Lost in Ukrainian Village." Atwood Magazine is proud to be premiering Fitzgerald's second single off her upcoming album, Popular Songs for Wholesome Families (independent release expected 6/3/2016). A gritty, lamenting song that looks vaguel at one of the trials associated with coming into one's own, "Lost in Ukrainian Village" builds emphatically off a dark, folk-inspired acoustic guitar line and Fitzgerald's own raspy, evocative voice – a nod, perhaps, to the Muscle Shoals area of Alabama in which she was raised.

Listen: "Lost in Ukrainian Village" – Rae Fitzgerald

[soundcloud url="https://api.soundcloud.com/tracks/258689170?secret_token=s-COgUB" params="color=ff5500&auto_play=true&hide_related=false&show_comments=true&show_user=true&show_reposts=false" width="100%" height="166″ iframe="true" /]
---
Rae Fitzgerald puts all the passion she can into her words, surrounding herself with a dark mix of indie rock and roots/folk/singer-songwriter inspired influences to share the places she's gone and the things she's done and what she's seen. Whenever Fitzgerald's voice fades, that omenous acoustic guitar and its surrounding instrumentation – the heavy drums, the fat lead – steal the center stage; but when she's there, her voice fills the air, pushing into the red as if she's trying to get as close as she can to us listeners.
A good doctor told me, "You look like a ghost."
I'm not dead mama, just colder than most
Walking through Chicago, staying with a friend
Thinking about the poison of comfort with sun on my skin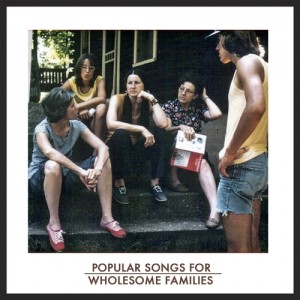 Haunting, spiritual, and deeply introspective, "Lost in Ukrainian Village" reminds one a bit of the English idiom "it's (all) Greek to me," which expresses how something is not understandable; in the case of Fitzgerald's song, she's "in" America – her home country – yet in spite of this, she still feels like an alien. She wants to go home – to feel like she belongs somewhere – yet as she goes through life, she's found less and less to identify with.
Fitzgerald knowingly addresses her privilege – "I know I'm lucky baby; I live in the USA / I drink clean water for free and throw my cup away." To live in America was a classic dream, and no matter how much the country "goes to shit" (as so many of my peers like to say), there are still many who would rather have the privilege of growing up and living in this country. Despite how uneasy Fitzgerald feels – no matter how out of place she seems to be – she's still got it better than most.
But that doesn't take away from her feeling, or disallow her from feeling the way she does. "Some blues got in me, and it's a cold stream / of pure concussion, and that water's mean." As she's gone on her way through life, Fitzgerald has grown wary, cynical, or generally less enthused. Don't we all, to a certain extent? Childhood naivety; innocence is ignorant; to come of age means to learn how to bear life's burdens. That includes expressing them – in Fitzgerald's case, through song.
"Lost in Ukrainian Village" fits well into not only the theme of Fitzgerald's upcoming album Popular Songs for Wholesome Families, but also Rae Fitzgerald's personal narrative. Raised in Alabama, Fitzgerald has called a lot of places "home" – from Bakersfield to Austin, and so on. She considers Columbia, Missouri her home, and yet "Lost in Ukrainian Village" betrays a sense of loss for her: That lost childhood comfort, that so many of us take for granted as children, in thriving in the oneness of 'home'.
"Lost in Ukrainian Village" speaks to Fitzgerald's entire record at face value, not-so-subtly offering a counter-narrative to the 'traditional', 'classic' family values bred out of the 1950's post-war climate. What are "wholesome families," anyway? What songs do they sing? Do they sing about real life – about the hardships and troubles of the world, and how individuals and groups must fight to overcome them; of how some of those battles may be lost, and others won? Or do they sing in extremes and generalities, turning a blind eye to trouble and issues, and focusing only on the good – a good that is sometimes fleeting, but always impermanent?
I sink into the valley, but I can't get low 'cause my baby's floating in my veins
Walking by the river where no man swims when my baby calls me back again
She says
Home. Home is where I wanna go
But home is just a dream, you know
Is it indie rock? Is it folk? Is it 'singer-songwriter'? Who cares? It's Rae Fitzgerald: Bold and brash, honest and poetic, Fitzgerald molds beautiful, haunting melodies together with deep observations to create the in-your-face phenomenon that is "Lost in Ukrainian Village." She's a woman of the world, yet she doesn't feel like she belongs: Has the world she thought she once knew changed, or did she just grow up?
Perhaps both are true; perhaps neither is true. Either way, Fitzgerald's new single speaks to the individual at a deeply personal level: How do we fit ourselves into this world, and into this life? Everything is in constant flux; everything that was once stable will surely become unstable, and everything that is unstable… Let's just say that Murphy's Law grows all the more real as time goes on.
It feels like redemption, lying in your arms
A slap-happy machine gun mind finally disarmed
No I'm not dead mama; you can take my pulse
So give me back my black sunglasses; give me a champagne toast
"It feels like redemption, lying in your arms / A slap-happy machine gun mind finally disarmed." Fitzgerald's final verse is cryptic, yet divulging; powerful, yet game-changing. Life may throw hardships our way, but we persevere: We continue on. Rae Fitzgerald's "Lost in Ukrainian Village" radiates with the sting of life's lessons, and she responds not by giving up, but by fighting even harder to find her place and make her mark on life.
"Lost in Ukrainian Village" isn't hopeful or happy – in fact, it's dark and rather foreboding – but it is sincere. That sincerity glues the track together, allowing one to keep Fitzgerald's infectious melodies on repeat. Rae Fitzgerald weaves a wise tale as one who's grown up and lost her childlike sense of security, rightfully mourning the loss of that comfort, yet all the while trudging along and living her life to the fullest. Someone give her a champagne toast: With songs like "Lost in Ukrainian Village," Rae Fitzgerald deserves it.