*This is the second in a series of exclusive articles about the forthcoming Cool Dads EP, being released publicly soon.*
As previously mentioned, when you constantly tour with internationally famous musicians, you're likely to have some inspiration rub off onto you, too. This is expressly true in the case of Danny Carissimi and Jay Bonisolli, the respective touring manager and merchandise manager for Atwood Magazine favorites The Griswolds, who have undeniably cultivated a culture of fans all their own–and the fascination has only continued to grow, and stick. Most recently, the two revealed that they have been working on their own debut EP, entitled Cool Dads. The EP, curated entirely from the brains of Carissimi and Bonisolli, features production from The Griswolds' drummer, Lachlan West, and guitarist Danny Duque-Perez, as well as an interlude track starring bassist Tim Graham. A six-track, inimitable gem of a record, Cool Dads blends cultural phenomena with impressive musicality.
Sometime in 2015, the great "dad fad" came to the forefront. You know exactly the one: dad jokes, "dad bods," basically all things dad. Why? Nobody knows. But it's here and, like your dad at the annual Christmas party, will probably stick around for awhile. It has become a ubiquitous trend that is somehow managing to transcend generations young and old; culturally savvy or not, everyone knows a dad joke–or two.
The second single from the Cool Dads EP is its eponymous track: the addicting, catchy and cadenced "COOL DADS." "COOL DADS" follows the EP's opening instrumental, "Bienvenue Cool Dads," and blends pointed club beats with Bonisolli's punctuated raps, which is intermittently interrupted by a female voice spewing the most stereotypical "dadisms" imaginable (Oh my god, is he wearing f*cking New Balance?), and guised with undeniably hypersexual overtones (Uber, Uber?). Simply put, "COOL DADS" is sharply magnetic, deftly fluid, and genially refreshing.
Bonisolli flawlessly glides through "COOL DADS" with his impressive rapping skills, utilizing his rhymes to subsequently make the song feel that much more addictive to the prospective listener. It is redundant, but not necessarily to a fault. As many hip-hop tracks have shown, repetition is often the key to creating a successful track. "COOL DADS" may be ridiculous in its content and themes, but its musicality is evident. It is the track that you will want to have on repeat at all times, and you'll likely often catch yourself saying a line or two.
Put your hands to the ceiling of the building
If you're feeling the realest sh*t
Unlike the EP's first single, "Jeff's Party," which recounts a father willing to do anything for his son, "COOL DADS" is primarily centralized around dad, and involves dad speaking mostly about himself. He's "willing to make a killin', and spillin' guts to the drum beat," as all dads would of course, and is–as always–"straight sweatin', but [he's] chillin' and killin' it." The track is predominantly all about dad and his dad things, however it still maintains the continuing theme seen throughout the EP of dad providing for his family.
The song then ends rather abruptly, exiting with its repeated chorus rather than tying everything up in a (probably store-bought, because, y'know, dads) bow, as would be expected. It fades into the following track, and the listener is left intrigued about the remainder of the EP.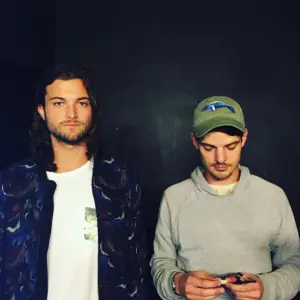 Carissimi and Bonisolli have undoubtedly struck a chord with fans, and have brilliantly capitalized on their newfound popularity. "COOL DADS" and the Cool Dads EP cultivate a powerful cultural phenomenon, all while harboring an intriguing freshness unlike anything presented publicly before, and unlike anything that will likely come about hereafter. The track follows the EP's trademark duality of inspired rhythm and pithy mirth, ultimately establishing an admirable originality. "COOL DADS"  is everything you never knew you needed, and the Cool Dads EP will promise that much more.
Follow Danny: Twitter // Instagram
Follow Jay: Twitter // Instagram
Listen: "COOL DADS" – Cool Dads
*Part 3/5 will be available soon. Stay tuned!*