Gable Price & Friends have returned with their sparkling sophomore album, 'The Consequence of Being Alive.' With honesty, vulnerability, and an unapologetic embrace of the lows as well as the highs, the band spoke with Atwood Magazine about their new music and much, much more.
'The Consequence of Being Alive' – Gable Price & Friends
---
Where sorrow and hardship often house a dwelling to where we disappear, Gable Price & Friends tackle it head on with and assuredness and much more than a glimmer of optimism. Embracing the ebb and flow of the human experience, The Consequence of Being Alive is the perfect companion to being alive.
Released early last month via Capitol CMG, The Consequence of Being Alive is the sophomore full-length album from Redding, California-based indie rock band, Gable Price & Friends – consisting, as their name suggests, of frontman Gable Price together with guitarist Adam Elizarraraz (guitar), guitarist Cameron Pablo, and drummer Daniel Vargas. The group released their debut album Fractioned Heart in mid-2020, and more recently released a six-track EP, If I'm Being Honest, in early July of this year.
Backed by names like Jon Foreman, Judah Akers and Caleb Chapman, their sophomore record's full-band sound complements its thoughtful storytelling. Led by poignant vocals – cathartic healing reverberates through the body of the record, in what Gable Price deems a "beautiful exploration." The steady embrace of the unsteadiness is irresistible, and with fans that grow alongside the music, they'll keep coming back for more.
Atwood Magazine sat down with the band, speaking on all things The Consequence of Being Alive, their story, their relationship of spirituality and music, and finally, embracing the spectrum of emotion – there's just something beautiful about being alive, after all.
— —
"I Don't Wanna Live Like This" – Gable Price & Friends
A CONVERSATION WITH GABLE PRICE & FRIENDS
Atwood Magazine: Thanks so much for taking the time out of your day to speak with us here at Atwood Magazine! First, tell us what it's been like since the release! I understand you're on the road, so what's it been like to play these songs live?
Gable Price: It's been really wonderful finally getting to play these songs. For most of these tracks, it's been a year or more of writing, fine tuning and recording, so to let them finally see the light has felt freeing. I still enjoy many of the old songs, but planning set lists and having to leave out what we feel most connected to, was getting meticulous and old haha.
I was shocked at how well everyone already knew the songs, especially considering the album had only been released for a number of hours prior to the venue doors opening.
What was the creative process like for the album, and how long did it take for everything to come together?
Gable Price: This album was much different from our prior works. Specifically the amount of songs created. In the past, I would write the EXACT number of songs we planned on recording. That practice led itself to releasing a few songs I didn't feel were "complete", or effective in the way I hoped.
This record I decided to write way more songs than we needed. I think we ended up with 32 songs or so written, and the boys and I had to chip away at the list to get our final 11 songs. I would say overall; between the writing sessions, to when all the guys were incorporated into the process before the studio, the whole process ran about 15 months.
How has this project helped you to grow as writers, musicians, and collectively as a band?
Gable Price: I would say we all were stretched to look at the big picture of each song. We were stretched a lot by our producers Aaron Brohman and Scottie Mills to consider if what we wanted to contribute helps the song, or just makes us look good. (laughs) That goes for individual parts, to mix revisions, to the hooks and melodies. I think all of us had to mature a lot as musicians and creators during this process.
With The Consequence of Being Alive, you've stated that these songs are "less spiritual and more personal" to your life. What inspired this change in theme from previous releases?
Gable Price: There's a lot of micro factors, but I would say overall, I am just in a significantly different life stage than our previous albums/EPs. I was a bright eyed 19 year old in a ministry school when I started the band.
A lot has changed in the last year even. I got married to my beautiful wife, Edita. I am 3 years out of school, I had multiple large career changes, and many friendships come and go. I like to pride myself on writing songs that are accurate to my present feelings, and writing an album about my wife, about my joys, struggles, and pains felt significantly more life-giving, and honest than trying to recreate our first album. Thankfully it's seemed like our fanbase and beyond has embraced the change whole heartedly.
How do you feel this album stands in relation to your debut?
Gable Price: I loved and still love Fractioned Heart. That album changed everything for us. It was the initial turning point for the band. I love that album, because I am proud to say that that album was the most honest record I could've made at that present moment.
While thematically these 2 records are different. They are extremely similar from the standpoint of me making the most honest record I know how to… That's exactly what I did here with The Consequence of Being Alive. I think we all have grown so much as friends, and creatives since the initial release of Fractioned Heart in 2020, and I think that shows with this release 🙂
Your previous work leading up to The Consequence of Being Alive drew heavily from a spiritual background. You very candidly open up about this in "I Don't Wanna Live Like This" - can you elaborate on what this song means to you, and the relationship of your spirituality with your music as of now?
Gable Price: I love referring to "The Kool Aid," because I feel like everyone pictures a certain group of people, or an organization, or something they consider to be "drinking the Kool Aid." It's funny to me because everyone thinks of something different from the next person, and I think that's fascinating.
I think that song is just about going through life unscathed by bitterness. I can disagree with things, I can change the way I do things, but I don't wanna leave this life full of bitterness, and all I ever did was hate on things. And as far as the Kool aid I'm referring to, I'll leave it up to the listeners interpretation.
In terms of the relationship between my spirituality and my music, I think music is a very spiritual thing. The beauty of interpretation leaves a lot of room for people to receive these songs in a spiritual way, but also to receive them in a very human way. I never want to tell someone that they can't relate a love song I wrote to their spiritual practice. I think for me, writing an album about my wife, my life and the contrasts that come with it, felt spiritual in and of itself even though every song wasn't designed for a CCM audience like prior releases were.
I have to ask about your collaborators - Jon Foreman is a huge one! Alongside Judah Akers and Caleb Chapman. How do you feel these collaborations have enriched the record, and do these types of collaborations change the way you see your own creative process?
Gable Price: It is still wild to see those names on our record. They are some of my favorite artists and writers, so to have them contribute to the making of this record was beyond a dream come true. Colony House has been one of my favorite bands since high school, so having Caleb and Scottie work on some of these songs was unreal. Judah is just an insane writer. Extremely relational in the process too. It felt more like talking to a friend, rather than writing a song.
I personally have never seen someone create the way Jon Foreman does. I think my time in San Diego writing with Jon and Tim shifted the way I view the problems we face writing music. I remember we were stuck on a specific part of a song, and Jon pause for a second then said, "Isn't it great that these are the work problems we have? Most people have to deal with budget cuts and layoffs, and our biggest problem at work is that we can't find the right chord for this section?"
I think after that I shifted the way I viewed setbacks in the writing process. Every "Problem" I faced I could remind myself, "This is the best that these are my work problems."
I really admire the vulnerability that shines through the lyricism throughout this record. It really feels so unapologetic, raw, and honest. Could you elaborate on what it's like for you to be exploring these incredibly personal topics within your music? Whether that be on a level of personal fulfillment, the audience's response, etc.
Gable Price: Thanks so much for saying that. For me, writing a song that doesn't carry rawness and honesty sounds fairly unfulfilling. While it feels vulnerable and a tad naked to put out songs that are very open and honest about where I'm at mentally, spiritually, and just as a human. It feels so much more significant than making something universally agreeable.
It's been a beautiful exploration. Like you stated earlier, we come from a spiritual background. I would say the most vulnerable part of these last two years was writing songs that I knew would receive a tad of pushback due to straying from the overtly spiritual lyricism we used in prior release. Thankfully the majority of our listeners and new listeners are onboard with the change. And for the minority of listeners that preferred the more spiritual content, we totally understand.
Who were your influences for the record? Or who were you listening to while making the album?
Gable Price: I would say the band Gang of Youths has been my biggest inspiration as of late. The conversational nature of their record Go Farther in Lightness inspired a lot of my approach to the song writing aspect of the album. I also am an unashamedly enormous Relient K fan, haha! The guys love Kings of Leon, The Killers, Coldplay, Tame Impala, and tons of other heavy hitters.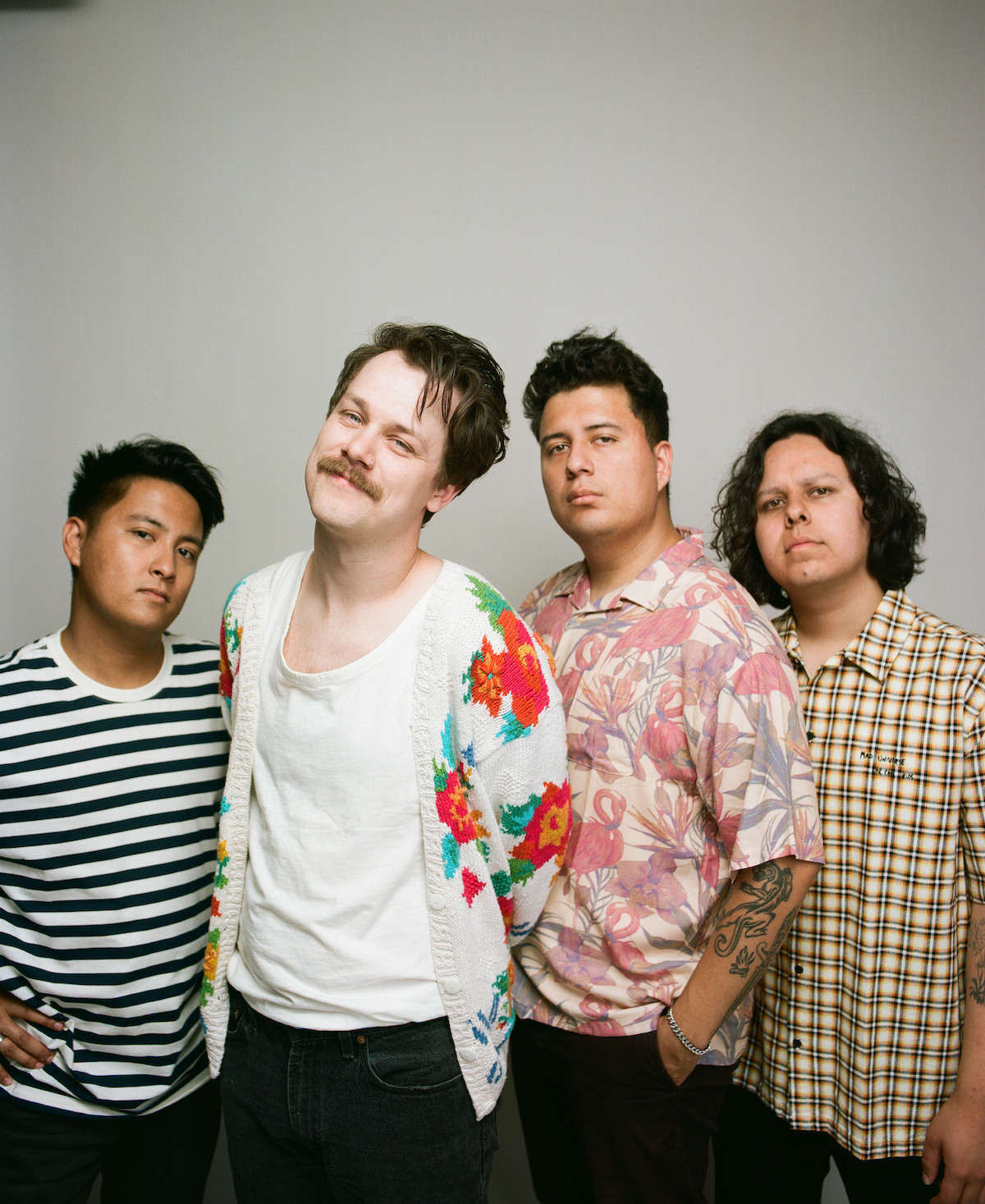 Do you have any favourite songs on the record? Or any that particularly stand out for you for its meaning or creation, etc?
Gable Price: Personally I love the song "I LOVE TO STRUGGLE." I toyed around with that song since directly after our Fractioned Heart record, and barely made any ground on it. It feels special, because it's the only song on the record that my best pal Noah Harrison worked on writing with me, and also, it just feels so much like me haha. Throughout the entire time I've been driving a car, I've never owned a vehicle with air conditioning. I intentionally chose to live in a van during school, and so on so forth. "The Struggle" feels like it's ingrained in me somewhere, and I love it.
The album holds a strong overarching theme of struggle, trials and tribulations - but taking it all in your stride because it's part of the collective human experience. I found huge amounts of comfort in this when I was listening to the record - and that was my biggest takeaway. What do you hope your audience will take away from the record?
Gable Price: I would agree fully with your take on it. The album is meant to show every human emotion, and the importance of each. I hope the listener feels incredibly human. Joy is beautiful and euphoric because we know pain. Pain has its particular sting, because we know joy. Everything is contrast, and I find that beautiful.
My hope is that by the end of listening to this record, that comfort that you referred to is felt. A comfort in the grief, a comfort in the joy, a comfort in the laughter, and a comfort in the tears.
— —
— — — —
? © courtesy of the artist
:: Stream Gable Price & Friends ::
---