Norwegian instrumental trio Orions Belte's debut album 'Mint' is an eclectic fusion of styles that says what it wants to say through melodies, drones and a stockpile of wicked riffs.
— —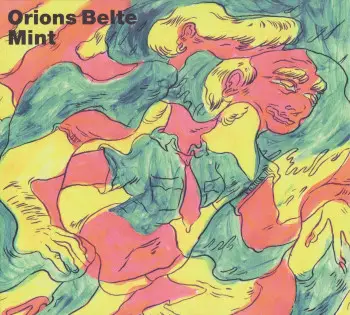 Norwegian trio Orions Belte are a band with a special gift: They have managed to capture, through their instruments alone, what so many bands choose to convey through words. Orions Belte's debut album Mint, released on September 14, 2018 via Jansen Records, is an eclectic fusion of disparate styles and exciting sounds that says what it wants to say through memorable melodies, ambient drones, and a stockpile of wicked guitar riffs.
Consisting of Øyvind Blomstrøm (guitar, pedal steel), Chris Holm (bass, vocals, keyboards), and Kim Åge Furuhaug (drums, programming), Oslo's Orions Belte are musical shapeshifters with an impeccable ear for pizzazz. On their 36-minute debut, they flex and stretch their muscles to incorporate everything from psychedelia and garage rock, to surf, punk, blues, soul, lo-fi, and more. At times, Mint feels lost in time, a unique entity unto itself for which no single home exists. Despite all of this, Orions Belte have masterfully cultivated a loose, spirited, and heavily textured defining sound – anchor that, througout their record, listeners can come back to with familiarity and recognition.
Instrumental music is a challenge to dive into with any authority; the truth is that Mint should be experienced by all self-described music listeners looking for something different, distinct, and new. As always, that "new" quality builds upon the past: Øyvind Blomstrøm's dynamic guitar work marries Duane Allman and Eric Clapton with Carlos Santana and Joe Satriani – and this is just the tip of the iceberg. Experience the full record below, and peek inside Orions Belte's Mint with Atwood Magazine as the band offer some words on their wordless music, going track-by-track through their debut album!
Stream: 'Mint' – Orions Belte
:: Inside Mint ::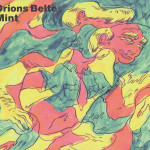 — —
New Year's Eve #2
My wife and I always have a second New Year's Eve party since a lot of people travel home for the holidays. We lived in a really small apartment and there was food all over the place when the idea came to my head. So as usual, you kind of drop everything you have in your hands and record the idea while it's still fresh. This one evolved a bit after we recorded it as a band. I like the pedal steel mashup with Matias Tellez' (mixing engineer) hard organ sound.
Papillon
Dreamy track with a clock-like feel, and a nod to arranged French and American pop from the late sixties.
Delmonte
Excerpt from a longer stretch we recorded. I quite liked the feel of this bit, and thought it fitted nice as a bridge between the two first songs and the more spaced out fourth track. Great bass and drum beats on this one.
Joe Frazier
This song is about underdogs. Joe Frazier being one of the biggest. He was at one point one of the heavyweight champions of the world, and one of the few who managed to (almost twice) beat Muhammad Ali, but will always be in the shadow of the greatest boxer of all times. Their history is quite mean, and was never ended properly with lots of badmouthing both ways. The track itself is a slow, psychedelic thing with a blues-like riff which ends in a big delay-drenched dub mix. I've always been fascinated by the underdogs and silent heroes in sports, music and movies, so this is a song for all of them. After we recorded the song, bass player Chris [Holm] added the beautiful background vocals which can describe the feeling of pulling through, even in hard times. 'Some days I feel like I'm losing it all/ Then I put on that cruise control/ Baby, it's all that I got.'"
Moving Back Again
This is written while me and my wife lived in two different cities because of her job, and me being constantly on tour at the same time. My whole life seemed to exist in a bag and a guitar case. Sounds idyllic, but at the same time, it's quite tiring. As I didn't have anything to do on my off days in our "new" city but playing guitar and running, some good ideas came out of it. This is written at the end of this period.
Le Mans
Written by bass player Chris Holm. This song catches the southern European holiday vibes of forgotten times which was part of what we wanted to bring to this record. Car races, palm trees and very short shorts.
Picturephone Blues
Another one of the bridge tracks that leads the album from the smooth summer vibes of Le Mans, through the ghost sounds of this blues track on to the travel that is Atlantic Surfing. Imagine a crooked sequenced beat with a simple, repetitive riff trembling to finish, but never quite knows where to stop. This also goes on for some time, but I like the idea of leaving in just a bit to paint a different landscape between songs.
Atlantic Surfing
The idea started out as a kind of German/autobahn thing, we added some pedal steel which sounds like white noise from a synth, mixing engineer Mathias added some mellotron and out in space it went. We have some friends who surf in the ice cold water outside of Norway, so the theme of the song fitted nicely with the wild, stormy waves of the north Atlantic oceans.
Alnitak
One of my favourite tracks of the album. This reminds me of coming home from school alone, watching outdated movies which we used to record on our VHS player. I used to watch certain movies over and over again, and this is kind of my tribute to the soundtrack of these movies. Originally called "Orions Belte" I changed the name of the song to one of the stars in the constellation when we decided that we were going to call the band Orions Belte instead. It's like our signature song.
— —
— — — —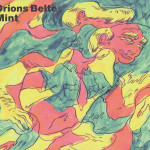 ? © Steph Hope
:: Stream Orions Belte ::