Christopher Paul Stelling overcomes his fears and his doubts with upbeat anthem, "Trouble Don't Follow Me."
"Trouble Don't Follow Me" – Christopher Paul Stelling
---
Everyone is susceptible to falling into lows in their lives. No matter how good things are going or how much you have, sometimes it's out of your control, and you can't help but to feel the darkness and to allow it to take over. Usually, in these low moments, we see a beacon of light that we grasp onto to pull us back out.
Christopher Paul Stelling's latest single and video to accompany it, "Trouble Don't Follow Me," is that beacon of light. It's the rhythmic anthem motivating us to follow a path to happiness, and to leave darkness behind. Stelling describes it best, "It comes as no surprise to me that one of my most optimistic songs could be written in the most difficult hour," Stelling says. "When all I needed was a little hope and a song, I could play night after night and not get tired of. Something that captured the basic recipe for endurance. A song about marching on, a warning to anything that might stand in your way and needing to feel strong for the people around you, so you can inspire them to do the same."
---
The "Trouble Don't Follow Me" video begins with Stelling entering his aesthetically gorgeous turquoise '60s Ford pick-up truck. Soft snare hits and thumping guitar riffs introduce the song before Stelling's cutting vocals enter singing the mantra that is this song,
If you're gonna shine,
like a diamond,
you gotta stretch,
like the sea.
You gotta keep,
keep on moving, singing
Trouble don't follow me.
The car weaves in and out of sunlight on country road, moving swiftly and with purpose, just as Stelling's lyrics do,
There's some luck around the bend
you don't have to walk alone
The verse pulses through as the car pulses along before breaking down and having to be towed during the second chorus. The bright hope ever-present in Stelling's voice coupled with the always pulsing guitar relay the message that nothing will slow him down. Stelling takes the path by foot, chin up, vocals loud,
Can't you see it, up ahead,
we don't have far to go
when I get there,
I'll sit right down
we don't have far to go.
The visuals show Stelling speeding up, as he's getting closer to where he's heading, his optimism shines and his surroundings grow. The delightful riffs carry on through another chorus before breaking down into the meaningful bridge,
It's a liar and a thief,
push sorrow away
Come on and get the good relief,
push sorrow away.
There's no room for those kinds of lies,
go push sorrow away.
Stelling is now reaching the top of the field at dusk. He's empowered himself to get to where he is going by overcoming the challenges and the negativity and focusing in on what it is that allows him to be happy.
"Trouble Don't Follow Me" is a motivating, feel-good, and truthful anthem: One we all could bare to take in.
The message delivers loud and clear and the music that matches motivates and inspires. Stelling's fifth album Best of Luck, produced by Ben Harper, will be released on February 7th. We can't wait to listen.
"Trouble Don't Follow Me" – Christopher Paul Stelling
— —
— — — —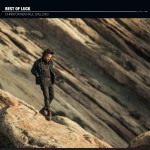 ? © Chris Phelps
:: Today's Song(s) ::
---
:: Stream Christopher Paul Stelling  ::