Spanish Love Songs face-off against a bleak world with nothing but humanity on third album 'Brave Faces Everyone'.
Stream: 'Brave Faces Everyone' – Spanish Love Songs
---
If you use "political" to describe art, whether it be comedy, film, or especially music, it usually means that said art is "bad" and "won't be relevant in the next six to eighteen months." The best political art is personal. It's easy to understand that the Sackler Family is evil and responsible for the opioid epidemic, or that Donald Trump is making it more difficult for sick people to afford health care, but it's more compelling to hear about your friend who died of an oxy overdose or about a real person living in New Mexico who has to work four jobs to pay for medicine. Spanish Love Songs' Brave Faces Everyone illuminates so many of the very real issues that plague Americans, but they put a face to the issues. There's even a little hope in there.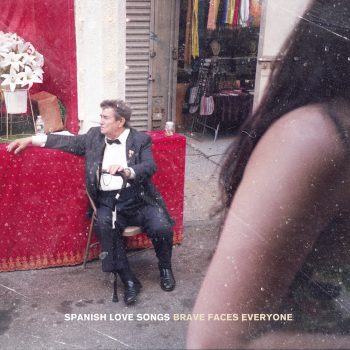 Released February 7, 2020 via Pure Noise Records, Brave Faces Everyone sees the Los Angeles band re-inventing themselves in a number of ways. The occasional joke or whimsical asides of 2018's Schmaltz are gone.
On this record, songwriter and vocalist Dylan Slocum is just calling it like he sees it, and he's going to force you to pay attention.
Songs like "Self-Destruction (As a Sensible Career Choice)" show the personal wreck that being caught between a rock and financial hard place can put someone and the weight that it has on his emotional psyche. While songs like album opener "Routine Pain," take on some common pop-punk tropes, this is an album built with more weight than the band's peers.
This is also a massive departure from Schmaltz sonically. The band channels more emo and indie rock and move away from the pop-punk elements that defined them, mainly resembling The Menzingers and early Wonder Years. While those elements paved the way for fans to find Schmaltz. Oasis creeps in on the album's standout track "Optimism (As a Radical Life Choice)," while softness takes the lead in "Beachfront Property."
---
Ultimately, Brave Faces Everyone is an album that asks "Why is the world this way?" and "Do we have a place in it?" Nothing better exemplifies this than the second verse of the song "Beachfront Property":
Ducking in my seat 'cause
someone brought a bag
into the movie theater
Everyone shrugs at the same time
Yeah, yeah, we know you're sick
and sad the 30-something's in a bar
Play us some nostalgia songs
'Cause no one really wants
to hear about you anymore, I know
Additionally, the band sings about issues that most pop punk bands struggle with. "Kick" is a song about addiction, but it's more nuanced. Slocum sings about friends getting arrested for selling opioids in what may have been necessary to survive. "Losers pt. 2" reckons with poverty and the 2008 housing crash, and how some people just haven't recovered in the 12 years since.
Slocum's personal experiences are the through line tying the album together. While songs about the ocean rising and debt building up are powerful, Slocum's voice and narrative make it compelling. Nowhere is this more relevant than on "Optimism," a song about seeing everything crumble around you but forcing yourself to take time appreciate things like a beer before running away or a naked picture on your phone.
While Slocum self-deprecates and calls himself things like "a walking tragic ending," he does have hope, and that's evident from the first line of "Routine Pain," where he declares that most days he's a "6 of 10," referencing something that the late Scott Hutchison of Frightened Rabbit once used to describe himself. Even though sometimes it's hard to believe Slocum, like when he sings, "I swear to god I'm an optimist," it's most important to remember that things weren't meant to be perfect. No matter what happens, the future is going to come, and all we can do is put on a brave face and be our best.
— —
— — — —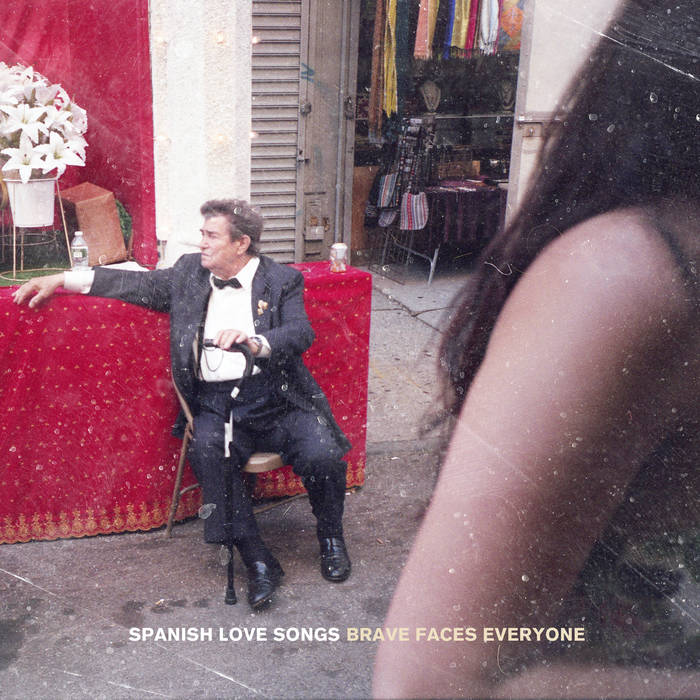 ? © Pure Noise Records 
Brave Faces Everyone
an album by Spanish Love Songs