The Hackles find their voice in a mesmerizingly rich sea of indie folk sound on second album 'A Dobritch Did As A Dobritch Should,' a wondrous journey through life's turbulent depths.
'A Dobritch Did As A Dobritch Should' – The Hackles
---
A resounding warmth seems to fill the air as The Hackles' new music hits our ears. Built off wonder, reflection, strain, and curiosity, A Dobritch Did As A Dobritch Should is a mature reckoning with life's innumerable tides. Exciting yet tranquil, expansive yet disciplined, The Hackles find their voice in a mesmerizingly rich sea of indie folk sound.
Atwood Magazine is proud to be premiering A Dobritch Did As A Dobritch Should, The Hackles' sophomore album (out November 8, 2019 via Jealous Butcher Records). The Astoria, Oregon-based duo of (Atwood favorite) Blind Pilot band members and partners Kati Claborn and Luke Ydstie, The Hackles debuted their illustrious music with 2018's The Twilight's Calling It Quits, which introduced the group's rich melodic warmth as well as their embrace of unconventional orchestral instruments in the acoustic folk canon.
In just one year's time, this powerhouse of a duo seem to have amped up their musicality tenfold. Their songs still center around the beautiful harmonies between Claborn and Ydstie's voices, but as a unit The Hackles are tighter and more attuned to the subtle nuances of their output; they sing with increased purpose and intent, and pay increased attention to the little things – how a vocal line stretches out over a span of time, or the way riffs play with the vocal lines. From an instrumental standpoint, the guitars are now amplified and have been joined by layers of keys and percussive drums; the occasional fiddle, viola, or violin is present here and there as well. In this way, The Hackles maintain their folk essence while charging ahead into exciting new terrain that makes their music all the more intimate, and all the more intense.
"We're processing a lot of things going on in our world right now," Kati Claborn explains in the band's press release. "We're looking at the big picture through individual lives." One by one, the songs on A Dobritch Did As A Dobritch Should tell stories from many walks of life, offering layers of meaningful lyricism through which their listeners may traipse with glee. As a full unit, A Dobritch Did As A Dobritch Should feels cohesive and uplifting; it brings us closer to our emotions through its own confession of deep-seeded feelings, shining a resounding light in the dark.
Singles "The Show Goes On" and "Peaches" capture the majesty of The Hackles' music, whisking listeners away on effervescent, bittersweet journeys of lives lived that focus not on the what, but the how — the experience of being, rather than the facts of life themselves. "Peaches" is particularly moving in its humble vocal harmonies and guest instrumentalist Halli Anderson's fiddle solo. Watch the official video here:
---
A Dobritch Did As A Dobritch Should is named after 20th Century Bulgarian circus impresario Al Dobritch. "The chief producer of famed Circus Circus Casino in Las Vegas, Dobritch made a name for himself after escaping World War II and settling in America, eventually rubbing elbows with celebrities and marrying film star Rusty Allen. His gilded life came to a dark end when he was charged with kidnapping and, soon after, jumped to his death on the Las Vegas strip," according to the band. "Dobritch went through so many crazy things in his life," Claborn explains, "and though he was able to persevere and create this incredible life, it goes to show that at the end, there are sometimes things you can't control."
Even a cursory glance at The Hackles' music shows the presence of darkness in the light, and vice versa. They exist not in absolutes, but rather in nuanced interweavings of life that are far closer to the real thing. They wander the halls of time, as we all do, searching for answers to barely audible  rhetorical questions. Their songs (don't miss "Dragon or a Bird" and closer "86 Pages of Secrets") indirectly encourage us to go further in our own explorations, provoking thought and feeling as they undergo their own wrestling matches with life's stubborn depths. How we each handle inevitability or issues of communication and fate is in large part subject to our own wills and the four winds, but the more we consider our relationships with our surroundings, the better equipped we are to handle even the most challenging scenarios.
And yet, A Dobritch Did As A Dobritch Should is by no means a dark record; in fact, quite the opposite. The album breathes life into the world as The Hackles passionately sing hearty folk song after hearty folk song, blending their vocals together beneath a wealthy backdrop of wondrous stylings. Experience the full record via our exclusive stream, and peek inside The Hackles' A Dobritch Did As A Dobritch Should with Atwood Magazine as the band go track-by-track through the music and lyrics of their sophomore album!
'A Dobritch Did As A Dobritch Should' – The Hackles
:: Inside A Dobritch Did As A Dobritch Should ::
— —
Lies
Kati- The narrator of 7 Lies is wrestling with the burden of memory, both within and beyond their lifetime.  I was listening to a lot of 60's and 70's British folk at the time, which surely made its' way into this song.  Adam had the vision for Kyleen's wonderful lush strings on the chorus and instrumental.
Dreamer
Luke-  This song is a reflection on the worth people are assigned based on the arbitrary fact of where they happened to be born.  Jamie's pedal steel reminds me of wind blowing and does a lot of heavy lifting in the plaintive atmospheric department.
Dominoes
Luke- Dominoes is inspired by an old Astoria legend of a woman working in a brothel in the late 1800's who would seduce men and then turn them into sturgeon.  The song is also a bit of a workers lament.  It's a bit foggy whether the protagonist(s!) is under the thrall of occult forces, or just resigning themselves to the fact that they're participating in a game that's rigged against them- trapped in a cycle of working themselves ragged and finding solace in drink.  Adam did a lot of neat stuff with delays on this  one, and Cooper's drumming and Corey's organ work really lift up the dismal message of the chorus.
The Show Goes On
Kati- The Show Goes On is an homage to and a reflection on the life of Bulgarian-born circus impresario Al Dobritch.  The song arose from a circus-themed song challenge that sent me down a Circus Circus research rabbit hole.  Deep in that hole I discovered Al Dobritch, whose byzantine life got me thinking about the interaction between self-determination and outside, decisive forces in all our lives.
Peaches
Luke- Peaches is a song about what it is to give yourself to someone, and how that shakes out when you're apart- about love and the the hollowed out driftlessness that can be the other side of the coin.  The "peaches in the summertime" lyric has been used in countless traditional songs and including it feels like a root that anchors the song in a deeper and richer context.  It's a slow builder- the instruments sneak in one by one until you get to the end and it has turned into something pretty big and lush.
Kati- Halli's fiddle solo is one of my very favorite moments.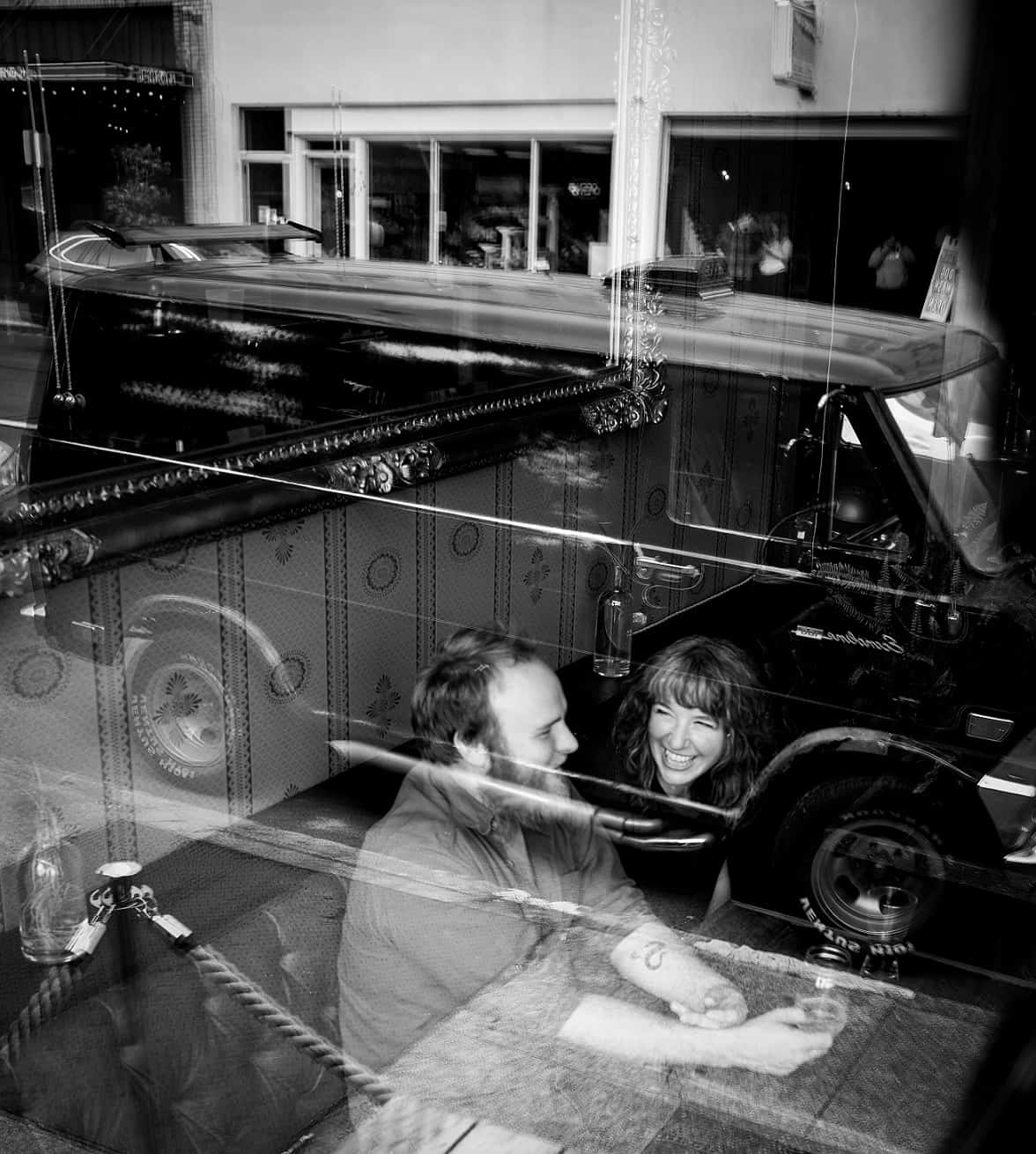 The Empty Cups
Luke- Usually when Kati and I give each other a song challenge it's more of a way to escape a creative slump and we don't expect any keepers to come out of it, but the prompt to write a song about the circus gave Kati The Show Goes On, and gave me this one.  This is narrated by a trained lion.  Kati had the idea to add the middle verse from the perspective of the lion trainer.  The idea of being a captive animal transported around the country to entertain people is probably also inspired by some of the touring we've done over the years.  Additionally, The Empty Cups has the noteworthy distinction of containing my harmonica debut.
Dragon or a Bird
Luke-  When I was in high school me and a few friends would occasionally get stoned and follow my friend Dan Beyer's dog Kelli through the woods at night.  Kelli knew all the paths and was white, so you could see her(him?) just a little even when it was pitch black.  Times like that can make you feel pretty unsure of what's real and what's not, and that maybe you don't really care to differentiate.  I wish I could brush up against that kind of spooky exhilarating magic more often, and this song is about that. I love Ryan's drums on this, and Kati pulled out some secret clarinet chops that really lovely it up.  The final chorus, with it's overlaid vocal parts, is a real highlight for me.
So I Go
Kati- I wrote So I Go after a tour stop in Santa Fe, inspired by physical remains of the city's rich history.  The narrator moves in and out of their self, reflecting as they walk their final journey.  I love how Luke's sorrowful dobro intertwines with Aly's soaring trumpet and Jeff's doomed guitar at the end.
A Mention
Luke-   Sometimes in a relationship one person has an outsized power to write the history- this song is about the other person in that situation.  The loose, late night vibe comes from recording it loose and late at night.  Kati did the vibraphone work and it is so nice.
86 Pages
Kati- This song is a series of snapshots from one particular night.  The narrater changes throughout the song, as you walk down the street and then through a room, popping inside the head of someone you happen to pass.  The song originally had a longer ending, but someone (Adam? Cooper?) had the idea to cut it short, and I love the effect it had on the song.
'A Dobritch Did As A Dobritch Should' – The Hackles
— —
— — — —
? © 2019
:: Stream The Hackles ::
---