Is it love itself that is crazy, or does love drive us crazy? As outside observers, we dismiss those who are so totally entangled in love's snare that they lose sight of themselves – but when we personally meet its magic spell, we embrace love with open arms and hungry hearts. There is no drug more powerful than love; it is a demon and an angel, a blinding might full of surprises. CASPR sheds light on love's irresistable influence in his potent debut single, "Crazy."
You're the blood flowing through my veins
I get shivers when I hear your name
I think about you all damn day
And it's driving me fucking insane
Listen: "Crazy" – CASPR
[soundcloud url="https://api.soundcloud.com/tracks/313632947″ params="color=ff5500&auto_play=true&hide_related=false&show_comments=true&show_user=true&show_reposts=false" width="100%" height="150″ iframe="true" /]
---
Atwood Magazine is proud to be premiering "Crazy," the lovestruck debut single from CASPR. The brand new solo project of Los Angeles indie artist Blake Adam introduces a smooth, sultry pop sound driven by warm melodies and cool electronics. The name CASPR "stems from the fact that I grew up being super pale and my friends used to (and still do) always make references to my ghost-like complexion," explains the artist. "I have also always had an affinity for all things spooky – I love horror movies, Halloween is by far my favorite holiday, and of course Casper the Friendly Ghost (the version with Christina Ricci obviously) was one of my all-time favorite movies growing up. The name CASPR seemed like a perfect fit." CASPR's music is in fact chill-inducing, but not in the scary way.
"Crazy" is a tale to which all of us can surely relate: Falling hard and fast for someone. CASPR sings of being so enamored with another, that just the thought of that person drives him "fucking crazy." Love is obsessive, erratic, and uncontrollable: You never know when it might strike, but when it does, it can hit you like a lightning bolt. CASPR sends shivers down the spine as he falls victim to Cupid's arrow in "Crazy," capturing the overwhelming nature of infatuation as he explores the dark side of seduction.
Smooth, smooth as a criminal
That's what I was
Never let love take over
That was before us
Body's shakin' baby,
brain's all kinda hazy
Just one thing left to do
Gotta get my hands on you
Producer Danen Reed crafts a dark, minimalist electro-pop bed with pulsing bass beats and strong, evocative rhythms that help bring out the full extent of CASPR's lust. A lot gets jumbled into the category of love: Physical and emotional desire control your body and mind; you become a magnet, pulled in by another's gravitational force.
Can't eat can't sleep can't breathe
When you're not next to me
Follow your every move
Kind of obsessed with you
What we get more than anything from this song is a reminder of infatuation's unnatural ability to be a force of change – particularly from within. This is no ordinary love: "'Crazy' tells the story of a love that is so engulfing that it starts making you act in ways you never thought you would," describes CASPR. "We've all been there – all the things we warn our friends about or say we would never be caught dead doing in a relationship, suddenly we are guilty of it all ourselves. I found myself at the start of a new relationship becoming so enamored in this person and this new love that was building that it became all I could think about. I would stare at my phone waiting for texts or lose focus on the things I should have been doing. Time after time, I would catch myself thinking or whispering, "Damn, you're fucking crazy." That's when I wrote this song. I think the lyrics definitely evoke a feeling many people can relate to, all over a sexy, pulsating, toe-tapping beat thanks to my rad producer, Danen Reed."
CASPR describes his sound as "dark and dance-y, a little sexy and mysterious," with a goal "to make people dance and feel good, even if the message of the song is, get your shit together, you maniac!" We all lose ourselves to another's gaze at some point, and it's often hard to put those feelings into words. Thankfully, there are artists like CASPR in the world, who can take our indescribable emotions and give them a fitting soundtrack. "Love makes us all a little crazy, right?"
Meet CASPR: He's not a ghost, but he will haunt you.
?  ?  ?  ?  ?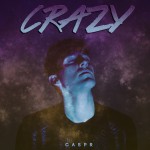 cover: CASPR © 2017