How do you get high? A feeling of euphoria can be induced by any of our senses and by countless experiences, not least of which is love. A drug with extreme highs and devastating lows, how and who we love can define us, revealing deep truths about our personalities and raw emotional states. Beach Season describe how drugs and love can influence one another and at times feel synonymous in their track "Midnights," off the Canadian duo's major label debut EP (November 2016 via Universal Music Canada).
Summer's right here and I want it to last
I can't see you being that into it, so
In the meantime I'm getting it and I'm getting so 
High for this, high for you, high for me
What I did and what you saw
Listen: "Midnights" – Beach Season
---
The vocals sound comfortably confused and noncommittal. Varied bass, changes in pace and coming and going of countless layers within the soundscape support the stark feeling of indecision. The overall sound is hazy, echoing the idea of being under the influence – an unclear mind leads to unclear decisions. Grounded by a steady kick of bass, the rest of the track fluctuates in orbit as the vocals remain uncertain. Does he want it to last?
I can feel your body high
For a minute I held on too tight
let go at the wrong time
You are, you are, so gone
Keep wondering off and on
It's been so far and it's been so long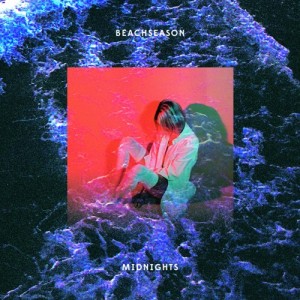 Vague as the lyrics may be, "Midnights" presents multiple versions of a relationship trapped in uncertainty that is either influencing, or being influenced by, the act of getting high. Or is it all the same thing? Left open to a fair amount of interpretation, Beach Season allude to the idea with delicacy and grace. A testament to their lyricism, their writing continues to parallel their musicality and overall style.
Opening with moody, layered synths and subsequent rhythmic bass, the track flows naturally and comfortably. It's easy to sink into the song's diverse instrumental pockets as the dreamy vocals wash over the detailed layers of sound. These intricacies allow the listener to dive as deep as they like into the song, digesting it as a whole or taking it in one beat, one sound at a time.
The Calgary-based duo of Samuel Gram and Simon Blitzer, Beach Season seem to have perfected a distinct sound that plays somewhere between experimental electronic and polished pop. High and low vocals play off each other beautifully, creating an incredibly immersive track perfect for a nighttime drive. Easygoing and fluid yet musically intricate, "Midnights" is a seamless introduction to the young duo's carefully constructed, dreamlike world.
Listen to more of Beach Season on their Libra Year EP.
? ? ? ? ?
Libra Year – Beach Season