Recommended If You Like: Gregory Alan Isakov, Lord Huron, The Staves, Yael Naïm
Some of the best music comes to artists while their lives are in flux. Movement and change spawn inescapable firsts and lasts – the kind of bookends that tear our lives apart while simultaneously tying them together. We exist largely in the in-between, but it is our vivid responses to transition moments that shape us, fueling our emotions and defining our art.
New Jersey native Paige Calico wrote the majority of her debut solo EP, Crying Diamonds, which Atwood Magazine is proud to be premiering, during one such life change, and it shows powerfully. A haunting blend of nostalgia, self-searching, and introspective questioning, Crying Diamonds encapsulates Calico's physical transition from Maine to California and her personal journey into the unknown.
Listen: Crying Diamonds – Paige Calico
---
Crying Diamonds heralds the emergence of a promising new light in the indie folk canon. Calico's music seamlessy blends rich melodies and lush, layered vocals with down-tempo, raw and vulnerable lyrics. "The sky is spitting on me, just like you would if I was down again," sings Calico on opener "The Hard Way." "A deafening symphony accompanies my sleep as I repent." Her somber observation of time and space – really the whole world around her – is intoxicating.
Balancing the heavy indie folk influence with what she calls a "poignant hybrid of mystic alternative Americana," Paige Calico sits in the driver's seat of a sound that is entirely her own. Wispy melodies rise and fall on the backs of hypnotic guitar strums in dazzling sincerity.
Watch: "The Hard Way" – Paige Calico
---
Warm music can still cause cold shivers, and it does so on the songs "On The Ground" and "Haunting Me," the former a moment of love-struck celebration and the latter a brooding moment of nightmarish introspection. In her happy moment, Calico sings:
I never knew what was coming for me
you just flew in
and swept me off to sea, right off my feet
and I fell down
Being on the ground ain't bad when you're around
Capable of crafting an honest love song, Calico does not rely on her heartstrings, but rather focuses her work on bigger questions. Therefore when celebrating love, she looks at love not for love's sake, but for what love represents in the bigger picture: An anchor, perhaps; stability in even the darkest of times.
Meanwhile, those dark times see the light on "Haunting Me," a psychedelic gaze inward that shines with delicately-woven poetry.
Treading through waters of a sacred land
To find a placeholder just to lose my head
The things that can't be captured
Belong to the road
I can't carry them with me
A forsaken soul
I get woken up at night
By the woman I want to be
She's in the eye of the tiger
And it's haunting me
We are forced to think deeply when in darkness and doubt. Calico in unafraid to dive headfirst into the subconscious and uncover the mysteries around her and within her. Her expertise as a lyricist lends a beautiful depth to her music, which is itself humble and human.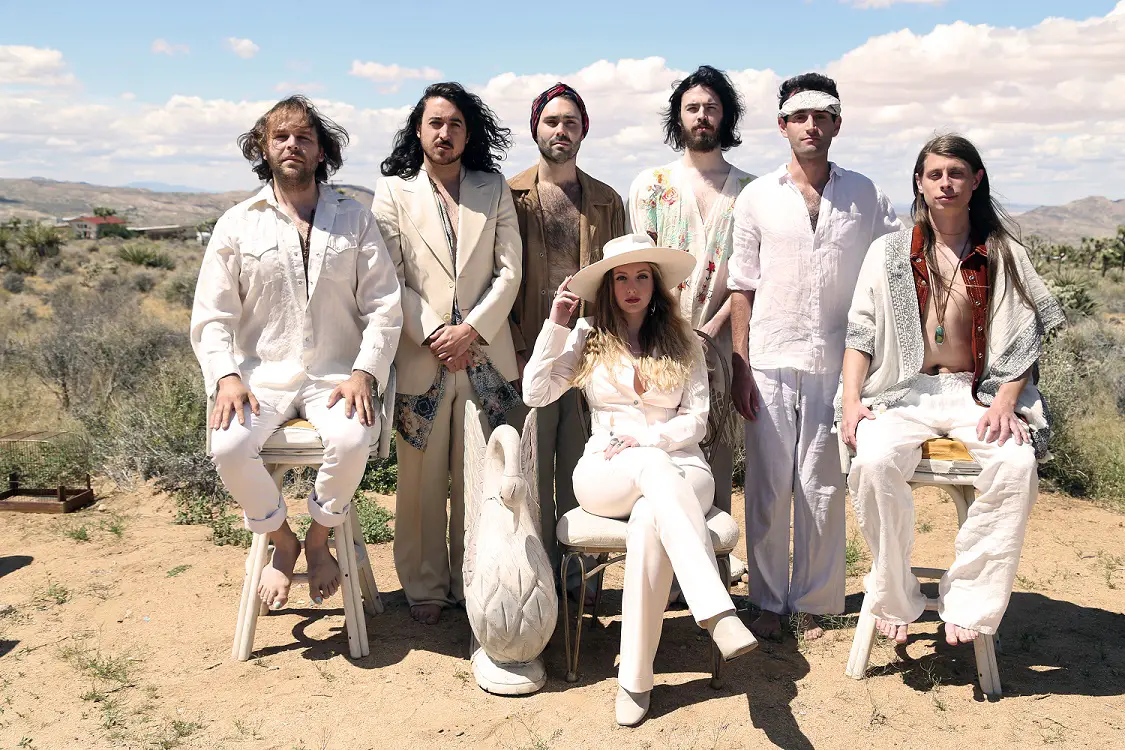 "It all felt like a dream," sings Calico, swept up in a memory on "Fire." Crying Diamonds finds Paige Calico making sense of internal and external movement and change, fluidly dancing between reality and dream-states. Her muse is the wind, the stars, the transience of time, the stories of passersby – herself, among them. From far away, Crying Diamonds is a shout in the dark; up close, it is the eye of a storm – stability within constant chaos. Paige Calico has come a long way from home – a long way from whatever it is that used to be, which isn't anymore. This is her catharsis, her renewal, and her emergence.
Step out of your doldrums and find tranquility in Paige Calico's debut EP. You can access Crying Diamonds via BandCamp, SoundCloud or Spotify now.
—
cover photo: Paige Calico © Henry Diltz