Every other week, Anthony Kozlowski pens the Atwood Magazine column Tunes & Tumblers, pairing new and classic albums with cocktail recipes. He quickly found however that drinking alone is a sad business. So he invited his friends Pedro Isaac Chairez and Ryan James into a recording booth to aid in mixing delicious drinks and to discuss the music that they all love. Strap on your headphones and enjoy a cold one on us. 
 
Atwood Magazine's resident podcasting crew raise a glass to the 40th Anniversary of the Clash's seminal London Calling with premium liquors provided by San Luis Obispo's own Willow Creek Distillery. Join us for a tasty Tunes & Tumblers first.
   
Generation X aren't the only ones approaching the big 4-0.
Driving to school in my 2000 Hyundai Elantra, I always had the radio dial set to the same station. Without Spotify to bend to my every whim, I was at the mercy of the FM waves. But they weren't without their gems. Tucked between the post-grunge onslaught of the mid-00's, I gained my first exposure to The Clash (thanks, and RIP, Live 105). "London Calling" played close to daily. Even then, at nearly 30 years of age, it sat comfortably next to the Foo Fighters and My Chemical Romances that dominated the airwaves. It's almost timeless in its sound, a slow panic atop a two-chord onslaught. These are the end times, cries lead singer Joe Strummer in a mawkish punk wail. But aren't we always teetering at the brink of destruction? London is drowning and it's — dare we say it — fun.
In December of last year, "London Calling" and the 18 tracks that make up the eponymous album surrounding it celebrated their 40th anniversary. A stark departure from the punk sound of their first two releases, London Calling marked the moment that The Clash became bigger than punk. This expansive double LP saw them blending a left field mix of ska and reggae into their punk rock formula, emerging with a pop record that sounds more at home in the Bahamas than on the mean streets of London. Joe Strummer and the gang think globally here, pushing protest songs and themes of raging against the encroaching end times for the mainstream crowd. And if history is any indication, it worked. Just try to avoid a compulsive singalong when "Train in Vain" hits.
To this day, London Calling feels unshakably prescient, both a record that influenced hundreds of groups (Rage Against the Machine, Public Enemy, and Sleater-Kinney to name a few) and one that never feels dated. To tackle this monument of late-70's working class rock, we needed a break from the norm.
Enter our guest for the evening, Cody Franklin — public liaison extraordinaire for Willow Creek Distillery and veteran of the modern punk scene. He brought not one, but three bottles in tow to help Pedro create the perfect compliment to such an album. More on that later, but in the meantime, pull out your pencils and notebooks for your T&T history lesson.
THE ALBUM
London Calling
an album by The Clash
---
In retrospect, it's almost funny that the Clash started out as a punk band. Now because they didn't embody the rebellious ethos that punk promised, but because they always seemed uninterested in the narrow sonic window afforded by that scene. Three chords played fast was too strict a formula for Strummer to abide forever. If the sex Pistols thrived on tearing holes in rock traditionalism, The Clash picked up the pieces and saw an opportunity to assemble something bold and new.
Their first two albums may have been great, but they walked in lock step with the punk blueprint that at the close of the 70's already started to look a little stale. The Clash wanted to shake off the chains, so they installed themselves in a makeshift practice space adjoining an auto body shop. There, they began rehearsing covers in genres seemingly outside their comfort zone: reggae, soul, rockabilly and pub rock to name a few. Soon, their loyalty to punk melted beneath their newfound power as a versatile band unto themselves. London Calling, replaced their stylistic dogma with something bigger, something that would mark them not just as a band, but as important artists (if not "the only band that matters" as they once spat with tongue firmly in cheek).
The influences, though striking, didn't come from nowhere. Punk fascination with Jamaican dub, reggae, and American soul gestated when immigrant laborers from the West Indies began working along English blue collar residents. With London Calling, that expanded into something more eclectic. "Rudie Can't Fail marries ska lilting with South-of-the-border flavor, while "Spanish Bombs" imparts a bilingual anti-fascist history lesson. The Clash also looks beyond punk's narrow social lens — which focused mostly on poor white English kids grasping for a future amid diminishing prospects — to a universal intention. Joe Strummer sings on "Revolution Rock":
Paid 15 dollars a day
Weddings, parties, anything
And bongo jazz a specialty
Anyone struggling to make ends meet — now or then; black, white, or otherwise — can find themselves in this slice of blues sincerity.
London Calling marked the moment that The Clash truly became The Clash, but also stands as a crucible for pop music in general. New wave would harvest the the audio candy bowl of this record to later define the sound of the 80's, and genre-bending continues in earnest today. Though they adhered to the anti-establishment principles of punk, they realized that their message would reach more ears with accessibility. And more than anything, these songs beg you to dance.
That sense of globetrotting fun coalesces in today's pairing. Please stand by us responsibly.
THE DRINK
Rudie's Sky High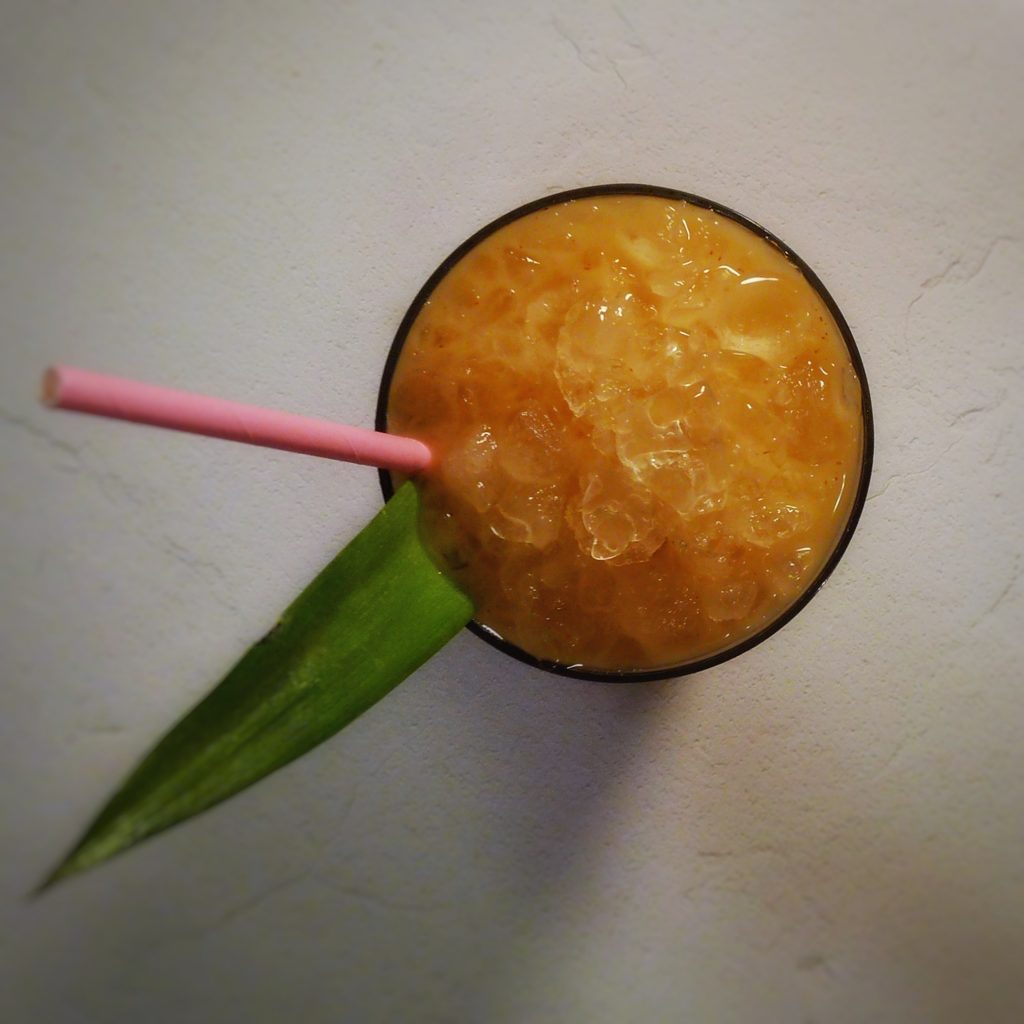 1 part Willow Creek Malt 'N Oats
2 parts Willow Creek Nutty Behavior Walnut Liqueur
3 parts Coconut Milk
1/4 tsp Paprika
Pineapple leaf (for garnish)
Instructions
Shake ingredients with crushed ice.
Pour into glass and top off with more crushed ice.
Garnish with pineapple leaf.
Cheers, Lovelies!
Crafting a cocktail for a British album brings a few things readily to mind, namely gin. But London Calling doesn't sound like gin. It's reggae, it's ska, it's American rockabilly, and Latin flare. It honestly sounds more like a mainstay on a tiki bar jukebox than a studded jacket punk rager.
At the end of "Rudie Can't Fail," The Clash namedrop a Sky High, which is a Bahamanian cocktail made with gin and coconut. So we decided to take that as our base and mess with it a bit.
The folks at Willow Creek generously provided three types of alcohol for tonight's episode: their Nutty Behavior Walnut Liqueur, a delicious spirit not far from whiskey playfully dubbed Malt 'N Oats, and their dry, aromatic Pear Brandy. We start with a mix of the first two and incorporate some coconut milk for a rich, creamy center invoking some island flavor. Then — in a hat-tip to "Spanish Bombs," another standout — we sprinkle in a dash of paprika for a little extra spice. A scoop of crushed ice keeps it cold, and to garnish: a green pineapple leaf and pink straw recall the aesthetic of the cover art.
It's a swing left of center for a band that arose in the UK punk scene, but a tasty nod to the stylistic exploration that London Calling represents. Don't come to the bar expecting gin, and don't drop this album on the turntable expecting the same old punk formula. The band say it best:
I know my life makes you nervous
But I tell you I can't live in service
Like the doctor who was born for a purpose.
Cheers to subverting the norm.
THE SHOW
Pedro's pièce de résistance isn't the only work of spirited magic in today's episode. For the first time ever, we participate in a full-blown tasting on the air before tackling our craft cocktail. Guest Cody Franklin takes us through Willow Creek's offerings step by step, imparting tasting notes that delve into the olfactory magnificence oft overlooked in high-proof spirits. Liquor can be made with care and intent just like any beer or wine, and the folks at Willow Creek take this credo to heart.
The tasting itself, though wondrous, was unfortunately too long to leave in today's show. But keep an eye out later this week for that segment in its uncut entirety.
What we can offer you from today's session is a prolonged etymological discussion of punk. What does it mean to be punk? Is the act of asking that question punk in and of itself?
I would normally blame serpentine rabbit holes like these on the Rudie's Sky Highs, but alas, I was bone dry for this episode. That's right! For the next three recordings, I will be abstaining from the tumbler half of the proceedings. Don't cry for me though. Pedro's expertise as a mixologist doesn't end at the liquor counter. His virgin version of the Rudie, while stark in contrast to its hard predecessor, is surprisingly inviting:
Rudie's Virgin Sky High
3 parts Coconut Milk
1 part Kvas Russian Soda
Crushed Ice
Cinnamon
Pineapple Leaf (for garnish)
What is Kvas Russian Soda, you ask? Thank Ryan, our curious, magical docent for that little acquisition. As best as I can tell, its flavor profile aligns closely to the creamy comfort of a White Russian, but with a sugar rush in place of inebriation. I may just make it through this month in one piece.
Just as the Clash weren't content to stay in their lane on London Calling, Tunes & Tumblers exists in a constant state of evolution. We're always seeking to push boundaries and explore our senses in new and exciting ways. Come along on today's little tasting (hopefully the first of many) with your imagination, or better yet, with a glass of your own.
Tunes & Tumblers 205:
The Clash and a Rudie's Sky High (feat. Cody Franklin)
---
Catch up on Tunes & Tumblers wherever you listen to your podcasts!
If you want to add any of the music discussed to your library, check out the full episode playlist below:
Have your own idea for a Tunes & Tumblers pairing? Let us know in the comments, or hit us up on Twitter.
 © Pedro Isaac