Dark electro-indie rock outfit Sir Sly paid the ever-bustling New York City their sixth visit this September, performing songs off their newly released debut album You Haunt Me to the packed house at Stage 48. Read more about the LA trio's debut here. A few hours before the show, the band invited me to join them on the purple and yellow tour bus that they've been sharing with fellow Cherrytree Records labelmate Wolf Gang on their current U.S. tour.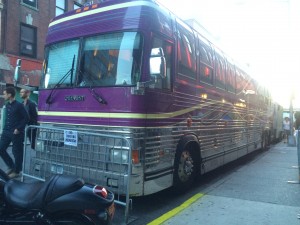 Sir Sly greeted me with open arms and warm smiles – a proper Californian welcome. Next to the band lay a football, forgotten at the moment but no doubt getting its fair share of attention on this tour. The date is Wednesday, September 10th, and the band are due to release their debut album in less than a week's time. Anticipation and excitement fill the bus – everyone is doing something with a smartphone – until the band and I take our seats. Managers and agents alike grew quiet at this moment, half-listening but watching intently as I sat across from the trio who recorded, mixed and mastered their debut album themselves: Landon Jacobs, frontman; Hayden Coplen, songwriter and instrumentalist; and Jason Suwito, producer extraordinaire. Together, they are Sir Sly.
---
Listen: "Gold" – Sir Sly
[soundcloud url="https://api.soundcloud.com/tracks/74263449″ params="color=b61000&auto_play=false&hide_related=false&show_comments=true&show_user=true&show_reposts=false" width="100%" height="166″ iframe="true" /]
How long have you been making music together?
Landon: Hayden and I have been making music together for almost ten years, but not really in any great sense. Mostly garbage – and even before, we weren't really writing music together. We were playing music in church together, so we were playing other people's music – like gospel stuff.
Did your music always have this darker tone?
Hayden: No, and that's the thing that I found out really quickly. I am terrible at writing gospel music, and I wanted to so bad because that was what other people were doing and it felt like the right thing to do, but I was really bad at it. I could only write sad music or really brooding music, and that hasn't changed very much… But that's what made me so excited to write music outside of church – I found that I was good at writing songs, and I slowly got better.
What does (your self-described genre) Sly-Fy mean?
Jason: It just sounded right. It's the mix of electronic and rock elements, I suppose.
Landon: Yeah, a little bit of growing up with a lot of hip-hop. I think that people who listen to it can really identify with the real beat-heavy aspect of the music. Being a fan of hip-hop – it's a genre I listen to a lot (like the Kendrick Lamar record from last year) – and a lot of that really heavy drum sound is something that, if your music doesn't have that kind of fullness to it, you almost feel like it's lacking something. It's not that we want to be anything – like we don't want a rap-rock band – but there's some of those really strong drum elements that you get from hip-hop music that fit in really well with what we want to do.
Hayden: I think also, taking it from a different angle: Southern California is full of a lot of great, young bands. I think in some way, that is inspiring in a friendly and competitive way.
You produced the album between the three of you. Do you plan to continue to self-produce as time goes on?
Hayden: This is a crazy story that Jason is too humble to admit, but we sent [the unfinished mixes] off to a very good mastering place, and we got it back and performed a blind test. Everyone voted for Jason's mix, going "Wow, this one sounds great!" And it's like, "Oh, that's Jason's. He mastered it, and he doesn't have a mastering studio. Jason won't admit it, because he's humble, but he's incredible.
Landon: We spent a little bit of money to figure out that we didn't need to spend the money in the first place.
How did you develop your sound?
Landon: I was originally writing singer-songwriter type songs on my own and playing in coffee shops… It was a mixture of having never worked with electronics before and getting into, like Radiohead, and hearing the mix between electronic and non-electronic elements… and then meeting Jason and having the world at our fingertips to figure out what we wanted to sound like – we could cycle through as many sounds as we wanted to and figure out what fit the mood of each song. Having the studio to work in has been an incredible thing, because no matter what I'm going through in my life, in the past couple of years, I can take any of those experiences and we can bring them in and make songs together.
Hayden: There was a really great energy that was created by Landon and me being so comfortable, trusting and familiar with each other. The other part was meeting Jason and going into his studio, where all of a sudden there were all these new tools, and it was like a completely new palette. Those two aspects combined to really start Sir Sly with quite a bit of momentum, both writing-wise and creativity-wise.
The first half of the album has already been released as singles. Was there any thought process behind this track listing?
Landon: It happened accidentally. A lot of them were written intermittently, so it's not like it's chronological. It just sounds better that way – like, if you were to have never heard any of the songs, or if you have heard all of it, I think that order – the story arc of it – makes the most sense for us. Something important to us was thinking about listening to it on vinyl as well, so the first half of the record ends with "Nowhere / Bloodlines Pt. I" and the second half of the record ends with "Helpless / Bloodlines Pt. II," so it's like two chapters of the same story.
Listen: "Nowhere / Bloodlines Pt. I" – Sir Sly
[youtube=http://youtu.be/weqOtg0jbm8]
Explain the connection between 'Bloodlines' Parts I and II.
Hayden: Those songs are lyrically nearer to my heart and rawer than anything else on the record, which I think is really cool – and purposeful. There are so many emotional moments on the album, but I think those two might be the most vulnerable, both musically and lyrically – which I think is huge. For the album to be shaped that way is really special.
Landon: "Bloodlines" Part I and Part II could just essentially be one song if we wanted them to, but we wanted them to cap off parts of the album. That was always their purpose – it wasn't to be standalone songs. My favorite lyric on the record, now that I think about it, is from the album's end on "Bloodlines Pt. II." "Everything I know is finally gone – the things I had, the ones I loved." I think it really captures the confusion and the desperation that I've experienced in seasons over the past two or three years. I think it's a good moment of honesty, which is the most important thing for us. or for me from a lyrical perspective. I always wanted to be honest with whatever I was going through, and write the most poignant songs that explained those things. I think that's the moment where shit gets laid bare the most in the record, for me.
Listen: "Helpless / Bloodlines Pt. II" – Sir Sly
[youtube=http://www.youtube.com/watch?v=gdihudnIGLU]
There are so many emotional moments on the album, but I think those two might be the most vulnerable, both musically and lyrically.
Your music deals with complicated subjects of life and death, purpose and meaning, love... It's fascinating to hear a band talking about these things that people don't want to talk about too much, but always think about.
Landon: The best books are about those things. All my favorite records are about those things. I don't think any of us wanted to make a record that was appealing as much as we wanted to make a record that was important – that if people were to listen to it, there would be a gravity to it. I think the difference between appealing and important, for us, is something that really drives us as a band. If important things are appealing to people, then that's great, but you don't just want to be only appealing with no substance underneath. That doesn't last very long, and it's also not very life-giving for us as artists, either.
Hayden: In terms of the content – the loss of close relationships and stuff like that – there are not really romantic songs on this record, necessarily. I think one of the first songs that I ever grabbed onto was "Styrofoam Plates" by Death Cab for Cutie which was this scathing rebuke of Ben Gibbard's friend's father. I remember listening to that song over and over because it was different – that lyrical content is not so common, but I could relate so much to this guy. That stuck with me.
Landon: Those are the comforting things about music when you're growing up. You're hearing this person, who gets to play music on a big stage, talk about things that have really shaped them or hurt them, or whatever it is – made them feel elated – and you feel a little bit less alone with whatever you're going through. [It's true] especially for growing up in suburbia, where you're not close to a lot of things. You don't see a lot – you mostly see empty space, so you feel very alone and isolated. Music, for me, was a way to feel connected to something bigger, and I think I've always kept that. That's why honesty is so important in writing music for me continuously. Anybody who listens to music, I want them to have the same access to those feelings that I had when I was younger.
I don't think any of us wanted to make a record that was appealing as much as we wanted to make a record that was important.
Lizzy Plapinger (of MS MR) is featured on the track, 'Inferno.' How did her participation come about?
 Hayden: She and Derek Davies (who run Neon Gold) have been incredibly supportive since the start of our existence as a band. We sent them some music we had been working on back when we were thinking about whether to sign with a label or not. She had the music, and she loved "Inferno." We played SXSW that year, and she was front row at her own showcase that she was putting on, singing every word to this unreleased song. It was so great. So we had sent some stuff to her over the time, but nothing was really a fit. Eventually I said, "I know what song she's going to want to sing. It's going to be 'Inferno.' "
Listen: "Inferno (ft. Lizzy Plapinger)" – Sir Sly
[soundcloud url="https://api.soundcloud.com/tracks/166973083″ params="color=b61000&auto_play=false&hide_related=false&show_comments=true&show_user=true&show_reposts=false" width="100%" height="166″ iframe="true" /]
How do you feel about the transition between the recorded album and the live performance?
Landon: We're even better live. The production is all there live. We made a great album, but I think we're better live. The energy is of another level. We spend a lot of time practicing at home – we get together and practice for like, four days a week for two or three weeks before putting out or playing new songs live, and then you hear stories about people not practicing at all before they play shows, or maybe at most one week. We practice a lot and work really, really hard. It's something that we believe in.
How does it feel to be back in New York?
Landon: New York's a great place because the people who listen to music here don't put up with bullshit – so if you come back and keep on playing well, eventually you find a way into their hearts. It can be a little cold at the beginning, but the more you come back and play – and this is true of a lot of places – the more it feels like Sir Sly is a part of that city. That's why I'm excited to keep on going back to these places, and eventually (hopefully) to go over to Europe and do some of the same over there. It takes a little bit for people to really grasp on to what you're doing, and really love you. We just played DC before we came to New York, and the way I felt coming back and playing for a lot of those people again – people who have seen us, like  four times now – it felt like we were home, in a weird sense. We were accepted. It's hard to put my finger on, but it's this really lovely feeling of acceptance. You could go up there and talk with them for a few minutes before songs – it's a really open environment once you've played a city enough times, and I think we're breaking through into that with New York.
 Listen: "You Haunt Me" – Sir Sly
[soundcloud url="https://api.soundcloud.com/tracks/160276888″ params="color=b61000&auto_play=false&hide_related=false&show_comments=true&show_user=true&show_reposts=false" width="100%" height="166″ iframe="true" /]
Watch a clip of "Gold" from Sir Sly's September 10th show at Stage 48 (please excuse the overpowering bass):
[vimeo 107073961]
For fans of: Radiohead, The 1975, Sky Ferreira, Temper Trap, MS MR, The Neighbourhood
— —
CHERRYTREE PRESENTS CO-HEADLINE TOUR WITH SIR SLY & WOLF GANG
9/25   Denver, CO     Marquis Theatre
9/27   Phoenix, AZ     Crescent Ballroom (16+)
9/28   San Diego, CA     Irenic
9/29   Los Angeles, CA     El Rey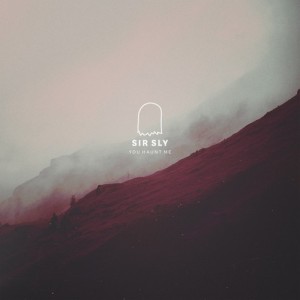 Learn more about Sir Sly online at sir-sly.com