Brooklyn-based quartet Secret Someones played their first show fourteen months ago, and they have been on the move ever since. Their four-song debut EP, I Won't Follow, was released via Cherrytree/Interscope Records in August. The band has already toured with support slots for Ingrid Michaelson, Marc Broussard and A Great Big World, and they have been on the road this fall with label mates Sir Sly and Wolf Gang this fall as part of the Cherrytree Presents Tour.
Read more about Secret Someones' debut here.
Their recent September 10th show was the first time the band had been back in their native New York in some time. A sizable crowd was present for Secret Someones' set, which began with a dazzling smoke and lights display as the band played "Quit Pulling Me Down," an emphatic opener that immediately established the group's high-energy tone. Secret Someones lauded their New York audience, riling the crowd with adoring statements about the city that never sleeps. The assembly responded as well as any entertainer can hope, cheering along to Secret Someones' cascading harmonies that wafted over dance numbers and anthemic rock songs alike, coloring every tune with an identifiable brand. Secret Someones maintained their high energy as they played through the early evening, saving the best for last with a fiery, ear-tingling performance of their debut's title track, "I Won't Follow." The Big Apple finally got a taste of what so many cities have now had the pleasure to experience in recent weeks.
I found Secret Someones hanging out upstairs in New York City's Stage 48 a few hours before their set. Lounging quite comfortably on worn-down cushions were songwriters Bess Rogers, Hannah Winkler and Lelia Broussard, as well as drummer Zach Jones. For a band who has been touring on a relatively constant basis for nearly a year, the foursome seemed as alive as ever. If anything, they were just happy to have twenty-four hours at home.
---
Listen: "I Won't Follow" – Secret Someones

[soundcloud url="https://api.soundcloud.com/tracks/164191911″ params="color=0066cc&auto_play=false&hide_related=false&show_comments=true&show_user=true&show_reposts=false" width="100%" height="166″ iframe="true" /]
You previously booked two house tours across the East Coast as individual musicians before forming Secret Someones. Was there a fluid, unspoken transition to becoming a band, or did you mentally stop and say, 'Okay, we're a band now'?
Band: We did do that! I remember there was a moment when we had gotten home from a tour where we were all doing our solo music, and there was this feeling like, "Let's like, do this!" And it was good because we were all kind of on the same page about how we felt about it and how serious we were about it, and so we just kind of dove in after that. It was pretty intense.
We got home and started writing right away. There was pretty much a month where we wrote pretty much all the songs, or maybe two months writing and arranging them all…  we booked our first show for two months after the decision we made the decision to be a band, and we'd do this crazy boot camp where we arranged and learned all the songs. It was really intense, very full-forced all the way, right from the beginning.
What was your first show?
It was at Rockwood Music Hall, Stage 2, last July (30th?)… All our friends whom we really respect were coming. We had just arranged and written these tunes! I don't know what we were thinking. It was Lelia's  first time playing bass in public. It was nuts, but it was great – it was surprisingly quite good. It's crazy to think about how much time we gave ourselves to do that, but I feel like we had to do that – you have to throw yourself into it. Who knows how long it would have taken otherwise? To have that deadline, we just played like crazy. That was the Secret Someones debut – the first time we performed together with that name.
What's the story behind the name 'Secret Someones'?
It's a Laura Veirs song. We all like Laura Veirs' music a lot, and Bess' husband, Chris Kuffner, who's our producer, suggested the name. We had been going through lots of names that weren't sticking, or we would like them, but they would be taken… and then he said "Secret Someones" and we were like, "That's it!." It felt good.
How do the three of you as songwriters collaborate?
The writing process is different every time, but what usually happens is that one of us will come up with a little seed of something, and it's very collaborative – we take it from there, and a lot of times it ends up completely different from how we would have thought it was going to go. We just do it all together. We talk about stuff a lot – decide where we want it go, and whatnot. We like a lot of the same aesthetics in the music, but we also bring different things to it. It ends up being surprisingly easy – we were surprised at how easy it was the first time we ever wrote together.
This has been the easiest writing experience I have ever had, and it has just never been like this. When we started doing it, it was clear from the beginning that we had a really special connection writing together. It's really fun to write the songs – the three of us will sit around with an acoustic guitar, and then bring in Zach and Chris and turn it into something completely different with guitars and electric stuff.
Considering each of you previously pursued individual music careers, does the music sound like any one person's music?
Secret Someones is something new. There are elements in our music that are combinations of all of our stuff, but for the most part, our music leaned a little more towards the folk side of things – with elements of rock present, but not as much as this. We went over to the other side – the dark side.
Chris Kuffner's aesthetic is certainly a big part of what the band sounds like. He's like the fifth Beatle, and you hear threads of other stuff he's done in our record.
(To Zach) You're doing a lot of fills. When the ladies bring a song to you, what is your first reaction to it?
[everyone laughs – Hannah: "He's like, how can I make this good?"]
Zach: Honestly, I love that part. The three of them write, and then we all get together, with Chris, and arrange the stuff. I feel like, if the songs are good, your job is just not to fuck it up. If you can make it interesting, then that's cool. That's part of the fun for me – I just hear things and have ideas.
Lelia (to Zach): I feel like your drum parts have totally changed some of the songs into a completely different thing than we wrote – in a good way – and then we all build our arrangements on that. When the four of us get in a room, I feel like it seems to start there. It informs the rest of it a lot.
Zach: And it's definitely got to do with understanding each other. It comes from a place of having established, these are the things we've talked about, these are the records we like, this is the stuff we want to sound like – so how do we get this song there? I was listening to an old demo recently, and it's kind of funny to hear it, but it's cool! Like I said, if the song's good, you can go in any direction with it.
Your EP includes a cover of Nirvana's 'Breed.' Why Nirvana?

We love Nirvana and listened to a lot of them before we were a band. When we were going through a cover to do, Nirvana immediately came to mind. We chose the song because it seemed like it would be fun to add our own spin to it with our harmonies and stuff.

We talked about other Nirvana songs, as well as songs by the Police ("Can't Stand Losing You") and Queen  ("Killer Queen"). It might still happen some day. We wanted to do "Killer Queen," but that was an endeavor. It felt like covering Nirvana was a little bit of an untapped thing. Other than high school bands and the like, people don't really rearrange and record new versions of Nirvana songs because it feels a little sacred – so the urge to take that and have some fun with it is irresistible. With "Breed" in particular, there are no harmonies or anything; it's bass, guitar, drums, and one vocal track, so it felt like it was ripe for doing stuff.

Listen: "Breed" – Secret Someones

[soundcloud url="https://api.soundcloud.com/tracks/164191909″ params="color=0066cc&auto_play=false&hide_related=false&show_comments=true&show_user=true&show_reposts=false" width="100%" height="166″ iframe="true" /]
The band's music carries with it an air of female independence. Do you see yourselves trying to represent something in that vein?
That comes naturally out of us. I think that's something that is present to us all the time as female musicians around a lot of dudes all the time. I think about that a lot, being a woman in this industry. We talk about our relationships in the songs, and it's about independence there, too.
Lastly, the songs 'Catch Your Shadow' and 'I Won't Follow' both feature strong shadow imagery. It feels like the two songs are linked - was that a conscious decision?

Band: I would venture to say that if they're connected, it's because the material was written in a relatively short span of time while specific things were going on in people's lives – so they speak to a lot of the same things because it was a quick thing during a period of time. They were all written within a few weeks of each other – especially  "Chase Your Shadow" and "I Won't Follow." I don't remember there being a conscious connection between the word 'shadow' specifically.

Hannah: I definitely had a feeling of not wanting to be in someone's shadow at the time, so it doesn't surprise me that it came out that way. We all identified with that, too.

Listen: "Chase Your Shadow" – Secret Someones

[soundcloud url="https://api.soundcloud.com/tracks/164191910″ params="color=0066cc&auto_play=false&hide_related=false&show_comments=true&show_user=true&show_reposts=false" width="100%" height="166″ iframe="true" /]

For fans of: Paramore, Ingrid Michaelson, Broods

TOUR DATES:

All Ages = #

9/25   Denver, CO     Marquis Theatre #
9/27   Phoenix, AZ     Crescent Ballroom (16+)
9/28   San Diego, CA     Irenic #
9/29   Los Angeles, CA     El Rey #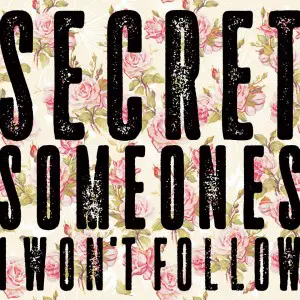 Download I Won't Follow EP – Secret Someones on iTunes 
Learn more about Secret Someones online at www.secretsomeones.com
Like Secret Someones on Facebook  /  Follow Secret Someones on Twitter