Irish singer/songwriter Dermot Kennedy gets lost and found again with his song, "For Island Fires and Family."

— —
Everyone has certain places or people that make them feel whole when they're feeling broken. You can drift further and further away from these people or these places, but no matter what, when you get back to them, you feel yourself. The person or the place is something you can count on, and for that you're grateful. Everyone has them.
Irish singer/songwriter Dermot Kennedy appreciates the people and the places that ground him when he Is feeling lost in latest ballad, "For Island Fires and Family."
The ballad begins with bright acoustic guitar plucks and Dermot's cutting vocals.
How it must feel to be a bird
Roamin' lonely over sea air
How it must feel to be a bird
London, Paris, underneath
And I'll wait on my own
He sings slow and steady. He's in no rush. The chorus delves into how someone can bring you home, a single person can sometimes be all that you will ever need, and without them, you are lost,
And I couldn't tell you enough that I'm sorry
And no, you couldn't tell me
enough that you love me
But she's bringin' the moon and stars to me
Damn permanent reverie
And even though this life, this love is brief
I've got some people who carry me
The second verse is a story in its own. It's as if he picked up the guitar and full stream of consciousness came out in this verse. The raw and unfiltered truth, which isn't muddied up by production or harmonies settles in the listeners ears. Kennedy's words cannot be ignored. This is the type of song that reminds you why music exists. Sometimes you can't express how you feel by talking, sometimes you don't even know how you feel until you figure it out through lyrics,
And I was talkin' with you earlier
We were open and vulnerable,
it was wonderful
Written on the page they may not seem like much, but hearing Kennedy sing these lyrics will pierce you. Kennedy continues to sing the chorus again, through haunting oh's and ah's, he leaves you no choice but to listen and to feel. This is the person, and these are the things that carry him. There's a Damien Rice quality about him that comes out in this song, but Dermot Kennedy is truly an enigma of his own. This is one to watch. A raw talent that can only be better live. "For Island Fires and Family" is a song that will hit home, because we all have those people, and we all have those places.
Stream: "For Island Fires and Family" – Dermot Kennedy
— —
— — — —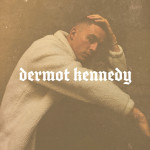 ? © 2019
:: Stream Dermot Kennedy ::