Deaf Poets modernize the classic rock of Black Sabbath, Alice in Chains, and Megadeth into their own heavy DIY hard rock on new EP 'Change & Bloom.'
— —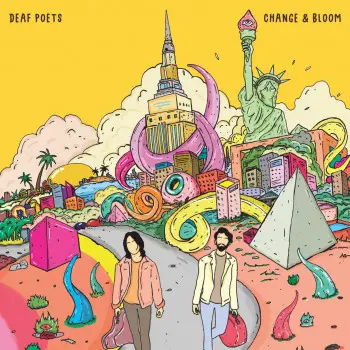 There's rarely a shortage of bands that could define their genre as classic rock fetishism, and there's never been a time better than to pay homage to '70s hard-rock and '80s arena rock. We've recently seen bad tv dramatizing the 70's (HBO's Vinyl), books about people too young to live the classic rock era but loved it nonetheless (Steven Hyden's Twilight of the Gods), and bands that sound like they may as well be Jimmy Page and Robert Plant's lovechildren (Greta Van Fleet). Plenty of bands have come in the new millennium that have tried to step up to bat as hard-hitting throwbacks, but it seems like the vast majority just want to sound like classic rock's hammer of the gods, Led Zeppelin[i]. While Zeppelin is an admirable band to want to sound like, the oversaturation makes bands with more varied influences admirable. Enter Deaf Poets, the New York-by-Miami duo whose sound is a modern amalgamation of the past forty years in the best possible way. We're very excited to be premiering their latest EP Change & Bloom here on Atwood Magazine, ahead of its worldwide release this Friday, June 15, 2018 via WaxRomantix Records!
What's most admirable about Deaf Poets is that they don't really wear their influences on their sleeves. The sounds seep through and are undeniable, but at a glance, Deaf Poets seem modern and completely in line with modern hard rock. Sean Wouters and Nico E.P. have all the energy work ethic of DIY punk, as is seen through touring then locking themselves in a bedroom for this EP following last year's Lost in Magic City. The two piece sound more fully rounded than most other great duos of the past 18 years, because they focus on playing much more than simple punk rock[ii].
The band's influences do come through to anyone with an ear for classic rock. Whether it's the breakneck riffage of Dio-era Black Sabbath in Wouters' fuzzed-out shredding, the Layne Staley-qualities to Wouters' Voice, or the precise, monstrous drumming that sounds like Ozzy-era Sabbath in E.P.'s drumming, the classic rock aficionado can find plenty to love in this band. Songs like "Monarch" are built on the same flavor of anxiety as "War Pigs." Their songs can often transition from shredding to ominous and heavy or vice-versa: "Cigarette" is very cool and relaxed, but it also has a taste of Megadeth and Iron Maiden's complex guitar playing. The band's fuzzy tone is a perfect complement to their fast-paced stoner rock.
Listen: 'Change & Bloom' – Deaf Poets
---
Deaf Poets had this to say of Change & Bloom:
Change & Bloom EP is our follow-up to our second full-length record, Lost in Magic City (2017). We toured extensively during the spring of 2017 to support the release of our sophomore album and throughout our travels we were working on new material, which eventually became Change & Bloom. Once the summer time hit, we realized that in order to grow as people and as a band, we needed a drastic change. We saw NYC as the right next step for us. We had four new songs somewhat finished and a new idea in the making (the riff for "Cigarette", our second single).
By October 2017, we wrapped up three back to back tours and locked ourselves up in Sean's room to record the new EP. Sidenote: We recorded in the same room we jammed in for the first time when we were 14 years old. Our sophomore album was mostly recorded by us, so all the trial and error really paid off to help us produce Change & Bloom. We wanted to make that shit heavier, faster, longer than our previous work. In fact, I totally distorted the drum overhead mics from playing hard and didn't realize until we sent them to get mixed, haha.
Change & Bloom is the story of a period of self doubt and fighting that feeling of being stuck. Each track is a piece of us and how we cope with everything happening around us. We are a little introverted, so this allows us to open up about who we are and express ourselves. We also got to work with Collin Dupuis (for mixing) who has worked with some of our all time favorites like The Black Keys, Jeff the Brotherhood, Cage the Elephant and Jim Diamond (for mastering) worked with The White Stripes and The Mooney Suzuki.
Last story that you might find interesting is that the artwork was made by Agung Gunawan from Bandung, Indonesia. Agung is a fan of Deaf Poets and he randomly sent us an illustration he had made. The artwork was so sick that we commissioned him to work on our tour poster for "The One Way Tour" in January 2018. The final product coincidentally captured the essence of what Change & Bloom is about and so we decided to repurpose the art as the new EP cover.
Final thought, we recommend smoking a fat blunt and listening to this with the volume way up. It's a real mind trip.
---
That last recommendation is fitting for Deaf Poets' brand of dynamic hard rock. Songs like "Die with the Young" are celebratory and fast, but relaxed all in one. Change & Bloom captures the energy one can imagine being in a hot-boxed arena in the 70's, 90's, or on the right night in 2018. Deaf Poets find the energy of classic rock and make it their own.
[i] Greta Van Fleet are the modern example, but they're really just today's iteration of a tradition of Zep-alike bands of the 2000's. For reference, look into Wolfmother, The Answer, and everything Myles Kennedy has ever worked on.
[ii] Although, Deaf Poets are further proof that two-piece bands are so much more fun than a band with any other number of members.
— —
— — — —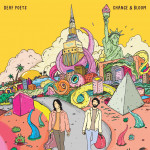 ? © Olya Repalovskaia
:: Deaf Poets Tour Dates ::
6/15 – New York, NY – Berlin-Under A (EP release show)
6/16 – New Haven, CT – Cafe Nine
6/17 – Providence, RI – The Parlour
6/18 – Boston, MA – Maggy's
6/19 – Lowell, MA – Unchartered Gallery
6/20 – Burlington, VT – Radio Bean
6/21 – Montreal, QB – Katacombes
6/22 – Ottawa, ON – Cafe Dekcuf
6/23 – Toronto, ON – Dakota Tavern
6/24 – Detroit, MI – PJ's Lager House
6/25 – Chicago, IL – Bric-a-Brac Records
6/27- Chicago, IL – Emporium
6/28 – St. Louis, MO – Firebird
6/29 – Indianapolis, IN – Pioneer
6/30 – Pittsburgh, PA – The Bushnel
:: STREAM DEAF POETS ::