Singer/songwriter Tara Beier channels '80s-pop in her healing anthem "Forgiveness."
— —
There are plenty of songs about staring in the face of or overcoming adversity, but the forgiving song is something of a rare breed.  It's also rare that they're as catchy as Tara Beier's new single, fittingly titled "Forgiveness." Just about a year after the release of her debut album, the L.A. singer has set aside her acoustic guitar and folk-leanings and embraced more of a power-pop sound. Beier's recent California 1970 EP saw her adding more instrumentation to her repertoire, but "Forgiveness" is a standout from the rest of her catalogue. It's an '80s-inspired power-pop anthem about the joys of just letting the past go.
It's time to forgive you now
It's time to forgive you now
If I don't, I know I'll drown
It's time to forgive you now
I'm letting go
Of what you did to me
I know you didn't know
How much you hurt me
Listen: "Forgiveness" – Tara Beier
[soundcloud url="https://api.soundcloud.com/tracks/357372980?secret_token=s-q8Tgd" params="color=ff5500&auto_play=true&hide_related=false&show_comments=true&show_user=true&show_reposts=false" width="100%" height="166″ iframe="true" /]
---
Atwood Magazine is proud to be premiering "Forgiveness," the latest release from Toronto-born, Los Angeles-based singer/songwriter Tara Beier. KHBeier's homely voice, paired with the infectious melodies of the verses, make "Forgiveness" into the perfect earworm.  The palm-muted chords with shimmering arpeggios from the lead guitar and piano add just enough flair to texture the verses into a more conscious instrumental.  It would sound appropriate during a pivotal scene in a teen movie.  It has all the sonic qualities of facing consequences: it's uplifting, mid-tempo, and Beier sounds like she just lifted herself off the floor and is ready to make some changes.
"Forgiveness" is based on the simple fact that sometimes things just don't work out.  Life rarely turns out the way we think it will, and sometimes, it's better to just face things that have hurt us and forgive.  Beier said this of the song:
"It takes courage to stand in your own truth, even if you stand alone. While growing up, I loved yet intensely feared my father. Now was the time in my life when I needed to let go of this thorn in my side. A kindred spirit shared with me a special book of knowledge and spiritually challenged me to reach higher. I learned that making the choice to forgive isn't always easy. But there is no peace without it. It set me free."
She manages to cover all of those bases in the first verse:
Lost alone in Hollywood places
We always had a difficult relationship
I don't know what went wrong and why
But I gotta move on and try
All I wanted was love from you
I did everything you wanted me to do
As the song goes on, she discusses how she's found the weight-lifted in simply forgiving.  It's a simple and powerful message with a heartfelt yet lively track.
Tara Beier's evolution has been rapid, but she never loses track of herself.  She's gone from an acoustic songstress to an 80's-inspired pop-rock singer over the course of two years.  The running theme from Hero & the Sage to "Forgiveness" has been her unflinching honesty, like Fleetwood Mac in the 70's.  With "Forgiveness," she finds peace and an excellent new direction.
— — — —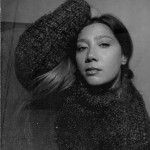 photo © Dana Tripp
:: Listen to Tara Beier ::