"Wake Up, You're Stuck" is a debut to be lauded, showcasing Eden Rain as an artist that, despite just entering the scene, contains incomparable artistry.
Stream: "Wake Up, You're Stuck" – Eden Rain
---
"Do I stay being eaten alive or attempt to save myself from all the things I'm running from?" For a debut, Eden Rain doesn't shy away from allowing herself to be seen. She delves into her own mind, sharing with listeners her worst nightmares with a poetic tinge. Seldom is a debut brimming with such artistry, but "Wake Up, You're Stuck" accomplishes this, making the name Eden Rain a new powerhouse within the industry, all with one song.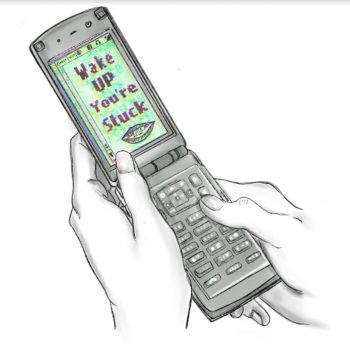 A few strokes of the piano and a dulcet voice are the welcome into Rain's own world, a beginning that sets up for a journey that passes through both somber and rosy. It's a delicate balance, but it's done with precision and care, something carried throughout the song's entirety. As the track progresses and more of Rain's musings continue, listeners would be hard-pressed not to be enraptured by Rain's performance. Echoed singing surrounds the foreground to create ethereal splendor and allows for a feeling of weightlessness. Like wafting in a pool of soundwaves that undulate in a comforting manner, even if the lyrics may not seemingly convey it.
Help yourself
If there's still meat on the bone
All the animals came
To the watering hole
And I lay down
And I lay down
Ribs out in the sun
Gone one by one
With the song's lyrics, Rain utilizes her background with poetry to great effect, each word flowing together in a harmonious fashion, and though lines like "I let everybody down again" carry grim sentiments, a sense of growth is felt as she continues with the track. She's not defeated – rather, it's the flight-or-fight situation examined through a new lens. It's life, it's experience, and it's explored with a beautiful, warm touch. All sadness escapes at the song's end, leaving only a hopeful look into the journey of existence.
Watch: "Wake Up, You're Stuck" – Eden Rain




Couldn't lie through my teeth so I took them all out
Got so much more room for my foot in my mouth
Followed the cliff to the edge of my feet
Chasing me, run from me, down every street
As Rain's croons carry listeners to the end, the finale chorus expands on the soothing sounds of the piano and ambient melody. Layered vocals arrive with more force, repeating "wake up, you're stuck" as onrushes of subdued drum kicks add a distinct beat that allows for a memorable send-off. The majesty behind the track is nonpareil, the closing 30 seconds more than enough proof of it through its haunting yet enthralling presence.  Rain's proclivity for the spectacular has just been made apparent.
With Rain's direction, melancholy and a soulful warmth coalesce in a celestial manner, and though she's just beginning, "Wake Up, You're Stuck" is an entrance that won't soon be forgotten. She has achieved something special, and wherever her musical journey will lead, we're eager to follow along.
— —
Stream: "Wake Up, You're Stuck" – Eden Rain
— — — —
Connect to Eden Rain on
Instagram
? © 2021

:: Stream Eden Rain ::
---