Who knew that a missed flight and the baggage of the blues were just what singer/songwriter Eloise needed to grasp that fleeting fuel of inspiration and create her debut album?
Stream: 'Drunk on a Flight' – Eloise
---
Eloise is soaring with delight with the release of her debut album, Drunk On A Flight, looming.
After the release of two EPs, Somewhere In-Between and This Thing Called Living, the 23-year-old London-based singer/songwriter figured it was time to affirm her position as a member of the ever-evolving music industry – and what better way than dropping an album?
When listening to Eloise, it's hard to think that she's not an old pro at the game, as she has shown an impressive sense of identity for a modern-day blossoming artist who is still working on getting her feet on the ground. What sets her new album (released April 14, 2023 via AWAL) apart from her previously released EPs is the experimentation. In Drunk On A Flight, listeners are placed into the timeline of Eloise's life. And though there is definite continuity audibly with the addictive jazzy scatting and floating vocals she has made into her staple sound, she has expertly branched out and exhibited a stunning new range. Above all else, after chatting with Eloise for about half an hour, it is clear that she is beyond proud of the art she has created, and rightfully so: Drunk On A Flight provides an enthralling escape.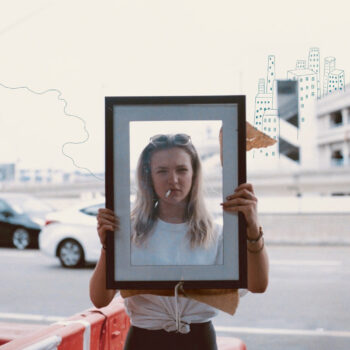 In conversation with her, there's a distinct and genuine atmosphere of content that radiated, even through a Zoom screen, that must be mentioned. As we discuss the intricacies that went into the creation of the album, Eloise glows both with pride and humility. When asked how she feels about the release of Drunk on a Flight, she speaks on how excited she is to let the world have it saying, "I'm just excited to you know blow it all away and let it go and move on to the next work." There's this sensation that may be akin to that of a parent being ecstatic to let their kid finally out of the home nest to experience life on their own that emitted from the way Eloise speaks of releasing her album. There was, of course, a hint of fear about how the work will be received by fans, but more than anything, a relief for it to no longer just be sitting on a drive.
Atwood Magazine asked how it felt to look back on where she was in stages of life at the start of the album and where she is now, and in retrospection, she mentions that the start of creating the album was not a particularly joyous time as she lied in the blue depths of misery over fresh heartbreak – the amicable severance of a long-term relationship. And in the happenstance of missing a flight back to London from Los Angeles, the first concepts for the album were birthed on a drunken whim.
After the slightly intoxicated go at scrawling out of emotions, a fire was set ablaze inside Eloise.
From then on she decided to "stand by the fire until it burns out," and challenged herself to continue to write until she couldn't write anymore. At this moment where the fire began its blaze, Eloise began creating not even for the purpose of developing the album, but rather to simply release herself from the words begging for release and see where it went because as she lamented, these fires are rare.
"You daydream of having these moments of the fire in your belly. The first time you get the fire in your belly is like the first time you write three great songs when you're way younger. A lot of the time you can feel the little flickers and it's really fun doing the job, but it's really hard to get that full fire in your belly again.
Now that she is with someone new and only a short time from the drop of Drunk On A Flight, Eloise remarks how "it's such a change, especially the fact that it basically marks a year since everything happened. It's wild."
---
Something that stands out is how thoroughly fated the creation of this album seemed to be, from the whole chaos of missing a flight to sparks flying uncontrollably urging a lava-like creativity to flow, it seems the stars were aligned throughout the whole process of Drunk On A Flight, even if it wasn't initially intended or perceived. When asked about the title track of the album and what made it stand out, that too seems fated in retrospect.
"I came up with it [Drunk On A Flight] years ago," Eloise says, and in elaboration, she discusses how just after the break-up from the long-term relationship, there seemed to be this "sliding-doors" type effect. Freshly turned 18 on a flight back home, drunk with boundless notes and ideas festering, if there ever was a thing reaffirming the concept of destiny, it might just be how this album came about.
Getting into the meat of discussing the tracks as they relate to her life, Atwood Magazine asked if there was any pain present in going back and listening to any of the new songs since they revolve around a subject that is not for the weak. It's all soft smiles and a gentle gaze from Eloise, no hint of ill feelings plaguing her mind, she admits that "there's a couple of songs that are still and always will be a bit achy," but undoubtedly, "So much good has come out of this last year and out of the terrible things that happened."
She elaborates, stating in a very British manner, "I feel bang on path," sharing the additional sentiment that "when you feel so confident that you're in the right place, at the right time, you're just less sad," which subsequently rids any sense of pain from the site.
On a similar note, Eloise states that no song was particularly scary to create, and other than working with incorporating more pop elements into a few tracks the production went quite smoothly. On the contrary, the track 'Tired Now' challenged her writing abilities a bit. In talking about this track, Eloise provides some keen insight into the whole feeling of heartbroken amicability which is a primary subject of this song in particular. She says, "I always find those kinds of ones the toughest because the most amicable kinds of breakups are the worst breakups because you just want to hate them so it makes it easier, and so you have a black-and-white reason as to why you're trying to get over someone."
Additionally, she talks on how there are times when "you break up with them because you love them, but it's not the right time and a week after the breakup, you'll always be like, 'so why am I putting myself through this pain if we're both like still in love?' And I think that's why that song was painful because it was that feeling. And it was me almost reminding myself, 'This is why I've done it,' you know?" The wisdom expressed by Eloise is undeniable, and reflects masterfully in how this song in particular turned out. 'Tired Now' is the beautiful little track that closes out the album, and it does a fantastic job at doing so. The gentle swing to the vocals and instrumentation alongside her heartfelt lyrics creates a simultaneously comforting and gut-wrenching atmosphere of emotion.
---
In case it has not been made clear, this album is wholly Eloise.
Each strength of hers is highlighted, and each sound comes to form a genuine place of experimentation and even a bit of spontaneity. When questioned if there were any other artists or albums that were drawn on for a bit of inspiration or influence, Eloise speaks about how there wasn't a singular sound she was going for, and she rather cherry-picked from old favorites that have always influenced her. But in the realm of creating the album, the sound was led by a freedom: "We had no idea what it was going to come out sounding like because we had no reference point," which made the experience of production all the more enjoyable.
This newfound liberty to explore stylistically is perhaps most prominent in Drunk on a Flight's focus track "I Take It Back," which plays into the alternative pop genre a tad with the use of more anthemic instrumentation. This joyously angsty tune has what Eloise describes as "a Jonas Brothers-y" riff and is an expert dip into the pool of pop rock. Being that this track is so different from her usual soulful avenue, there is a hint of fear that Eloise confesses she has in sharing this track. "I've never put anything this scary out, I've always put out stuff that is close enough to my comfort zone. 'I Take It Back' is the one song that is officially out of my comfort zone." Nevertheless, radiant positivity and excitement won out in the debate, "I'm excited for the nerves of putting it out."
With a breath and a laugh, she declares "You've got to give up and give in, and let the people have their say."
---
Fear is not getting the best of Eloise, and it is utterly inspiring.
In our conversation with the talented Brit, it truly was her passion that shined above all else, and it's the humility of her passion that makes this album so great. It can be easy to come off as overtly proud of oneself in an arrogant way, but this is far from the case with Eloise. As she speaks about how proud she is of the final product she and her team created, she let her own astonishment show.
"It's so much better than I thought I could make music. I didn't think I'd ever be capable of putting something out that sounds this polished and good, and shows exactly where I'm at in my life right now."
By allowing herself to engross in such a spur-of-the-moment process of writing and creating, Eloise discusses how she was able to really begin to satisfy her itch to dissect all the facets and depths that various emotions carry such as "anger that comes from sadness that comes from love" and all the other "in-between feelings" that are so incredibly complex and at times, elusive.
In beginning to wrap up our chat, we spoke on the track order in more detail, from which it is revealed by Eloise that the album is intended for listening to as such – in order. The first track is placed first on purpose, as is the track in the opposing position. Concerning this, Eloise muses, "I loved the idea of the opening line of an album being, 'We broke up.' It's so dramatic, and you land in the middle of the crime scene." And on the flip, it may be noted that the final line of the last track is, "and I'm tired now."
"I loved that idea that everything in-between those two sentiments is the narrative and it's not linear, but you still end up tired and you've won," she says.
Concluding our time together, Atwood Magazine asked Eloise how the album has impacted her personally, which brought the conversation to a perfect point.
With a warm delight tainting her features and words, Eloise says, "Ever since I started making the album, my life has become so beautiful. Everything has fallen into place and I am the happiest I have been in so long."
And on that cheerful note, we end.
Drunk On A Flight is available to stream everywhere now.
— —
Watch: "Drunk on a Flight " – Eloise
— — — —
 © Charlotte Patmore
:: Stream Eloise ::
---