Rat Tally's Addy Harris dives into her breathtaking, beautifully tender debut album 'In My Car,' an achingly intimate and radiantly raw indie folk reckoning with the deepest caverns of the self.
Stream: "Longshot" – Rat Tally
---
I didn't know who I was anymore. I wrote these songs to kind of piece together my life and process things.
Achingly intimate and radiantly raw, Rat Tally's debut album is a beautiful, tender reckoning with the deepest caverns of the self: A vivid, emotionally charged tapestry of self-reflection and candid observations on the artist's own identity and personal growth, filtered through stunning sonics and soul-stirring themes of human connection and emotional distance, loss and change, disruption, internal dissonance, and more. A record of time, place, space, and being, In My Car is channels dark and dreamy indie rock and indie folk music into a breathtaking, unapologetically vulnerable expression of the self.
Got bored of the show
So I went home to look at the walls
And catch my thoughts
but they're all multiplying
Like dust kicked off from the floor
They spiral out and under the door
Then float up and start to stick to the ceiling
But I'm ok if you're ok
I'm too lazy to say I'm not
Even if I wanted to explain
It would probably take too long
Released August 12, 2022 via 6131 Records, In My Car is as sweetly haunting as it is refreshingly cathartic. The musical project of Chicago (by way of LA and Boston) singer/songwriter Addy Harris, Rat Tally embraces vulnerability in her music as a child might their parent: Her songs inhabit a space of unadulterated intimacy and humbling honesty, each a powerful window into her world.
Her music, previously featured on Sir Sly member Hayden Coplen's column DIY Radio, has the uncanny ability of conveying complex emotions and ideas through incredibly memorable melodies: Coplen described her 2019 debut single "Feel Something" as "a simple, sanguine package of guitar-driven indie rock that gives more than it takes."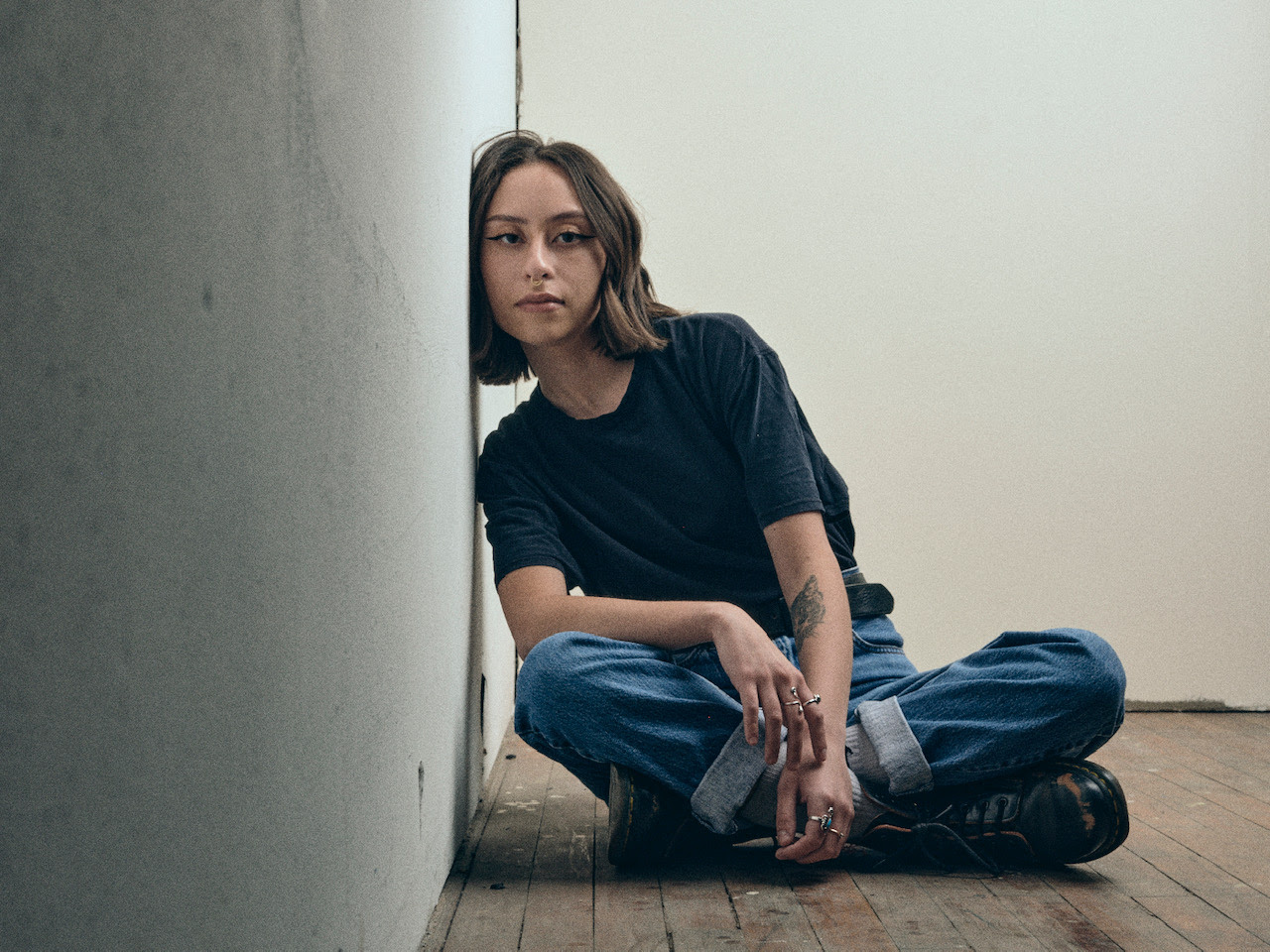 As Harris herself explains, this album is a long time coming. Beyond being a personal statement and Rat Tally's formal, longform introduction to the world, In My Car acts a musical scrapbook of sorts that captures a period of turbulence, turmoil, and discovery in her own life.
"I wrote most of it when I lived in LA a couple years ago," Harris tells Atwood Magazine. "I didn't know who I was anymore. I wrote these songs to kind of piece together my life and process things. One of my favorite things about this record though is that it was recorded all over the country by me and my friends in all our homes, and all of it was pieced together later by my producer Max Grazier."
"I didn't have a vision for the full thing as much as I did for each song," she continues. "Those songs are special to me and I wanted it to be cohesive but to make sure each song can stand on its own. My visions for certain songs definitely changed when I sent demos to my producer Max and he sent them back with huge guitars and drum parts I would have never thought of haha. But I love that I never would have done those things on my own and sometimes I need my vision to change to make a song the way it was really meant to be."
I hope it's a good balance of my influences and originality. I guess that's always the goal. I just wanted to make something honest that could capture my stories properly.
---
The album's title In My Car speaks to a physical and emotional experience to which all can relate. "I feel like there are places we need to go sometimes to be outside of our life for a little bit," Harris says. "I used to see this woman in LA sitting in her car who would sit there for a long time just going on her phone while her family was inside the house. I think everyone has that place they go to not have to be themselves for a while."
An up-and-comer in the indie folk space, Rat Tally's fragile, often brooding music is sure to find favor with fans of Phoebe Bridgers, Julien Baker, and fellow Atwood artist-to-watch Alaska Reid (among others whose music lies as the bridge of indie rock and folk). Her music is dark, and yet it's the act of expressing this darkness – letting it out into the world – that results in a beautiful new light.
This can certainly be felt throughout the album: Every Rat Tally song is a world unto itself, a gut-punch of visceral, burning emotions, churning guitars, catchy melodies, and warm, wondrous harmonies. The scene is set on album opener "Spinning Wheel," a fiery tell-all overhaul of anxiety and overthinking that rises and falls in great tides of electric overdrive, heavy beats, and angular guitar riffs. Harris' expressive voice soars above this fray, shining with resounding conviction as she pours herself out, plaintive and true.
"Can't go back, but I keep track of all of your words. Spread them thin and dig too deep for a meaning," she sings in the midst of her own ongoing struggle. "But I'm ok if you're ok, we both know it's a longshot," she reassures in the chorus. "Even if I wanted you to stay, we'd get caught in a deadlock. I'll just leave it for today, couldn't bring myself to tell you to stop…"
---
Of special note is the album's lead single "Spinning Wheel," a nostalgic bout of intimate and deeply reflective storytelling that holds listeners captive throughout. "'Spinning Wheel' feels much like a conversation between artist and listener, wherein Rat Tally reintroduces herself, shares with us where she's from and where she's been, and hints – just hints – at where she might be going," I wrote back in July, adding the song to my 71st Editor's Picks. "It's a candid outpouring of the heart – an emotional reeling that ensures we hang on her every word, every note, every second."
I'm seeing stars
Didn't look away fast enough
Guess you left your mark
When I lose it I'll send my regards
It's like I'm anchored to the round-a-bout
That spinning wheel at the playground
And you get closer with every cycle
Getting off becomes consequential
I wait for the punch
But you keep your mouth shut
I wish you would scream at me
At least then I could say a few things
I was ready on sight
But you brought a ghost to a fist fight
I still fantasize it constantly
---
"Spinning Wheel" proved an easy and early favorite off In My Car, yet one gets the sense that any of this record's twelve tracks might have resonated with similar immediacy had they been in that lead single/teaser seat. The roaring "Zombies" is as undeniably catchy as it is achingly emotional: An impassioned indie rocker with the raw singalong refrain, "I don't wanna be here anymore… I don't wanna be here at all." It's hard to unveil your full self to the world; that Harris has done so and made every moment so welcome and digestible is a true testament to her skills as a songwriter and recording artist.
I get the urge to curl up in bed in Chicago
Try to get back what I lost in Colorado
But I get scared when I realize I don't need it anymore
So I pick up where I left off
We got numb from boredom within a few weeks
Filled our lungs with the AC and video game zombies
But it wasn't real, so I watched you get ripped apart on repeat
As if we needed another reason to be angry
Cause I don't wanna be here anymore
– "Zombies," Rat Tally
Further highlights include the moving collaborations "White Girls" ft. Jay Som and "In My Car" ft. Madeline Kenney, the dreamy, gentle upheaval "Prettier" (also the album's third single), the harmony-rich tidal wave "Hold Me Over," and the introspective, geography-spanning "Tacoma Narrows."
"Right now I think "Tacoma Narrows" [is a definitive favorite]," Harris smiles. "It came out pretty much exactly how I envisioned it. There's something really dreamy about that song that I love. It's dreamy, but it also captures the exhaustion of trying to get someone to understand you. Also, how many songs have the words "aeroelastic flutter" in them?! I thought that was cool."
You told me "calm down, make it better"
That I come around with all my weather
While California goes
You twist me up like Tacoma Narrows
An engineering disaster
From an aeroelastic flutter
That broke me in two
And they'll show it on a 16mm
It might even make the news
Sit down call my friends
Talk until I'm not playing pretend
While everywhere else gets cold
I'll wade in the sound of the undertow
It pushes back my shoulders
When I surface everything's smoldering
So I look up at the moon
And you're sitting there waving signals at me
Smiling at the view
---
As a lyrically forward artist, Harris cites the album's penultimate track "Mount Auburn Cemetery" as having some of her favorite lines: "'Said if we got lost, we'd climb the tower and look from the top, just like how I still feel myself at twenty climbing through me, I don't think she's ever leaving, you saw her then and she was beaming.' I like the imagery of the happier version of myself trying to climb through me to the surface."
Lush and lilting, unapologetically raw and resonant, In My Car hurts so good.
It's a fully realized record of reckoning; of upheaval; of unabating reeling on the road to self-acceptance, healing, and understanding. Without a shadow of a doubt, Rat Tally has introduced herself with a resounding triumph of a debut.
"I hope that people can see themselves in it," Harris ultimately shares. "I hope it makes at least one person feel less alone and less shitty if they're feeling stuck in their life right now. I grew so much as a person writing these songs. I had to do a lot of reflecting on my life and trauma and behavior, and I'm a better person now because of that."
You came with me outside
I lit a cigarette and closed my lips tight
You said that I'm too young to die today
Well sorry I've just been down for the past decade
We walk around this town at night
And talk about how these are end times
I told you I'll burn it down to ashes
But you said once it's all gone
We'll see the sky and the stars flashing
But I'm holding on to something rotten, I always do
Think I'm prettier when I'm unhappy, and so do you
– "Prettier," Rat Tally
Experience the full record via our below stream, and peek inside Rat Tally's In My Car with Atwood Magazine as Addy Harris goes track-by-track through the music and lyrics of her debut album!
— —
Stream: 'In My Car' – Rat Tally
:: Inside In My Car ::
— —
LONGSHOT:
This is the opening track and one of my favorites off the record. The song is a lot about anxiety and not being able to stop overthinking, so I wanted the verses to feel tense, lyrically and musically. "Longshot" and "In My Car" have a wall of quadrupled power chord guitars that my producer Max Grazier recorded that just absolutely smack you in the face. When I wrote it I was really obsessively listening to Fountains of Wayne, XTC, and a lot of 90s and early 2000s hits, and I wanted it to have a big stadium rock vibe. I had this hook that I hummed in the demo and thought I would eventually write words to it, but it works so much better as just a melody riding on top of the huge guitars.
SPINNING WHEEL:
Lyrically this one was a challenge, and I initially thought it was too wordy with too many references to things, but now I kinda think that's the best part about it. It's all over the place which is exactly how I felt! With this song and a couple others, I actually re-recorded the main vocals, sitting down the second time instead of standing to get this kind of breathy, soft tone that floats over everything. I loved the idea of like calmly singing lyrics about literally wanting to fight someone, and this song is the perfect example of how I'm always trying to contrast the content of the song with the way it sounds.
ZOMBIES:
I wrote "Zombies" while I was living in LA, spending a lot of my time watching my ex play The Last Of Us Part 2, and I was really, really depressed. I wanted the song to reflect the urgency of me digging through my trauma and just trying to find something to live for every day. This one is actually an inside joke between me and Max, because it initially was so boring and we had to bring it back to life haha. I rewrote it by adding in short prechoruses, and pulled out my guitar in the second verse and replaced it with light, watery keys. Max also added these amazing Hop Along/Joe Reinhart inspired guitar blurbs in between phrases that add a call and response effect to the verses.
TACOMA NARROWS:
I wrote "Tacoma Narrows" after moving home to Chicago from LA, and on a call my friend told me about the Tacoma Narrows Bridge disaster. It's my country heartbreak song about exhausting yourself trying to make it work with someone who treats your trauma like it's an inconvenience, refusing to try to understand. I'm in love with this song and how the production brings out the dreaminess of the lyrics and melody. My friend Jacob added these crazy tape noises on this song and a few others, and I asked him to sing harmonies with me because he has a huge range and kind of a twang to his voice that fit perfectly.
PRETTIER:
Sometimes being depressed or giving in to toxic habits is the most comfortable and familiar thing, and I used to cling onto it because I was scared I wouldn't know who I was without it. I recorded my own vocals on this track as well as for "Hold Me Over" and all of my harmonies on the record in my bedroom closet. I also wrote and arranged all the string parts and recorded cello in my parents bedroom while my friend Seamus recorded violin in the house he was staying near Richmond. I wanted the strings to almost sigh the same way that my phrases did and at some points reflect what I was saying in the song, and Max added a bunch of sparkle and shine and distorted guitar swells that pull you into the world of the song so well.
IN MY CAR:
In LA on my walks I used to see this woman sitting in her car on her phone, while her family was inside getting home from work and school and settling in. It's about the places where you can be completely alone, away from everything, where you can step out of your life for a second to just not have to exist. Of course that's not real, and people hurt us, and it sticks with you, but for a moment maybe you can find space to just pretend you're not there for a while. I wrote strings and played cello again for this one, and Madeline Kenney was kind enough to lend her voice to soar over the huge guitars at the end that Max added in.
ALLSTON:
I was listening to a lot of Christian Lee Hutson and Elliot Smith, clearly. My partner Cole Szilagyi wrote, performed, and recorded lead guitar, and his melodies are genius. It perfectly highlights and compliments my acoustic guitar parts without drowning them out. He also helped me write and sing harms, as well as adding in a flute-like synth that rides underneath everything. I wanted to keep it stripped down, with as little production as possible, because anything else would've been overdoing it I think.
PHONE:
"Phone" is one of the oldest songs on the record. I wrote it when I first moved to LA and felt like I didn't have a community anymore, and felt like I kept making the wrong choices over and over again and couldn't seem to break the pattern. My friend Sean Sakamoto in LA helped me and Max flesh out all the parts to this one, and added in the halftime drums in the end that pull everything together. This song is such a nice, short, snapshot of my life at a time when so much change was happening around me.
WHITE GIRLS:
"White Girls" is not about white girls, not really. It's about being told I was undateable unless someone had an asian fetish, which is insane considering how white passing I am, but living in Boston and going to a school that was mostly populated by white cis men, I experienced a lot of microaggressions and fetishization from being half Filipino. In 2016 I saw Mitski, Japanese Breakfast and Jay Som play a show in Denver, and it changed my life. Jay Som was so kind and sang this one with me, and her parts really made the song.
HOLD ME OVER:
I was really goin through it when I wrote this song, and truthfully there's parts of it I don't wanna talk about, but also I think it's obvious and doesn't need to be said. I just wanted someone to tell me that I was worthy of being loved. I wanted to write a slow, sad song that built up and released, but is never really fully satisfied. I also brought the first couple lines of the song back at the very end to emphasize this desperation in wanting someone you love to tell you the bare minimum.
MOUNT AUBURN CEMETERY:
I feel like this one is the most immersive and descriptive lyric wise, so I wanted all of the production to reflect that. We added sounds that Seamus recorded just walking around that really aid to the scenery, almost like you're listening to the song outside and the noises are bleeding through, and Max's tremolo guitar tone is so satisfying. This one is about one of my favorite places, and about growing up, like early twenties growing up. I think I realized that there are childish parts of you that you think will grow but just never do, simple things like being scared of the dark or crying when you get hurt, and I want to accept that those things can be inside of you no matter how old you are.
LOOKING FOR YOU:
I wrote "Looking For You" kinda last minute before recording, and usually me and Max send demos back and forth and have everything fully fleshed out, but we built this one from scratch during the recording process. It was maybe the most fun we had recording out of all of the songs. I recorded these shitty echoey harmonies in my parents bathroom, Max and our drummer Jeff added Rhodes parts and used a korg minilouge for some of the sounds, and Max experimented with an entirely different drum setup that produced some of our favorite drum sounds on the record. This wasn't originally supposed to be on the album, but honestly I think it wraps everything up, and it's the perfect final statement about trying to leave behind the toxic parts of yourself.
— —
— — — —
? © 2022
:: Stream Rat Tally ::
---