A newcomer to the music industry, Elsa Birgitta Bekman enchants with unrivaled elegance on her bittersweet and heartfelt debut "Once In My Life (Sverige Vals)"
— —
No one is immune to the internal struggles of the heart and mind, where both seemingly have the right answer to situations where one does not exist. There are moments where sound reasoning makes the most sense, but it often comes at the cost of joy. In those moments of uncertainty, one must make the choice of either following the whispers of the heart or the commanding forces of the mind. This was no easy decision for Elsa Birgitta Bekman, and her standout debut "Once In My Life (Sverige Vals)" explores this internal journey with a gorgeous music video to enrich the experience as a whole, and Atwood Magazine is proud to be premiering it today!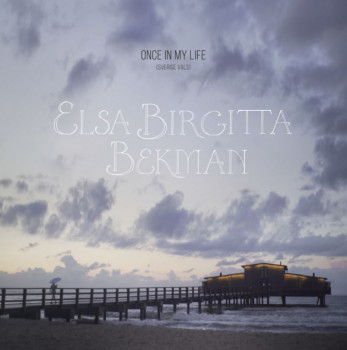 Dutch singer-songwriter Elsa Birgitta Bekman has carried the dream of musicianship for years, and she got her chance with the soul band The Tibbs. Despite this, there was a personal itch that wasn't quite scratched, so now she has set off on the solo journey to create and find the music that is fundamentally her. Bekman's first venture into this territory comes in the shape of "Once In My Life (Sverige Vals)," and it is nothing short of spellbinding.
I doubt that we're in any way alike
But I'm intrigued by your way of life
Isn't that enough to start
a thing we call love
Delicate finger plucks of a violin open up this track of emotional struggles, soon being joined by the soft touches of piano. Not far after, Bekman begins to sing her story with an enthralling and stunning vocal melody. She flows from word to word with unmatched grace, leaving listeners hard-pressed not to be immediately mesmerized.
Although I roam alone in the streets
I do like a roaming buddy
"I've written 'Once in my Life' in August 2014 on guitalele during a summer vacation in Sweden," explains Bekman to Atwood. "My boyfriend was supposed to join us, but we'd broken up a short while before. Talking on the phone to my dear friend and violinist Jade we figured she could come over instead of him. And so she packed her violin and hitchhiked to Denmark where we picked her up in Freetown Christiania. During our stay, Jade and I continued working on the violin parts which I had begun writing on my melodica. Just before going to Sweden I'd started dating someone new and so I contemplated that new relationship all vacation long."
It's a dilemma between the heart and the head; between the rational and the emotional concerns.
She continues, explaining, "I had fallen for him, for sure, even though we weren't 'in any way alike.' And even though I did like being on my own and 'roam alone in the streets,' I was tempted by the thought of getting closer to him ('I do like you roaming next to me'). It's a dilemma between the heart and the head; between the rational and the emotional concerns. Feeling 'it all come alive,' I eventually gave in to my heart." Her story and internal battle are represented brilliantly by the track, due in large part to her talented lyricism.
"I don't know why I feel so afraid/ but fuck it let the unknown light lead the way/ into the darkness where we started" she bellows out with an impassioned roar, not allowing herself to become a thrall to fear. A resilient stance that is further explored as the track progresses and builds. When the first chorus approaches, an onrush of sweltering violin, piano, and percussion rhythms begin, accentuating the powerful vocals of Bekman as she chants:
I cannot find it oh so unfair
I am here and you are there
I will allow it for once in my life
Cause I can feel it all just come alive
The majestic nature of the track doesn't stop here, though. No, it is only built upon with its accompanying music video. With "Alice in Wonderland" inspired imagery, "Once In My Life (Sverige Vals)" is transformed into visual splendor without diminishing any of the charm of the track. "The places shown in the video are tied to my fondest childhood memories," explains Bekman. "In the video, I'm traveling from one enchanting world to another. I've always wanted to show these places to explain myself because they shaped me into the person I am now."
Tell me a story
So that I'll fall asleep
Off to the land of my suppressed fears and dreams
But now I run all alone in the dark
Bekman's willingness to open herself up aurally and visually is something to admire. With open arms, she invites listeners and viewers into a piece of her life which only allows for greater admiration towards the artist. She might just be starting out, but she is showing no signs of taking it slow, opting to give herself fully to her dream.
Although I roam
Alone in the streets
I do like you roaming next to me
So, as Elsa Birgitta Bekman explained, she chose the heart, embracing its warmth and taking a leap of faith that has lead her down a road of jovial tidings and new possibilities. "Once In My Life (Sverige Vals)" is a track like no other with its blissful harmonies and outstanding instrumentation. With only one track released, Bekman has already shown her abilities to bewitch listeners body and soul, all falling under her alluring spell and feeling delighted for it. She is an artist to watch, and by not giving her a listen, one would only be doing themselves a disservice.
"Once In My Life (Sverige Vals)" and its accompanying music video will release July 5, and expect to see her debut album, Once In My Life, May of 2020.
"Once In My Life (Svergie Vals)" – Elsa Birgitta Bekman
— —
Connect to Elsa Birgitta Bekman on
Facebook, Instagram
? © 2019