To try and describe seeing a Bastille concert with words does not do enough justice to a band who is bigger than themselves. What exactly does that mean? To put it simply, they burst out with so much energy that there is enough power in their prowess to create a sonic explosion. The band brings the same vitality to each of their songs: They are true storytellers at work, and it shows.
Bastille's newest single "Fake It" is exuberantly joyous and electrified with passion – nothing less than expected from the band best known for its soaring, anthemic songs like 5x Platinum single "Pompeii." The track, taken from the band's upcoming sophomore album Wild World (out September 9, 2016 via Virgin Records) doesn't aim to be unauthentic, but rather it honestly examines the lack of spark between two lovers. Some pop songs are catchy: All they have to offer you is a tune that is guaranteed to get stuck in your head and climb the Hot 100 charts. Fluffy and meaningless, such songs have nothing for you to sink your teeth into. "Fake It" is not that song.
Watch: "Fake It" – Bastille
[youtube=https://youtu.be/GIwyqsqHsic?t=0s]
---
"Fake It" starts off with an unusual introduction, courtesy of a mysterious female voice that doesn't sing but states:
And I don't think that that's a selfish want, I really don't. I'm not saying that I have this capacity because it's hard to develop that capacity on your own, when you're being stopped at every turn.
It feels as though Bastille is on the hunt for something genuine and something that resonates. They are describing what it means to wrestle with the pressure of trying to make it work between two people who's past gets in the way of them both letting go.
Drive around, night time, nowhere to go
Melt me down, I'm like wax to your jokes
Frontman Dan Smith begins softly easing into the track that builds its way up from verses that swirl with sadness. It jolts into an electrified chorus that swings and pounds out an unexpectedly heavy bass line that thumps and echoes right through you. It pulsates with a longing; there is a clear effort being made to keep a bond alive:
Oh my lover, my lover, my love
We can never go back
We can only do our best to recreate
Don't turn over, turn over the page
We should rip it straight out
The narrative is simple and clear: sometimes we'd rather turn a blind eye and pretend that everything is fine. Sometimes it's easier to hold on to the past because of the serendipitous memories. But in every relationship there's the turning point, and once the lightning strikes there is no going back.
Show me joy, flower through disarray
Let's destroy, each mistake that we made
People stumble through relationships everyday and  tripping up is a part of life. It's okay because there is a certain charm to be found in that. We do our very best to find our way. All of this is captured in the vivacious nature of the track. Bastille has managed to take something sad and craft it into a song that is equal parts clever as it is quirky.
On the bridge, there is a contrast between the orchestral melodies and everything meshes together as it reaches it's climax:
Help me turn a blind eye
Days and nights we lost to weakness
There is an invested quest for selflessness as Smith asks to be heard. He is going along with unanswered questions and muddled half-truths. But it is done in such a way that showcases the appeal in getting lost in a world of pretend. He doesn't seem to mind that time was wasted because he can look back fondly and remember the good moments.
It isn't always easy to let your guard down around another person, because there is always the fear that you may fall and the person you love won't be there to catch you. But Bastille reminds us that there is a hint of fun to be found in that madness.
After all, sometimes the best thing we can do is decide it's not worth it to fake it, and let the past go.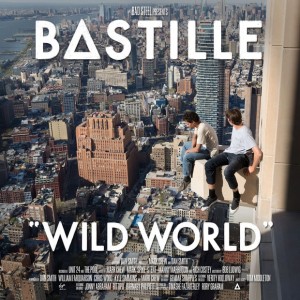 :: Bastille 2016 Tour Dates ::
The Born To Be Wild World North American Mini Tour
9/30 – Sterling Heights, MI @ 89X Chill On The Hill Fest
10/2 – Washington DC @ 9:30 Club
10/3 – Brooklyn, NY @ Music Hall of Williamsburg
10/4 – New York, NY @ Bowery Ballroom
10/5 – Toronto, ON @ Danforth Music Hall
10/7 – Morrison, CO @ Red Rocks Amphitheatre
10/9 – Los Angeles, CA @ The Troubadour
10/10 – Los Angeles, CA @ The Troubadour