Vermont-born folk rock band Fever Dolls discuss the value of placing genuine honesty above all in creating art, whatever form it takes.
— —
Part flesh, part felt, Fever Dolls is the hottest show in New York City! This indie-folk band turned quasi-chaotic musical arts performance spun out of Burlington, Vermont a few years ago, but they've more recently found their footing in a genre-less domain. Self-described as "a multimedia varietal experience drawing on the hottest and freshest sounds in modern sensory consumption," Fever Dolls are impossible to compartmentalize.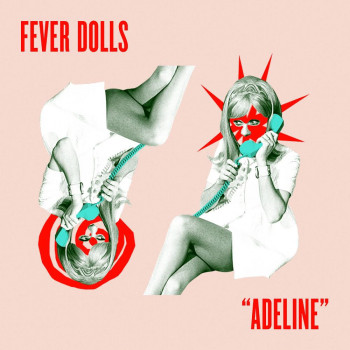 I've been saving up for Adeline, Adeline,
You say you came on first,
I think you came on fine
You think we're out of line,
well I think we're
finding out what you mean
And I've got no place to be
I'm just a heartsick woman in need
And it's been a little darker out now
Without Adeline around town
With the amount of talent trying to make it in the folk rock arena right now it's easy for up-and-comers to get lost in the shuffle. Fever Dolls shatters any expectation you have of them immediately- but blending rock and folk and alternative influences isn't the extent of it. Citing a pursue of authenticity in their music as inspiration, frontman Evan Allis also highlights the importance of humor, cinema and visual art in their musical endeavors.
Whatever this band is gonna be, it's gotta be clear that we change identities constantly. And however we were gonna go about doing these videos, and planning a stage show, it would have to be that you entered our universe.
Atwood Magazine spoke with Allis about how Fever Dolls got to where they are today, where they're headed, and how they place genuine honesty above all in creating art, whatever form it takes.
Stream: "Adeline" – Fever Dolls
A CONVERSATION WITH FEVER DOLLS
I've been following you guys for a couple of years now, how would you describe your origin story?
Evan Allis: Me and Renn were living in the same dorm and I had started dabbling in playing the guitar. I hadn't really played before college, and in the year that we were living together and hanging out I started writing songs, while she had come from a background of singing in the choir at the Catholic girls' school she had gone to in Kentucky. So she had a little bit of practice singing, but not really any formal training. She would just sing along with me through the bedroom wall whenever I was playing for a friend, and we immediately started playing together. And then we got a positive response at college, then started playing in Burlington, and got a positive there. We were lucky enough to play with musicians who were a lot more experienced than us. We definitely practiced a ton and sharpened our skills and got better in those first couple of years playing with actual musicians.
And how long ago was that?
Allis: Like four and a half, five years ago.
So you changed your name about two years ago, what was that change like?
Allis: We adopted this name Iron Eyes Cody when we first started playing shows, and it gained a little bit of a reputation. We didn't really think about it, but it sort of became our persona. But it has so many other aspects. When you start a band really early on you sort of inadvertently paint the picture of what kind of band you're gonna be, whether you think about it too much or not. So we became Iron Eyes Cody, and that was a folky outfit that maybe was a little too squeaky clean for our personal tastes. Eventually we figured out that this Iron Eyes Cody thing was this actor who played the role of chiefs in Western movies, but was himself not Native American. And as soon as that revelation came about, around the time we released our first EP, we decided if we were going to continue playing music we didn't want the baggage of that because we didn't believe in it. We definitely didn't want to defend using the name, and felt it was wrong and that it no longer represented us, but our band was also breaking up at that time. So we stopped playing shows and stopped having a presence and moved to different parts of the country. And then when we finally got back together, we started up again and knew we wanted to change the name, the style of music we made and the whole image we put forward. So we decided to come back as Fever Dolls.
And what does Fever Dolls mean to you guys?
Allis: Fever Dolls is sort of a meaningless name… after the Iron Eyes Cody debacle we struggled coming up with a name for like five months. One guy in the band wanted to call it Fever Dream and someone else wanted to call the band something with "Dolls" and they argued that they just liked those two words. So we combined them together and for the longest time ever, I didn't want to call a band Fever Dolls. I didn't understand what it means, and people would argue with me and say it doesn't matter; it sounds cinematic. And eventually we came to the point where we wanted to sharpen our image and decided we wanted to be this quasi self-satirical outfit that had a little bit of bombast and humor involved. I kind of fell in love with the name; I thought it sounded like a cheesy horror movie from the sixties or something… and also I love the New York Dolls.
I like that you described it as cinematic, just from watching your videos I feel like there are a lot of cinematic influences, as well as a lot of humor, like you said.
Allis: Yeah that's extremely important to me, I'm glad you could pick up on that.
So when you did come back together with the new name, how would you describe the change in the music? I definitely see Iron Eyes Cody as being more folk-y before, would you say that's still the direction you're going in?
Allis: Yeah in a sense, I think there's some been an acknowledged liberation of how we're gonna treat the band. We were never genre people who were personally in love with folk music or indie music or wanted to be that sort of thing. It felt like because we didn't have much musical background we just knew "this is how a band works and this is what a band does." I see those Iron Eyes Cody years as us playing the role of a band but really not feeling it. There were a lot of pictures of us like up against a barn like smiling in big sweaters- and that's not the extent of the music I listen to. I particularly love radio singles and pop music, and the era of the seventies with ABBA, Donna Summer and Elton John- people who were just trying to write huge choruses and songs people can hear one time and immediately dance and lose themselves to. So I wanted to write those sort of songs and not feel confined to something that didn't really fit our mood. Whatever this band is gonna be, it's gotta be clear that we change identities constantly. And however we were gonna go about doing these videos, and planning a stage show, it would have to be that you entered our universe. The feeling I want to give people with both the music and the videos and everything, is that you're sort of having a Wizard of Oz moment, like you're falling asleep and these same characters, the friends in your life and the members of this band, are inhabiting different roles both musically and in terms of the persona. Adeline is a pretty folk-y song, and I can imagine having a similar song when we were Iron Eyes Cody, it just wouldn't have been so silly and so over the top, and I've discovered that that's what I love about that. I love the freedom to write all sorts of songs and do ridiculous things and have found that the music has been a lot more honest for me.
Thinking about the beginning of the Gennifer Flowers video, it's definitely a little out there, but at the same time captivating and entertaining, do you plan to do more stuff like that, like more than a music video and something more akin to a digital short?
Allis: Yeah, there's gonna be a lot more of that. The director of that video is Kayhl Cooper, he's become a total collaborator of ours. We realized that part of this band and this world that we wanna build has a lot more to do with just the songs that we write, and we wanna have fun with it. With the idea of a band in general. We have a couple more videos lined up, three more singles with three more videos we're going to be releasing over the next couple months. And it's a lot more like the "Gennifer Flowers" video.
Thinking about your lyrics, I find a lot of them to be pretty narrative but also hard to follow, in a good way, though. So what is your writing process like?
Allis: I write the songs and then we arrange them as a band. I vacillate between two schools of thought when it comes to songwriting, one in which I try to get out of the way and let ideas and lyrics come to me. Wordplay and the English language are just really interesting to me. I'm the sort of songwriter who writes a lot more than he needs to lyrically, but that's just because I like the way the words sound together and I like how they contribute to the music. Sometimes that means I fall in love with a meaningless phrase and that doesn't matter to me, and the band's like "what the hell does that mean" and I'll be like I don't really know! But it sort of gains its meaning with the sincerity with which you say it. And my other school of thought is trying to write songs like I'm writing a movie. The first verses are often setting the scene with lots of description, and then there's a little more analysis of the characters once you get further in. I like having songs that mean a ton to me and I can tell when people get them, and I love other songs that I couldn't really tell you what they mean but I don't really give a fuck.
I like what you said about falling in love with meaningless phrases, I immediately thought of the line, "25 ways you can waste your life" from The Distance.
Allis: Totally, you want to say this kid has a ton of problems and is going down some horrible routes… How many ways are there to waste your life? Fuck it, 25 sounds great.
Would you say a lot of those well-developed characters in your songs are based on you or the band or people you know, or are they more imaginary and just come together in your writing process?
Allis: Love songs tend to not be about anybody in particular. I don't write as many love songs these days because I always end up writing like I'm trying to write a song instead of letting my own ideas come through. The non-love songs are where the people in my life are written about. I write about band members, and my friends, and my parents and people I've just met briefly. I try to base the characters on real people.
I know you guys haven't gone on a full tour, are you planning on a tour anytime soon? And will it be more like those videos with a more theatrical style?
Allis: We have some shows lined up pretty soon and we're going to be experimenting with a lot of stuff. We're collaborating with the same director we've been shooting videos with on our stage show, and that's gonna have video installations and other elements that make it less of a rock concert and more of an off-broadway art project.
You mentioned that the artists you've played with have had a significant impact on you, who is your favorite artist you've played with so far?
Allis: We played with Mt. Joy recently and that was a really awesome time, they kind of have more of an Iron Eyes Cody thing going on but that was a really good fit. Their fans were amazing and were really into what we were trying to do, so that stands out as an awesome one.
They're awesome. So last question, you said you have some videos coming out over the next couple of months, what do you have lined up next?
Allis: We have an album in the works, we're pretty excited about the next few singles and videos coming out over the next six months, the next one on March 29th.
— — — —
? © 2019
:: Stream Fever Dolls ::
---
:: Fever Dolls Tour Dates ::
3/8 – C'mon Everybody – Brooklyn, NY
3/16 – Club Metronome in Burlington, VT
4/19 – Coney Island Baby – Manhattan, NY
5/3-5 – Waking Windows Festival