Mt. Joy melt passion and pain, pleasure and sorrow into an emphatically expressive outpouring of colorful, catchy and thoughtful indie rock.
— —
There's no doubt that Mt. Joy's self-titled debut is a coming-of-age record: Released March 2, 2018 via Dualtone, Mt. Joy melts passion and pain, pleasure and sorrow into an emphatically expressive outpouring of colorful, catchy and thoughtful indie rock.
Addicted to TED talks
Waiting for lift off
But I didn't know it if it's doing much
'Cause I just lost my mind
In the fluorescent lights of my life
In my mind, a river running free like rapids
– "Julia," Mt. Joy
---
And to think, the whole thing started as a couple of twenty-somethings' escape from the 9 to 5 doldrums: Matt Quinn (vocals, guitar) and Sam Cooper (guitar) grew up making music together outside of Philadelphia, reuniting later in life to find both disliked their day jobs in LA, and could use some musical stress relief. Now a formidable five-piece with multi-instrumentalist Michael Byrnes on bass, drummer Sotiris Eliopoulos and keyboardist Jackie Miclau, Mt. Joy bring a little bit of lots of things to the table: Rock, blues, folk, Americana, and more can be felt, to some degree, throughout a debut that refuses to settle down, challenging definitions along the way.
I know you think I think too much
But I don't know if it's enough
Dirty love, all I want are your eyes on mine
And underneath of it all
I dream of our fall, six shooters
Hallelujahs, aren't able to save us
But did I ever want love?
Or, did I ask too much?
Young dirty love, come get us strung
Let's cover up what we really want
– "Julia," Mt. Joy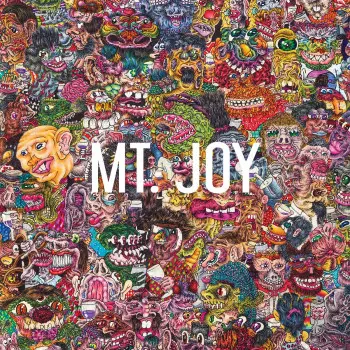 But what truly defines Mt. Joy more than anything else is an unrelenting sense of honesty and authenticity in both their music and lyrics: Questions about the future and uncertainties about the present form a relatable backdrop for their dynamic, energizing music – beginning with bittersweet opener "I'm Your Wreck," and running all the way through album closer "Younger Days," which implores us, "if you worry, don't worry 'bout me."
Ultimately, Mt. Joy paints a portrait of lost souls traveling down the open road: The possibilities are endless, which is as exciting as it is nerve-racking – but at least they're there, on that road together. Mt. Joy epitomize the slogan, never stop following your dreams, having turned an after-school hobby into an after-work activity, into a full-time dream job.
Mt. Joy frontman Matt Quinn spoke to Atwood Magazine about the energy, emotion, and experience fueling the band and their heartfelt debut album. Dive deep into of our favorite newcomers with this exclusive interview, and don't miss Mt. Joy on their current national headline tour!
A CONVERSATION WITH MT. JOY
Atwood Magazine: So, I've had time to read what I could find - profiles, history and whatnot, but I don't feel like there's a solid account of the Mt. Joy journey: Where did this band come from?
Matt Quinn: I think Sam and I, as far as Mt. Joy [is concerned], have existed in different songwriting projects – not really formal, except for high school. It was just two guys who played music out of high school together. I was two grades below Sam, but his brother was in my grade and had a cheap version of a recording console that you could plug in and record guitar and vocal mics. No one else had that, so I was going over to his house to make recordings, and I met Sam there.
For the last couple of years of high school we wrote some songs together, but it was nothing we were sure was going to be our careers. We went to different colleges, but afterwards we both ended up in Los Angeles doing different things, and we both weren't really loving what we were doing, so we got back to writing songs after work. That's where "Astrovan" and those songs really came from – just working on songs in Los Angeles, after our jobs. We didn't have a name for the project, or anything. The story, really is just that we decided, to really record these songs, we'd need a band. We didn't really know how to do that, other than just go on Craigslist. We found Michael, who's our current bassist, on Craigslist, and we got a practice space, played the song for him, and he was like, "Wow, these are great! My roommate is a really talented kid who can produce these songs out of our bedroom. I can play bass and drums, and then we're good to go!" So, that was pretty much how "Astrovan," "Sheep," "Cardinal," and "Jenny Jenkins" first got recorded. We just went over to Michael's roommate, who's the super talented Caleb Nelson – actually, now he plays keyboards and guitars for Sabrina Carpenter. He produced some recordings, and those were the original recordings – once we got those to Spotify, I guess that's where other people started lining up.
What connected you and Sam together musically?
Quinn: We sort of learned to play music in the same space. I think we were both big Paul Simon fans, and there was definitely some crossover influences, more classic rock type songwriting styles. I think that was probably it – being in the same town, and at times under the same roof, learning how to write and record a song!
Mt. Joy's sound is hard to encapsulate; it comes from all over. You've been described as blues, rock, folk, Americana... a little bit of everything!
Quinn: For sure – I think that has a lot to do with our band! Once we recorded these other songs, we realized we had to play live. Michael knew Sotiris Eliopoulos, our drummer, and now we have Jackie Miclau on keyboards – a classically trained pianist. I think a lot of making the record, and the sounds that ended up on the record, were bringing a song on acoustic guitar to this wide range of different backgrounds, and seeing the ideas flow from there to build out the full arrangement. I think that has a lot to do with the band itself – the different attitudes we have within it.
Why did you name yourselves Mt. Joy?
Quinn: Yeah, so Sam lives outside of Philadelphia, within Valley Forge National Park. On that park, there's two main hiking mountains: One is Mt. Misery, and one's Mt. Joy. So we were paying homage to where we used to write songs, but Mt. Misery was a tough name for a band, so…
I feel like it's a big deal to name an album after the band. What drove you to make your debut self-titled?
Quinn: We just felt like it's been such a crazy year and we've been living under this moniker, and it just felt like what that name was, was what that album was. We'd come together with these five people randomly over the course of the year, and then sprung through making these records – and that was sort of the challenge of Mt. Joy: Can you make four songs randomly after work, and turn that into a full-length album? We felt like making the record was, in some ways, the challenge of Mt. Joy; hopefully, we'll make a bunch more records and not just keep naming them after ourselves. But I think there was a feeling like the achievement of making the record and touring together for a year all led into making that record, so it felt like a good self-titled record in that way.
Also, I'm not a huge fan of album title names; usually someone picks the song, and then there's a title track which is cool, but then there's silly phrases I find myself laughing at a lot of the time. "Dreams Die," you know, whatever; something about that seems to take away from the band's body of work, which is what I think it's more about.
Why do you think people have been so attracted to your songs?
Quinn: I don't know what's special about them; I don't think we're breaking ground in music or anything like that. I do think that the way that we've made this record, and the way that we've made the first four records, is pretty honest. We made the first four [songs] in a bedroom and tried to keep them as real-feeling as possible to what it would sound like if you were in the room – that's something we talk about a lot – and then we did the same thing for recording the full length, where we recorded it in a converted garage studio. A lot of the tracks, almost all of them, are actually tracked live…
It was really just us trying to copy some of our influences from back in the tape era, I guess – trying to make it feel a little bit real. I don't know if there's anything specifically unique – hopefully, maybe the songwriting is connecting and the choices we've made are connecting; but outside of recording it a little more live, I don't know how different it really is.
Does the album reflect the live show, or does the live show reflect the album?
Quinn: I think we've tried pretty hard to make an album that will sound, at the very least, similar to what we do live. If it's not similar, it's because we've made an active choice to do something else live. We re-recorded "Sheep," and a lot of people have been asking about that… By the time we started recording the record, we were playing "Sheep" a way live that we all really preferred, with a little more energy and a little bigger. It felt weird to have this other version of "Sheep" on the record, so I think sometimes live does influence the album a little bit.
Why open this record with the song "I'm Your Wreck"?
Quinn: I think that was somewhat influenced by our touring a little bit too, and the nature of the song. We open a lot of our sets with it; I think it feels like a song that opens you up in a lot of ways to what you're going to hear on the record. We have this element of… I don't know what genres are, but I guess there's this sort of Americana vibe to that, that by the end of the song… I've always felt like that's two songs stitched together, pun intended. I guess it's like two songs put together, and we felt it was a great introduction to the rest of the record. Some of the themes within that song are an introduction as well, so it felt like a good intro to what's going to happen, both song-wise and thematically.
Can you pinpoint any one element that you feel captures the Mt. Joy sound?
Quinn: I don't know! I think that's hard because we try to mix it up. A lot of what ended up as our sound are these explorations of coming-of-age trials and tribulations, and I think that a lot of the songs reflect that anxiety and relief. It's really a study of what we were going through over the last year or two, making the record.
A lot of what ended up as our sound are these explorations of coming-of-age trials and tribulations, and I think that a lot of the songs reflect that anxiety and relief.
Have you had the pleasant experience of explaining to grandparents what your music is like?
Quinn: No, but there is a bit of awkwardness – I don't care too much, but obviously there's some weed references and stuff like that all over the record, and I feel like occasionally, I think about that… There was an interview with World Café, and they asked about weed – and I just sort of realized that it was going to be on the radio, and that was the first moment that I just felt, oh god… Wanting to answer the question in a way that wouldn't make me sound like a weird stoner bro guy – because that's definitely not the case – and also not knowing who's listening or who would be disappointed. I don't know, I think you realize at a certain point that it doesn't matter; it's on them.
[My family] have always been really supportive of the music thing. My dad wasn't a musician, but if we weren't doing one thing, then there was always music – Grateful Dead blaring through the house.
Getting back to the album, another of my favorite songs is "Dirty Love." I feel like it's this cool psych-folk pop song, and it shows a different side to Mt. Joy in terms of your ability to write a catchy hit.
Quinn: Sam and I were in my apartment in Los Angeles and we were trying to write for the album. We came up with this idea that we would try to build this song, kind of like you said – with a little bit of a psychedelic thing, based on a really simple line on ukulele. That song is the same three chords over and over again on ukulele, but with the idea that you could build sort of an off-kilter pop song. John Gilbert, who helped record, mix and produce the album, has a really good ear for helping to make things weird or psychedelic, and stuff like that. He was definitely a huge help sonically in that song too, helping us try to make a ukulele song sound not like a "Somewhere Over the Rainbow" thing.
We definitely took a little bit too, from a band we all really like, the tUnE-yArDs. They played with Death Cab for Cutie and the Hollywood Bowl, and it was really cool to see how she uses ukulele in such a creative way as well.
How do you and Sam write your songs?
Quinn: For the first record, all of the songs were, lyrically and for vocal melody, songs that I had in various stages. I'd bring those songs to Sam, who's a terrific guitar player. He can pretty quickly come up with counter-melodies on guitar, but Sam is also a really good songwriter as well. Just the way it worked out timing-wise, a lot of the songs – including "Silver Lining" – were songs that I had already. A thread of "Silver Lining" was a song that I used to play in college, that I rearranged.
You've got an incredible voice. I'm inspired by the way you kind of throw yourself around a bit, dancing between the head and the chest, starting songs up in falsetto and going back down... Where does that come from? How do you decide what you're going to do?
Quinn: I recently started vocal lessons, but I think a lot of the interesting sounds or different approaches to singing are just because I have absolutely no formal training in singing. I've just done it for a really long time at this point – I was thinking about that the other day: I've been writing and singing and trying to perform for ten years or more, without really any formal training. I just sort of created my own approach to certain things; I don't really have a map for why I sing falsetto at a certain time. It's more just sort of serving the song and the idea of the song, and trying to execute that. More recently, I've learned different ways to control it a little more, but I still feel like, for me, that I can really grow my voice because I'm just now learning how to do it the right way.
In "Jenny Jenkins," you have this kind of tremolo effect. Compare that to "Sheep" or "Julia" – it's just so different!
Quinn: Yeah, and maybe that's just because I genuinely don't know how to not be different. I can't give myself too much credit.
One of my favorite lines is in "Julia" - addicted to Ted Talks, waiting for liftoff. It's a very cool, modern portrait.
Quinn: I think that whole song to me (and a couple of the songs are about this) was about trying to have a romantic relationship when your life is changing really, really drastically. There was a period of time where I thought that a lot of my issues were just based on the fact that I wasn't a learned human, and I didn't know enough. So I got really into the happiness and psychology Ted Talks, etc, and eventually you realize that you're learning too much, and you're like spreading your arms out because they tell you that makes you more powerful, and you're like, oh my god what am I doing? It's not working. The reality is that people go through stressful times in your life, and spreading your arms onto your hips in a more powerful stance doesn't always quell the fear.
The reality is that people go through stressful times in your life, and spreading your arms onto your hips in a more powerful stance doesn't always quell the fear.
One thing I'm surprised by is that some of the songs I thought were love songs, are not actually love songs. Do you have any love songs on this record?
Quinn: There's a lot of songs that are about love and relationships – and there's a lot of love in those relationships – but I don't know that there's a direct love song. I think the closest thing to a love song would be "Julia," but it's really about is this going to work, more than a love song – which, I think, in some ways is a love song because it's hopeful. I don't think that was done on purpose, but because a decent portion of the songs were written in this timeframe of touring and eyeing up what it would mean to be successful or to have a career in the music industry, it was really hard for me to write a love song. It seems so unlikely that anyone would ever love you if you're just a traveling salesman, so… (laughing) that's really dark.
You were really in a coming-of-age moment. No two days were the same, and everything was new.
Quinn: I think there's a lot of love on the record, but I don't know if there's any marry me type of songs.
The song "Mt. Joy," which hits somewhere in the middle of the album, feels like a song of movement, travel and change.
Quinn: That song came pretty early on in the process. As we were piecing it together, it became pretty clear that we were just going to call it "Mt. Joy," because it was about all of that stuff and combined into one everything we were going through. That's a pretty good assessment of a song that's just about… it feels like so many songs, on a macro level, are about this… moving really fast in life, and trying to be positive about it but at the same time being as realistic as possible.
It feels like so many songs, on a macro level, are about this… moving really fast in life, and trying to be positive about it but at the same time being as realistic as possible.
What's it been like having your album out there? Are you the perfectionist type, or are you a little more relaxed, and it's out of your hands?
Quinn: I think a little bit of both. We actually had a show on the day it released, so there was a lot going on that day. By the time I was around my phone, the reception we got was really positive. I think I'm a little more in the camp of, "It's out there; what can I do?" just because, especially with the tour and the way things have been going, if people really don't like the record, there's not a whole lot we can do at this point.
Do you have any favorite parts on the album that still amaze you, that it's you and your band?
Quinn: For me, I come back to the songs "Younger Days" and "Bigfoot." With "Bigfoot," it's a song we recorded another version of that sounded very different, and it just wasn't right… As a band, we had grown enough since we last recorded it, so we tried a different arrangement and I personally think it really worked. It's very different, so that was the thing – it felt like we took a big risk, in just changing a thing pretty drastically. I'm proud of the process for that one… And "Younger Days" is one of those songs that, in the last month or two of recording, kind of just poured out of me. I think the content of it is a great way to end this record.
So if you worry, don't worry 'bout me
I always wanted you to see
The California coastline on your own time
And if you worry, don't worry 'bout me
I always wanted to be free
In the simple way
I found in all those younger days
You mentioned that Mt. Joy is a kind of coming-of-age record, and I feel like "Younger Days" is a fitting bookmark for an album that talks about transition. Why does the album end there?
Quinn: You kind of nailed it. I think it's just because a lot of our songs, at least from a lyrical perspective, are sort of like, "Okay: There's something wrong but I'll be fine. This isn't working, but I'll be okay." I think that "Younger Days" is more direct, that it's like, we're going to do all this crazy stuff, and life's going to change really rapidly, but don't worry about me; I'll be fine – I'll figure it out. Ending the record that way, it sort of felt like a fitting conclusion to bring back the thesis, tying it all together.
Transitioning now, you're about to embark on a huge tour. Is this your biggest one, to date?
Quinn: It's the longest continuous tour for us.
It just doesn't end!
Quinn: Yeah, it keeps going! But I don't know, I think we're excited. We did one headline tour, but we just didn't have any songs out. I mean, call me back in a month and a half and see how I feel, but there's really this excitement. We just got a text last night that two more cities on this run sold out. It feels like we've done a lot of hard work, and a lot of this tour, hopefully, will be a celebration of that.
It's so impressive and so daunting at the same time. Are you ready for that? It's over three months, right?
Quinn: I think so! The rehearsals have sounded really good, and we've had over a year playing a decent amount of shows. I think we're definitely ready. We've learned a lot – we've opened for Niko Cage, The Head and the Heart, Lone Bellow… We opened a show for The Shins… We've just seen a lot of people who do it at a really high level, and been exposed to that, I think we've picked up a lot. We're definitely excited to take our shot at a headlining show!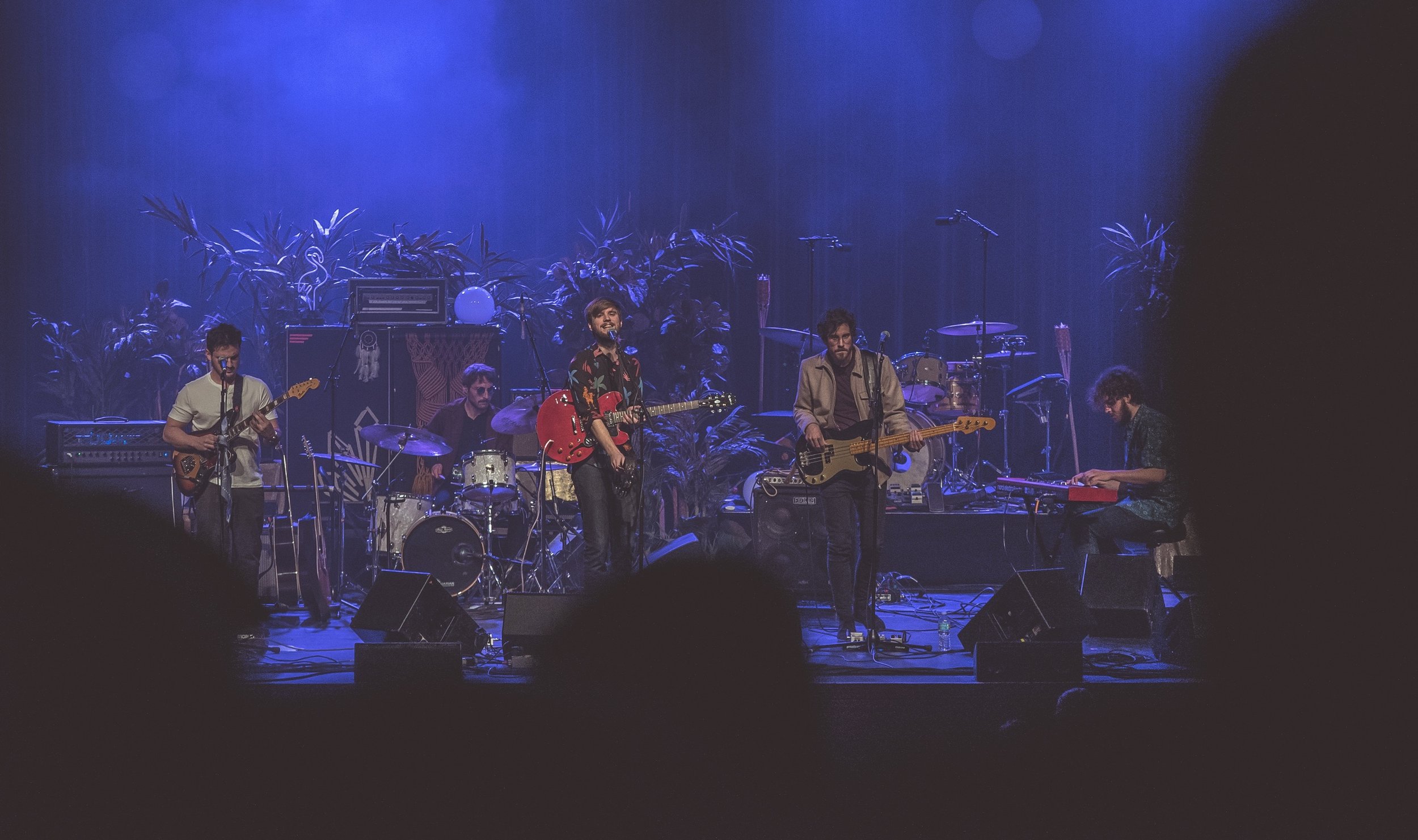 Is there anything you're most excited for about this tour?
Quinn: I'm really excited about playing our songs to people who have heard them before! We have played songs in our set that people have heard before, and in our previous shows, those end up being high-energy moments even if they're not high-energy songs, because people know them. It takes away from the vibe of a song if the only time the crowd really raise their voices is for a song like "Cardinal." The energy really changes… So I think we're just excited to see what happens when you play these songs for people who have heard them before!
From where you were a year ago to where you are today, can you begin to describe that experience?
Quinn: I can just say that it's been the craziest year of not just my life, but the lives of everyone involved in this project! That's a pretty powerful thing, and I think we're just super grateful, but also scared and excited and happy and all of the emotions at once, and that's sort of what this whole year's been about. It's just been a crazy year, and we're super grateful, and ultimately super stoke that this stuff is happening! It's been an amazing year.
— —
— — — —
? © Mt. Joy / Dualtone
:: Stream Mt. Joy ::
---
:: Mt. Joy Tour Dates ::
May 03 — New York, NY @ Rough Trade
May 04 — Washington DC @ Rock & Roll Hotel
May 06 — Atlanta, GA @ Shaky Knees Festival
May 07 — Nashville, TN @ The High Watt
May 08 — St. Louis, MO @ Duck Room at Blueberry Hill
May 10 — Minneapolis, MN @ 7th Street Entry
May 11 — Chicago, IL @ The Hideout
May 12 — Chicago, IL @ The Hideout
May 14 — Columbus, OH @ Ace Of Cups
May 15 — Pittsburgh, PA @ Funhouse @ Mr. Smalls
May 18 — Harrisburg, PA @ Whitaker Center
May 19 — Philadelphia, PA @ The Foundry – Fillmore
May 22 — San Diego, CA @ CCCU Open Air Theatre#
May 23 — Santa Ana, CA @ The Observatory#
May 24 — Pomona, CA @ Fox Theater#
May 27 — Napa, CA @ BottleRock Napa
June 18 — Hamilton, ON @ Liquid Art Festival
June 21-24 — Rothbury, MI @ Electric Forest
June 28-July 1 — Rothbury, MI @ Electric Forest