Rising up out of the darkness, Gizmo Varillas' 'Dreaming of Better Days' shines a light on the world, realizing humanity's extremes and committing to a brighter future.
— —
Gizmo Varillas' sophomore album is a record of strength; of hope, perseverance, faith, and love. Blending influences and styles from around the world, Varillas delivers a powerful and vibrant message of change: A change we, as individuals, are capable of making in this world; a change that comes from within – the potential inside each of us. Rising up out of the darkness, Dreaming of Better Days shines a light on the world, realizing humanity's extremes (both good and bad) and committing to a brighter, more beautiful future — one that someday won't have to be a dream.
when the weight of the world haunts you
and you find it hard to know where to go
when the base of the world breaks you
and you lost yourself in the noise,
remember that love heals with time
– "Love Heals with Time," Gizmo Varillas
Atwood Magazine is proud to be premiering Gizmo Varillas' sophomore album Dreaming of Better Days, out this Friday, July 6, 2018 via Muisca Records. The highly-anticipated followup to Varillas' 2017 debut El Dorado, Dreaming of Better Days captures a slice of modern life – or rather, multiple slices of multiple lives, from around the world.
It should come as no surprise, given the current social, cultural, and political climates of Europe, North America, and beyond, that much of Varillas' depictions include pain, suffering, tension, doubt, and fear. Dreaming of Better Days is a backlash to this (seemingly worldwide) rising prejudice and antipathy: The artist gives his full attention to those whom others have turned a blind eye on, addressing serious issues with infectious, feel-good warmth, an appreciation for life, and a sincere love for this world – a world in need of healing and attention.
Gizmo Varillas calls the world to account and his listeners to action. Dreaming of Better Days counters hatred with love, following in the footsteps of Stevie Wonder's Songs in the Key of Life and U2's Joshua Tree through sociopolitically conscious songs intended to nurture, rather than accuse; to improve, rather than punish.
In premiering the music video for lead single "Losing You" earlier this year, Atwood Magazine explored Varillas' multicultural, musical melting pot identity and global spirituality: Painting a colorful canvas with wide brush strokes, the genre-defying Spanish-born, London-based artist combines "as far-reaching influences as flamenco and rumba, African Highlife and Mali Blues, Latin American salsas, tangos and Bossa Novas, calypso, and more to create unique musical stories that are as rich in sound as they are in their lyrics."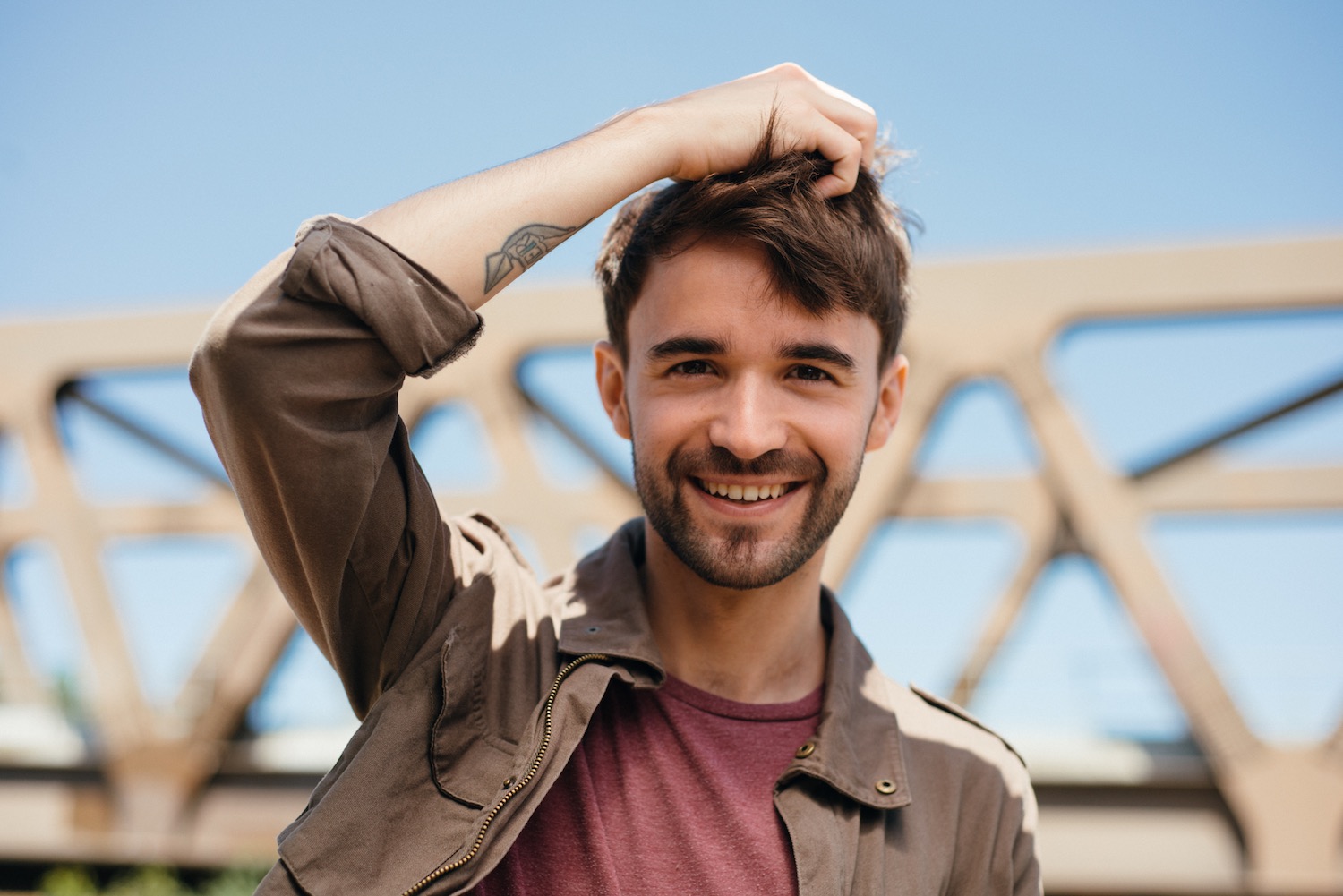 Buoyant album opener "Lonely Heart" speaks immediately to our shared humanity, bridging gaps of loneliness and sorrow with togetherness and triumph. The impassioned "Losing You" tells a deep and poignant story of loss, commemorating victims and offering a safe space for mourning and recovery:
Maribel
I know it's hard to live
Without the sparkle in her eye
As memories blow in the wind
Within the psychedelic fervor of "Fever, Fever," we find inspiration to be the change we want to see: "'Cause I'm not waiting for a miracle… and the heat is getting critical," Varillas sings in the chorus, the words rolling smoothly off his tongue. He always keeps his cool, in spite of the surrounding madness.
There is no time to be caught up in anger – anger does not facilitate change. Nowhere is this better expressed than in the inclusive "One People," a song built on the pillars of our common bonds. "With all the divisive narratives going around today, I think it's important to remember we all are more similar than different," Varillas explains. "This song is a plea to remember that, to quote the song… 'If not us, who will?'" While this is a familiar message and a story we've heard many times before, Varillas manages to make a lasting impression with catchy melodies, hypnotic hooks, and ultimately, a resounding enforcement of his enduring faith in humanity. Further standouts include the empowering acclamation "The Truth Will Be Heard," the vibingly sweet title track, and the hauntingly poetic "Love Heals with Time." Throughout his sophomore record, Gizmo Varillas advocates strength, hope, perseverance, faith, and love: His message of change never wavers, instead growing more powerful over the course of the album.
Dreaming of Better Days can, and has been described as an "antidote" to the difficult nature of these trying times. Its uplifting and inspired music comes at a cost, however – one which Gizmo Varillas strives to put at the forefront of the album. He does not sing about love for love's sake; he sings about love, because of what can, and does happen in love's absence. Experience the full record via our exclusive stream, and peek inside Gizmo Varillas' Dreaming of Better Days with Atwood Magazine as the artist dives deep into his favorite songs off the new album!
Dreaming of Better Days – Gizmo Varillas
:: Dreaming of Better Days ::
— —
Lonely Heart
This was one of the first songs I wrote for this album. It's an ode to companionship and friendship. I wanted to have something with an African feel, that's why you'll hear lower backing vocals on the chorus, like if it were a tribe singing along. The song started with the guitar rhythm but the arrangements transformed it into something more epic. I wanted to give it a larger than life vibe to it, luckily for me this was around the time I started to experiment with synths. For me it was the perfect combination of old and new. I created the synth sound by layering different harmonies and this gave it a rich and full sound. It's a melancholic and nostalgic song, yet at the same time it makes you feel good.
Fever, Fever
Fever, Fever is an analogy of the state of the world. It's about how tensions are rising, but it's also about taking a stand. Stating that it's time to change our ways. The song was based on the original bass riff that I had written. I wanted something funky and so then also used a Clavinet on the choruses. I featured the female voice because I feel like it adds a lot, not only sonically but also in terms of meaning. It reinforces the lyrics. It gives the song a protest feel.
One People
With all the divisive narratives going around today I think it's important to remember we all are more similar than different. This song is a plea to remember that, to quote the song… 'If not us, who will?'
Before The Sun Goes Down
Years ago I bought my own didgeridoo from an Australian traveller in London, I then started learning how to play and after hours of practice I recorded some ideas. However they were never used as songs. Years passed, and nothing happened. Until one day I was looking back on recordings and I decided to recycle this didgeridoo idea I once recorded. The final result is Before The Sun Goes Down. I decided to dedicate this song to the Australian I met years back, who travelled the world, and so that's why it has a Carpe-Diem message behind it. I like having a single drone note playing throughout the song, as it gives it a mantra-indigenous atmosphere. The drum is an afro-beat, with a funky-soul electric guitar groove layered underneath. It's quite interesting how there is a Spanish flamenco feel to the instrumental section too. I like surprises like that as you don't expect it.
Camino al Amor
"Camino Al Amor" starts with an Andean rhythm guitar, and it lures you into a different world. I used the mysterious guitar and reverberated whistles as a way of giving the song a stirring aura, like a Theremin would do. It draws you into a special journey. The song is in Spanish, talking about the highs and lows of finding love. And the challenges we face to find it. It's about overcoming the obstacles that life throws at you.
The Truth Will Be Heard
"The Truth Will Be Heard" Is a song of empowerment to those trying to expose the truth. And that in their struggles, if there is truth, there is a way. It's just a matter of how and when until it does come out. I used tribal backing vocals as a way of representing a strong force of community. I was particularly inspired by stories like how the Native Americans are protesting to stop the Dakota Access pipeline and shining light to the devastation it would bring. Somehow, I hope that through my song, I give others going through similar situations the courage to persevere.
Dreaming Of Better Days
This is the title track, and ties the whole album together. Dreaming of better days can be interpreted on so many levels. From different personal, societal, or political points of view. Each song on the album showcases one different point of view, and how we all dream of better days. Starting from my own personal circumstance, to the people close to me, and other people's stories across the world. This is a song of hope, envisioning a brighter future.
Through The Hourglass
I wanted to revive the classic African and Caribbean sound with this song. Everything from the steel pans to the Makossa beat shout colourful afro carribean flavours. This song is a celebration of life… Each memory is a grain of sand, and each grain of sand is a moment in time. The lyrics are a deep look inward, finding your way back home, despite getting lost now and again, confronting sadness and fear.
Fin de Males
This is a south american rhythm. The song starts off in minor key, it's tense, slowly charging through the storm like a ship… and the end is a release… in major key, it lifts the song like if it passed through the chaos and into the calm. The lyrics are in Spanish, a romantic tale about how we are all just reflections of our thoughts. Everything around us is just made up of reflections of who we are as people inside: our own feelings and thoughts.
Lonely Heart (Reprise)
This instrumental closes the album, with an extended version on the opening track. I love how the same theme opens and closes the album. It's as if the album was a story, from beginning to end. It highlights that each track has its own individual significance, yet the album stands for something as a whole. That we're part of something larger. And if only we'd tap into that, there would be so many things we can do to make the world a better place for all.
— —
— — — —
? © Murnau Den Linden
:: Gizmo Varillas ::
---