Seasonally appropriate, "Forgive Yourself" and "Pumpkin" by American singer/songwriter Pearla offer a calming address of change and familiarity.
—
'Tis the season for self-reflection: Coming to terms with ourselves and our environment is a prominent theme explored in the newest two-song release by Pearla, the solo project of Brooklyn-based singer/songwriter Nicole Rodriguez. "Forgive Yourself" is calming, a drifting of positivity set to a narrative about accepting our own mistakes. "Pumpkin" is gentle and tearful – a reminder of the familiarity present during times of drastic change.
Stream: "Forgive Yourself" & "Pumpkin"- Pearla
---
Autumn is a season that's short-lived and aesthetically gripping. Aside from the very real features of a fiery golden colour palette and flavoursome, cozy food and drink, there's the fantasy element of witches, ghosts, and general supernatural darkness associated with Halloween. The mix of reality and make-believe creates a sense of magic that's all customary and treasurable come October. Pearla's song "Pumpkin" reaches out to this recurring charm, using the season as a way of highlighting the things in life that come back around.
Red is the colour of the leaves as they depart
From the place among the squirrels
and the bees about the park
Oh and red is the colour
of the apples hanging down
And the children reaching up
and saying ma look what I've found
Oh and red is the blood
as it rushes to the surface of my skin
When I wake up from the midnight hallucination
-"Pumpkin", Pearla
"Pumpkin" was written during a period of loss and stress, and the artist's harmonious vocals projected over the plucking of acoustic guitar create an atmosphere of intimate fragility. The addition of a country twang and further string instrumentation from the second verse onward is like an intensifying of emotion, but it's a sound that's also familiar and tinted with a golden light.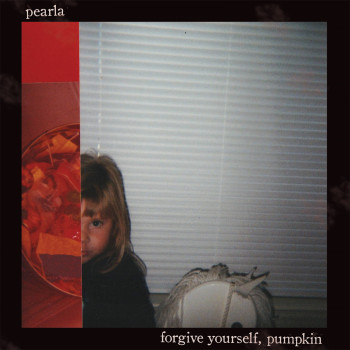 "'Pumpkin' is my attempt to get comfortable with the fact that everything is always in motion, nothing is permanent," Pearla says of her song's origins. "I wrote it while sitting with a friend that I met in Tibet. She visited me last October and I told her about these strange experiences I'd been having, where I'd wake up mid-dream and feel like my bed was a boat and hear a repeating countdown in my head."
Amongst the dizziness and internal chaos is the assurance that certain things, like pumpkins in autumn, will return – a reminder that time continues and we're never as perpetually stuck as we may feel.
Things keep changing
Every time I turn around it all leaves me behind
But you are the leaf,
the wind, the caterpillar,
feather, dirt, the dizziness, the pumpkin
Oh, pumpkin, keep coming back around
-"Pumpkin", Pearla
Keeping with the seasonal references, "Forgive Yourself" also has golden tones trickling through like sunlight into the woods. Nature is central – it's palpable in the track's ambience, its first lyric (with the question, 'Can you remain still while a wasp runs by your ear?'), and in the theme of being one's natural self. It's also present in Pearla's incorporated iPhone recordings of sheep with bells around their necks, walking up mountains in Tibet.
Do you understand your friends
when you decide to stay at home?
Sometimes it is best to be alone
Can you forgive yourself
for missing the last get together?
It's alright to stay inside
if you think that will make you feel better 
-"Forgive Yourself", Pearla
On her inspiration behind the song, Pearla says, "I wrote 'Forgive Yourself' while sitting in my backyard, trying to meditate but failing because a bee kept flying around my face. I got frustrated with myself that I couldn't stop reacting to the bee and then thought about all the situations in my life that were mirrored by this one. This song is about all of those little knee-jerk reactions that we have. It's about accepting them and not faulting yourself for simply being human."
These two songs serve as Pearla's follow-up to last year's debut single "Somewhere," a dreamy addressing of adjusting to adulthood while still feeling like a child. So far, Pearla's music finds innocence and whimsicality mixed with the difficulties of human emotions, a theme likely to continue with future releases. Working alongside producer Tyler Postiglione (Rektagon, Strange Loops, Mizuna) and mixer/producer Phil Joly (The Strokes, Ryan Adams and Lana Del Rey), a debut album is currently in progress.
For now, "Forgive Yourself" and "Pumpkin" are timely releases, encouraging us to appreciate autumn and who we are as individuals as we move with the season.
---
— — — —
? © Dara Bankole
:: Stream Pearla ::